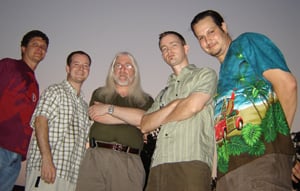 This Saturday, a few steps from the pandas and lions at the National Zoo, you can
see one of DC's most distinctive blues bands in their natural habitat. The Roustabouts—Greg Barnes on bass,
Andrew Wiley with lead vocals,
Pete Daniels on fiddle,
Chip Clemmer on drums, and
Dan Shine on guitar—have played the same gig every third Saturday of the month at Zoo Bar on
Connecticut Avenue for the past six years.
They've carved out their niche as laid-back family men, all happily married,
who nonetheless sink their teeth into heartache whenever they're onstage. The space
they play in is as unassuming as they are. Zoo Bar, known well by local blues enthusiasts,
is small and intimate. A sign above the bar says, "Prices subject to change according
to customers' attitude." Listening to the Roustabouts at first, the soulfulness of
Wiley's voice comes as a shock; he's a skinny white guy who looks more like he should
be playing Will Parker in
Oklahoma. Even more surprising is the power of the added fiddle, especially on their rendition
of Freddie King's classic "Someday After a While," in which Daniels' string-clutching
sounds more like a low-wailing harmonica than a violin.
The band owes its origin to the rust-belt blues scene of Syracuse, where Wiley and
Daniels met as SU students—Daniels was studying communications and Wiley musical theater.
The pair fell in love with the blues, going out nightly to shows by Phil Petroff,
Los Blancos, Tom Townsley, and, most influentially, Roosevelt Dean, who took the two
under his wing. Daniels got to travel with "Rosey" on his tour of the South, and shot a documentary about him*. When Rosey died in 2009 after a long battle with
cancer, Daniels and Wiley wrote a song about him on the way home from his funeral,
which they perform as tribute.
When Wiley and Daniels both moved to DC after graduation (Daniels grew up in Silver
Spring), they sought out more opportunities to play. The Roustabouts formed during
Zoo Bar's Thursday night blues jam, hosted by another longstanding outfit, the Big
Boy Little Band. The bar staff, however, just calls them 'The Babymakers.' On "Babymaking
Blues," a woe-is-me-with-a-wink tune reminiscent of Ray Charles, Wiley moans, "I love
my children and I love my happy home, but if I have another baby, I'm gonna need a
loan."
It's not far from the truth. Collectively, the band has nine children under the age
of 18 (seven under age 4): Shine with three and Wiley, Barnes, and Daniels with two
each. "They're very fertile," Zoo Bar owner
Steve McKinney jokes. McKinney deliberately recruits all local bands, and has done so ever since
he started the blues night 12 years ago. Not that there's no outside interest. "People
want to play from all over the world," he says. "I could be a booking agent."
Daniels and Shine grew up together, playing in a hardcore punk band in high school
and going to shows by '90s DC bands such as Clutch. It's a far cry from where they
find themselves today. "We don't try to be something we're not. We write about what
we know," Daniels says. That means family, kids, long-term love, and even the weather.
"Code Red," their signature song, was inspired by the kind of summertime heat that
has become familiar inside the Beltway this year. So what's the euphemism behind it?
"It was just a hot-ass day," Barnes says.
The band members all have day jobs. Shine produces videos for the Navy. Wiley is a
fundraiser for the World Wildlife Fund. Daniels is a producer for C-SPAN. And Barnes
is a math teacher. Clemmer is the only one in the band who's used music to make a
living—he spent nearly three decades with the United States Air Force Band. But any
remaining visible signs of a military career are gone at this point. Since he retired,
he's only cut his hair once, and wears it pulled back in a long ponytail.
The Roustabouts are cautious about what recording a CD could mean for the relaxed
dynamic of the group. Barnes explains, "It becomes a different beast, a different
kind of compromise . . . I think being in a studio with a little more high pressure
where we're all involved, we're all struggling with a level of professionalism, perfectionism,
it gets to a level of . . ."
"It becomes work," Shine says.
But with a repertoire of 100 or so songs that they know by heart, a CD is bound to
happen at some time or other. Just don't ask them to play tired requests like "Mustang
Sally" or "The Thrill Is Gone." Okay, so they might play "Mustang" this week. But
just because Andrew's mom, Sally, will be in the crowd.
The Roustabouts play this Saturday, July 21, at Zoo Bar. For more information, visit
the band's website.
*This post has been updated from a previous version.