Day 1: The Mall by Day, the U Street Corridor by Night


Breakfast: Le Bon Café
Grab a seat at one of the outdoor tables at this cozy Capitol Hill cafe for a plate
of French toast, a waffle, or a made-to-order egg sandwich; or pick up a croissant
or bagel to enjoy on the road.
Visiting the Capitol takes a little planning. Tour slots are free and can be booked
online as late as the day before, and a small number of same-day tickets are available
at the information desks on Emancipation Hill. The basic tour includes a short history
lesson and an introduction to the building. The House and Senate galleries are also
open to visitors, but you'll need to arrange separate passes ahead of time through
your senator or representative. The Visitor Center is also open 8:30 to 4:30 Monday
through Saturday, and you can stop in to the exhibit hall, the cafeteria, and the
gift shops any time.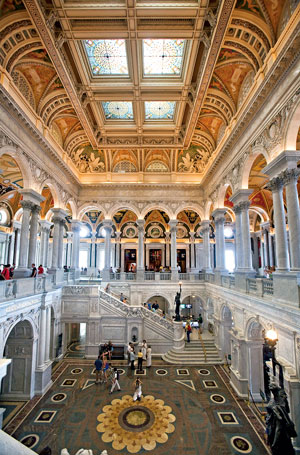 Next Stop: Visit the Library of Congress
Next to the Capitol sits the largest library in the world, where more than 500 miles
of bookshelves house books, photos, maps, and other items. In 1814, the original building
and its contents were burned by the British, and since Thomas Jefferson offered his
own collection as a replacement, the main building now bears his name (Adams and Madison
are the other two buildings in DC). More than 151 million items are housed in the
library, and free tours are offered between 10:30 and 3:30 on weekdays and between
10:30 and 2:30 on Saturdays.
Lunch: On Pennsylvania Avenue, Southeast, at Good Stuff Eatery, Sonoma, or We, the Pizza
Pennsylvania Avenue, Southeast, near the Capitol, abounds with lunch options.
Top Chef alum Spike Mendelsohn has made a home at Third and Penn, where he runs burger joint
Good Stuff Eatery and casual pizzeria We, the Pizza, both in converted rowhouses with
patio seating out front. At Good Stuff, make sure to pair your burger with a milkshake
(we suggest the toasted marshmallow). At We, the Pizza, you can opt for a slice or
a full pie—we can't resist the spinach and artichoke.
For a longer-lasting sit-down meal and a glass of wine, head to Sonoma, a few doors
closer to the Capitol. This restaurant's charcuterie and extensive wine list are highlights,
but the creative salads and pizzas are also worth a try.
PM: Take In Art for Free at the National Gallery of Art
The National Gallery of Art's West Building is home to one of the world's best collections
of paintings, sculpture, and more dating from the 13th to the 20th century. Highlights
include pieces by Monet, Renoir, and Cezanne, and the only Da Vinci in the Western
hemisphere, "Ginevra de' Benci."
The I.M. Pei-designed East Building, meanwhile, houses mostly modern and contemporary
pieces, including a huge Calder mobile that hangs from the ceiling and works by Picasso,
Pollock, Matisse, and Mondrian. The Gallery's sculpture garden also sits on the Mall
(next to the West Building), serving as home to works by Louise Bourgeois and Sol
LeWitt.
Next Stop: The Newseum
This seven-level complex opened in its current location near the Mall in 2008, notable
for the First Amendment quote emblazoned on its facade. Inside, you'll find 15 main
exhibition galleries covering major events like the fall of the Berlin Wall and the
September 11 attacks. Other not-to-be-missed highlights include the Pulitzer Prize
Photo Gallery, the NBC News Interactive Newsroom—which allows guests to read the news
themselves from a teleprompter—and the views from the sixth-floor terrace. This is
not a Smithsonian museum, so a two-day pass costs $21.95.
Happy Hour: The Source
There's nothing Washingtonians love more than a good happy hour, and celebrity chef
Wolfgang Puck's the Source created a menu with that in mind. The Source (which is
in the Newseum) makes it possible to squeeze dinner out of a few specials. Monday
through Saturday from 4 to 6, you can get three dishes—like shrimp tempura rolls,
pork-belly-stuffed
bao buns, and miniature
bánh mì—from the downstairs lounge's
izakaya menu for $20.12, and beer and sake are, of course, available to wash down the cheap
snacks.
Dinner: 14th Street
The 14th Street, Northwest, area is awash with new, interesting restaurants and bars;
you may have trouble choosing just one. Some options include Pearl Dive Oyster Palace
for exceptional fresh seafood and El Centro D.F. for a menu
that's entirely gluten-free. For small, shareable plates, try Estadio,
which offers great Spanish tapas near Logan Circle; or Bar Pilar,
where the options change seasonally but always include strong vegetable and pork dishes.
Post-Dinner: Explore the U Street Nightlife
If you're looking for live music, you couldn't be in a better neighborhood. Options
include the 9:30 Club, which is consistently voted one of the best music venues in
the country by Pollstar; dance/electronica venue U Street Music Hall; and the New
Vegas Lounge, which has live Motown and blues on weekends.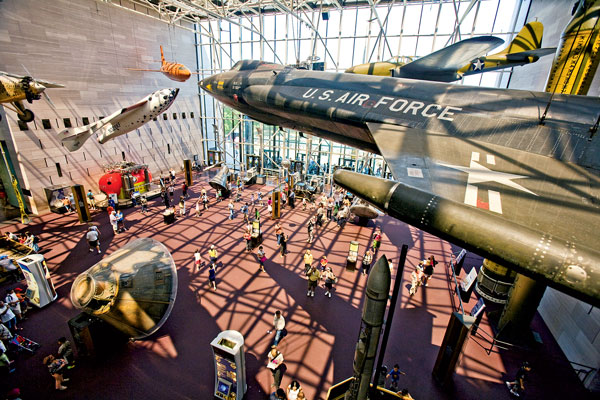 Day 2: Monuments, Museums, and a Show at the Hamilton


Breakfast: Cafe du Parc
Try breakfast at one of Washington's top 100 restaurants in the historic Willard InterContinental
hotel. Buffet and à-la-carte selections are available daily upstairs, or you can pick
up a house-made pastry and a cup of Illy coffee to go on the first floor.
AM: Monuments Tour
A half-mile stroll down 15th Street from the Willard will bring you to the Washington
Monument. From there, you can walk around the Tidal Basin (about two miles total)
or stay on the Mall, depending on how far you'd like to walk and what you're looking
to see. This area includes:
• Franklin Delano Roosevelt Memorial
• Korean War Veterans Memorial
• Martin Luther King Jr. Memorial
Tip: Though the monuments look close together on a map, the walk can turn from enjoyable
to exhausting in a hurry. Consider checking out some of them by night (FDR and Lincoln
are particularly pretty in the evening) to avoid the long walk and Washington's punishing
summer heat. Or if you're a runner, a morning jog around the Tidal Basin can be a
great way to see Jefferson, FDR, and MLK.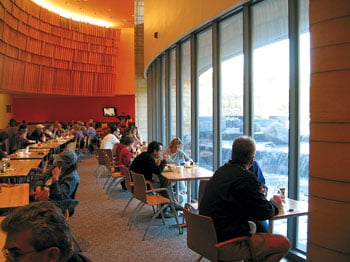 Lunch: Mitsitam Cafe at the National Museum of the American Indian
We know, a museum cafeteria isn't what you had in mind, but the stations here serve
up dishes inspired by the ingredients and cooking of five Native American groups.
Think bison strip loin or
mole-braised chicken prepared with herbs from the museums garden, or grab some chicken
tenders for the kids if you must. The full menu (including beer and wine) is available
until 3 PM.
PM: The National Air and Space Museum
Air and Space, the most popular museum in the country, holds the world's largest collection
of air and spacecraft along with interactive flight simulators, a planetarium, and
an Imax theater, to name a few highlights.
Just beyond the Mall entrance is the Milestones of Flight entry hall, which runs through
the history of aviation with Charles Lindbergh's
Spirit of St. Louis, the Bell X-1 in which Chuck Yeager broke the sound barrier, and the North American
X-15—the first aircraft to break Mach 4, 5, and 6—as well as the Apollo 11 Command
Module
Columbia.
Don't miss the Golden Age of Flight gallery, which includes Howard Hughes's H-1 racer,
or the Barron Hilton Pioneers of Flight wing on the second floor, which celebrates
people who achieved significant "firsts" in flight.
Next: Explore the National Museum of Natural History or the National Museum
of American History
Nearly as popular as the Air and Space Museum, Natural History sits on the Mall and
houses more than 126 million items. Highlights include a 13-foot Fénykövi elephant
from Angola that sits under the central dome of the rotunda, the 45.52-carat Hope
Diamond in the Gems and Minerals gallery, and a Imax theater that shows nature movies
on a six-story-high screen. Admission, as with all Smithsonian museums, is free; for
$6, you can also visit the Butterfly Pavilion to view hundreds of live butterflies
and moths.

For everything from Dorothy Gale's ruby slippers to the original Star-Spangled Banner
and Thomas Edison's 1879 lightbulb, stop by the National Museum of American History.
The first floor focuses on transportation, technology, and innovation, and includes
the first car ever driven across the country. On the second floor, don't miss the
original Greensboro lunch country from the 1960 sit-ins, and on the third floor, make
sure to stop by the "American Stories" gallery.
Walk Past: The White House
Tours of the White House are hard to come by and must be planned well in advance,
but anyone can walk by, marvel, and snap a photo in front of the famous home without
prior arrangements. And across Pennsylvania from the northwest corner of the President's
lot, you'll find the Blair House, which plays host to visiting dignitaries. Check
for a foreign flag hanging by the door to figure out who might be staying inside,
and maybe even catch a glimpse of his/her motorcade.
Happy Hour: P.O.V. at the W Hotel or Round Robin at the Willard
The W Hotel's rooftop bar, P.O.V., has panoramic views of DC and beyond (and is open
year-round, unlike many other local rooftops). At $15 apiece, cocktails aren't cheap,
but you can sip slowly while lounging on a velvet banquette.
The Willard has a claim on history as few other local establishments do: It's literally
where lobbying started during the Grant administration—and more recently where Jon
Stewart's team stayed during the comic's rally on the Mall. So it's little surprise
that Round Robin, just off the lobby, is a classic too, offering the area's best mint
julep.
Dinner: Old Ebbitt Grill
This Washington institution provides a bit of history along with excellent oysters
and a solid cocktail list. In business for 156 years, Old Ebbitt is famous in equal
parts for having the best Bloody Mary in Washington and for hosting presidents Grant,
Cleveland, and Theodore Roosevelt.
Post-Dinner: Take in a show at the Hamilton
This 15,000-square-foot music venue offers table service (the kitchen is open till
late) and attracts a solid lineup of local performers and the occasional big name.
Ticket prices vary; information is available through the Hamilton's website.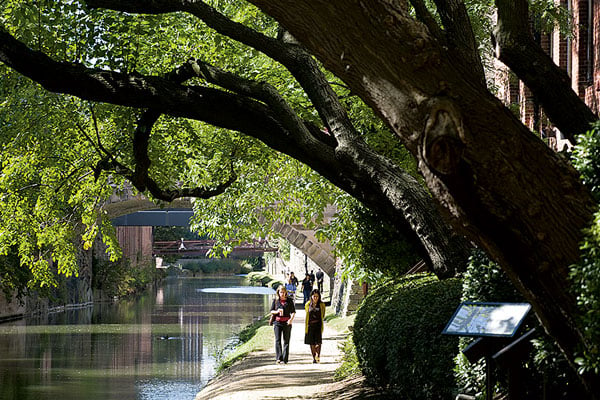 Day 3: Penn Quarter and Georgetown

Breakfast: Teaism
The Penn Quarter location of this local teahouse-restaurant hybrid opens at 7:30 AM
during the week and 9:30 on weekends, and serves up interesting twists on standard
breakfast fare. Think sourdough waffles, cilantro scrambled eggs, tea-cured salmon,
and a solid beverage selection—or Irish oatmeal for the less adventurous.
AM: Tour the American Art Museum and National Portrait Gallery
Starting out in Penn Quarter will put you in the neighborhood of the two art museums
not located on the Mall. The Donald W. Reynolds Center for American Art and Portraiture
houses both: the American Art Museum and the National Portrait Gallery, which are
separated by a glass-roofed courtyard.
The American Art Museum concentrates on domestic art between the Civil War and the
present, while that National Portrait Gallery looks at the art of portraiture and
at portraits of a range of notable people from Pocahontas to Franklin Delano Roosevelt,
Fred Astaire, and Rosa Parks.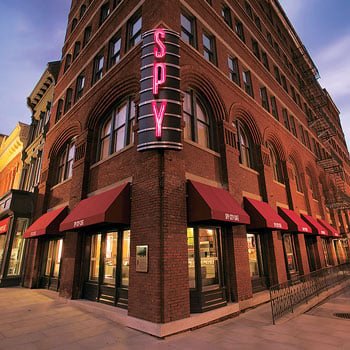 If You Have Time: The International Spy Museum
The International Spy Museum—founded by a Korean War codebreaker to provide some insight
into the spy trade—includes an hour-long interactive experience called "Operation
Spy," during which visitors become US spies searching for a device that triggers a
nuclear bomb. Tickets to the Spy Museum are available at spymuseum.org and are $19.95
for adults and $14.95 for kids (though children six and under are admitted for free).
Penn Quarter is home to an ever-expanding list of restaurants among Washington's 100
Very Best, which tend toward small plates great for lunch. Try Jaleo for Spanish tapas
and sangria, and Proof for meatballs with goat cheese agnolotti.
PM: Take the Metro to Foggy Bottom and shop in Georgetown
There's something for everyone in Georgetown, and our neighborhood guide offers the full rundown. Some standouts you can't find just anywhere: British import AllSaints
Spitalfields, vintage spot Annie Creamcheese, and boutiques such as Relish, Wink,
and Charm. Other popular clothing chains include Anthropologie, J.Crew, and Madewell,
in addition to home decor and art shops.
Insider tip: Baked and Wired cupcakes are just as good as Georgetown
Cupcakes, and the line doesn't wrap around the block.
Next Stop: Walk, Bike, or Kayak Up the C&O Canal
Between M Street and the river, you'll find a stretch of the C&O Canal, which operated
for nearly 100 years helping merchants deliver goods to towns along the Potomac. Thompson
Boat Center at the eastern end of Georgetown rents kayaks and bikes by the hour or
the day, and both provide a great way to see the canal. Or if you prefer a slower
pace and a lower price tag, you can always walk.
Happy Hour: Georgetown Waterfront or the Kennedy Center
If you'd like to stay in Georgetown, hit the waterfront for a drink at Cabana's, Nick's Riverside Grill, Sequoia, or Tony & Joe's.
Alternatively, head over to the Kennedy Center for a drink on the roof terrace and
a free 6 PM performance on the Millennium Stage.
Dinner: Pizzeria Paradiso
This Neapolitan-style pizzeria on Georgetown's main drag (M Street) opens Monday through
Saturday at 11:30 AM and Sunday at noon, and it's informal and relatively inexpensive.
Adult-friendly highlights of the lengthy menu include the spicy Atomica with salami
and red pepper, the Genovese with pesto and potatoes, the standard Margherita, and
the Bottarga with egg and mullet roe.
Day 4: The National Zoo, the Phillips Collection, and dinner on Barracks Row


Breakfast at Firehook
Begin your day with coffee and baked treats at this Washington mini chain by Cleveland
Park Metro. More than ten different kinds of bread are baked fresh daily, and the
menu includes everything from flaky cinnamon bear claws to blueberry-studded muffins.
There's even a spacious patio out back for breakfast al fresco in fine weather.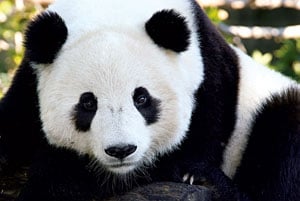 AM: Explore the National Zoo
Just down Connecticut Avenue from Firehook is the Smithsonian National Zoological
Park, home to 2,000 different animals from more than 400 species. The indisputable
stars are the two giant pandas, Mei Xiang and Tian Tian, who are on loan from China
through 2015. Other highlights include the Great Cats exhibit featuring Sumatran tigers
and African lions, a Great Ape house, and Amazonia: a 15,000-square-foot rainforest
exhibit with a 55,000-gallon aquarium.
Next: Take a Walk Through Rock Creek Park
The National Zoo sits inside Rock Creek Park, which, at 2,100 acres total, is more
than twice the size of New York's Central Park. While walking the trails outside of
the zoo though, you might come across its public golf course, horse center, tennis
courts, and boat center, as well. Mostly it's the best spot in town for a long, shaded,
relatively serene stroll.
Lunch: Tryst at the Phillips
The latest local restaurant to occupy a museum, Adams Morgan mainstay Tryst just opened
inside the Phillips' cafe space. Enjoy the art while snacking on small plates such
as pesto orzo and tomato bruschetta, or enjoy full-size quesadillas and hearty sandwiches
and salads.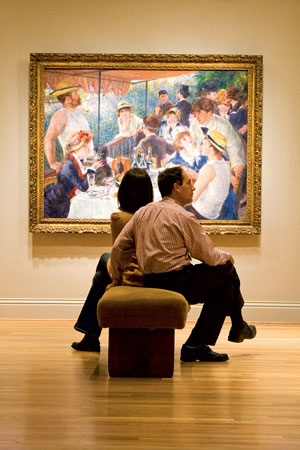 PM: Visit the Phillips Collection
The Phillips Collection is a nearly 100-year-old modern art treasure trove located in
a red-brick former residence. Renoir's "Luncheon of the Boating Party" is considered
the crown jewel of the collection, but you'll also find works by Matisse, Monet, and
others, hung in diverse groups so as to "converse" with one another.
Then: Grab Gelato or a Cupcake and Take a Break in Dupont Circle

After all that walking around, you deserve a break. Take a load off in picturesque
Dupont Circle, but not before sampling the gelato at Dolcezza,
where flavors range from avocado honey orange to cappuccino. If it's too cold for
frozen treats, stop by Hello Cupcake
instead.
Dinner: Barracks Row
Didn't quite get your fill during the game? We're not judging, and you're in luck.
There's a free shuttle from Nats Park to Barracks Row, where options are plentiful.
Try Ted's Bulletin for old-fashioned comfort food, Senart's
Oyster & Chop House for seafood and strong drinks, Montmartre for French bistro fare, or its sister joint, Seventh
Hill for wood-fired pizzas.