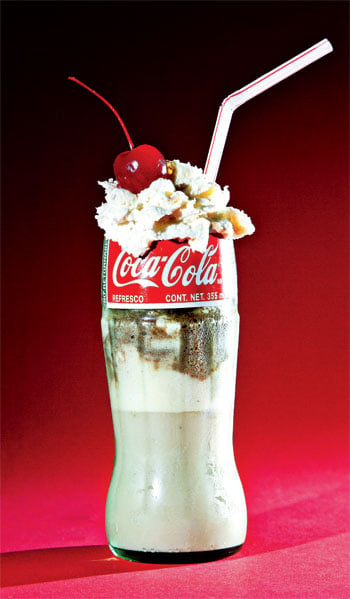 Cuba Libre Float at Bar Pilar
It's not on the cocktail menu, but ask beverage director
Jonathan Fain to make this combo of rum, Mexican Coke, and vanilla gelato
topped with absinthe-laced whipped cream and cherries soaked in Southern
Comfort. The complex concoction comes in a Coke bottle with the top lopped
off.
Lemonade-Thyme Snow Cone at the Ritz-Carlton Lobby
Bar
Crushed ice gets a kick of vodka at this twinkly drinks
spot—light, bright lemonade-thyme is the best of the three flavors, but
you can try strawberry-basil and blueberry-mojito when you order the
"trio." Just don't count on driving home.
Shake-and-Bake Cordial Shake at Ray's to the Third
Restaurateur Michael Landrum stays true to his over-the-top
style with this boozy, sweet-then-salty libation combining chocolate
syrup, caramel, vanilla ice cream, bourbon, whipped cream, and bacon
bits.
Slushito at Estadio
This hot spot keeps switching up the cocktail combos swirling
through its two slushy machines. You might try cherry, tequila, and
shishito pepper on one visit, then grapefruit, sherry, and
chamomile-infused bourbon the next. All are the perfect start to a summer
evening out.
Beer Float at Et Voila!
This Belgian brasserie creates frothy floats using chef Claudio
Pirollo's elegant frozen desserts. Try a crisp Lindemans Pêche Lambic
sweetened with peach sorbet or—our favorite—a ruby-hued Kasteel Rouge
cherry beer with a scoop of Hoegaarden-vanilla-and-honey ice
cream.
This article appears in the August 2012 issue of The Washingtonian.