"Wanna go fishing?"
I ask my younger son, a second-grader.
It's a sunny Sunday in late summer, and his brother, a
middle-schooler, is at a friend's house. Mom is stealing some time at the
gym and then making a Target run, leaving us a couple of hours before we
need to pick Jack up from his play date and get him to baseball
practice.
Will lies belly down on the living-room floor, propped on his
elbows over an elaborate drawing of geometric shapes and
blobs.
"Four Mile Run or the car dealer?" he asks, rummaging in a
plastic bin for a marker.
"Four Mile Run," I reply, choosing our go-to spot. To access
the water at the other location would require lugging out a 17-foot
aluminum canoe and strapping it onto the car.
"Can we get Cokes?" he asks.
"If you hurry."
Our ritual includes swinging by a Spanish market to grab a
dozen night crawlers along with the sodas.
"I'll get the rods," he says.
• • •
My son and I have fished widely in Washington. That is to say
we've tried our luck up and down the Potomac River as far south as Dogue
Creek, near Mount Vernon, and as far north as the Old Angler's Inn by
Great Falls.
Most of the time we dunk worms—though, ever hopeful, I
generally bring my fly rod, too. "That thing never catches fish," Will
once said.
Our excursions are of necessity ultra-local, shoehorned into
weekends clogged with practices, play dates, and homework. I like to be on
the water within 15 minutes, and that includes the worm run.
Torn from a Patagonia catalog these places are not. While I'd
love to stalk bonefish on Caribbean flats or loop rolling casts across big
trout streams out west, Will and I typically find ourselves angling in the
shadows of a graffiti-strewn bridge abutment under Jeff Davis Highway,
minutes from our house in Alexandria's Del Ray neighborhood. With
apologies to Stephen Stills, you gotta fish the place you're
in.
• • •
We've made it to the gravel lot behind the ball field near Four
Mile Run. Will's Coke is gone, leaving a semicircle on his lip as if he's
been playing the trumpet. As soon as we pull in, he dashes from the
car.
"I'll check the water level!" he calls, rushing to a footbridge
to peer down at a small hidden creek. If the twice-daily Potomac tide is
in, we can fish here. Half-submerged rocks and an abandoned shopping cart
poke out of the brownish water.
"Too low," he reports, and we head down the path a few hundred
yards to where the slough hits Four Mile Run.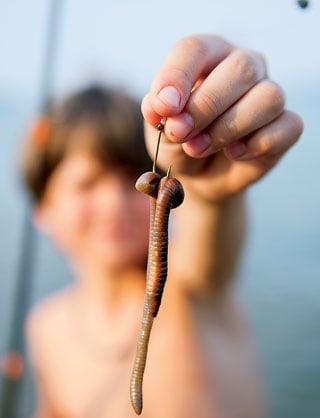 A football field's length across the water, we can see a
wastewater-treatment plant and a neighboring power station. High-voltage
lines are strung from rusted poles that trace the route of the stream like
a line of giant, tired kachina dolls.
We follow the bike path on our side of Four Mile Run until
we're near Potomac Yard shopping center, just south of Crystal City. Here
the river meets the road, or more accurately, Four Mile Run crosses
beneath the six-lane artery of Route 1.
The bike path traverses the bridge at this point on a raised
cement sidewalk that puts us close enough to oncoming traffic to glimpse
drivers' faces, then switches back to continue on the other side of the
stream for less than a mile until it hits Reagan National Airport—also the
point where Four Mile Run meets the Potomac.
We slip off the path down a worn trail to a slope of riprap
held in place by heavy-gauge wire mesh. This jumble of fist-size granite
chunks below our feet disappears into the water's edge, an engineered bank
that never erodes. Will scampers along the incline while I set myself to
cast. Above us, cars rumble. "MS-13" is spray-painted beneath the bridge,
and I'm glad Will doesn't know it's the name of a notorious gang. This
unlikely spot, less than a mile from our house, is our honey
hole.
• • •
Four Mile Run, channelized in the 1970s to control stormwater
runoff, was once a natural tributary of the Potomac that meandered nine
miles through present-day Falls Church and Arlington. One story has it
that the name comes from its mismeasured distance from Great Hunting
Creek, which is actually three miles away.
The stream has a proud history: George Washington purchased and
surveyed a parcel near its headwaters in the 1770s. A century later, the
Washington and Old Dominion Railroad chugged along its banks, and from
1906 to 1915, a 40-acre amusement called Luna Park occupied the same place
Will and I fish today.
During the park's first summer, elephants on loan from a Coney
Island fair stampeded during a thunderstorm, one ending up in a farmer's
field in what's now Baileys Crossroads. At another exhibit, called a
balloon ascension, a daring young man built a flying machine consisting of
a platform suspended below a silk bag filled with gas. In 1906, he took
the contraption nearly 300 feet in the air, crossed the Potomac, and
landed on the East Lawn of the White House, where he was greeted by First
Lady Edith Roosevelt. He continued on and set down outside the US Capitol.
Daily business ground to a halt as congressmen swarmed out to take a
look.
Fast-forward a half century and the once picturesque mill
stream succumbs to urban sprawl and finally, starting in 1974, the slide
rules of the Army Corps of Engineers. Its natural course is tamed with
thousands of yards of poured-cement slab, as flat and wide in the middle
as a road. Gentle banks turn into angled planes designed to gather runoff
from an ever-escalating percentage of paved surfaces that surround the
waterway.
Despite its conversion decades ago into a giant storm drain, or
perhaps because of it, today Four Mile Run has become a vital recreational
artery. Bikers commute along its length to and from DC, and runners log
miles on weekends.
The nature-deprived salve themselves at its edges, where a
choked swath of riparian habitat mimics the leafy banks of a biotic
stream. Apparently, even gangbangers appreciate the sanctuary afforded by
this urban waterway.
• • •
It's unseasonably warm, and two Korean men sit on camp chairs
on a sliver of bank upstream from Will and me. Several rods more willowy
than ours and apparently without reels are propped before them on forked
sticks, poking across the water like low-slung antennae. While their
methods are unfamiliar, their obsession is not. The slack lines disappear
into the clear water flowing before them. Yards away and 18 feet overhead,
an equally steady stream of commuter traffic passes by on the six-lane
road, some siphoned into the shopping center, the rest moving south to Old
Town or north toward the District.
Now and then, one of the men dips his hand into what looks like
a bag of kibble and sprinkles a fistful on the water. They point at
something below the surface and make animated gestures.
Will and I walk up the path to the bridge to get a look from
above. With my back fanned by Route 1 traffic, I lift him under his
armpits so he can peer over the barrier.
Dozens of various-size torpedo-shaped shadows are perfectly
aligned in the current below us. Occasionally, one repositions itself
lazily, but for the most part they hold formation, patiently awaiting the
sodden pellets the men are throwing into water.
"Holy crap, Dad!" Will whispers.
It's a flotilla of carp, some nearly two feet long. We scramble
down the bank to try our luck.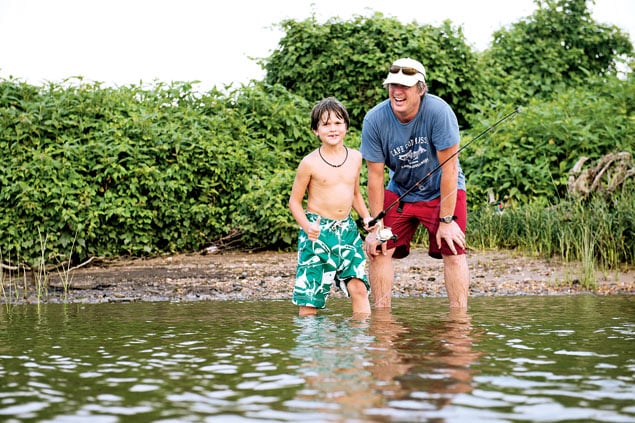 The fishery is fertile, despite the Potomac's rap as a polluted
tributary of the perennially at-risk Chesapeake Bay. In this stretch of
stream, it's not unusual to see bass boats prowling below the overpasses
or Hispanic men on the bank jigging with handlines wrapped around plastic
bottles. Often I'm the only angler with a pricey fly rod and an Orvis
vest, but that's not for lack of fish.
Both the river proper and Four Mile Run support year-round
populations of small- and large-mouth bass, catfish, crappie, and perch,
among other introduced species. Add to the list various pan fish,
pollution-tolerant carp, and even koi that flash orange in the water like
giant mutant goldfish.
On the Potomac near DC, spring is marked by the annual return
of herring, shad, and striped bass. The shad run is woven into political
lore—having returned to their home waters to spawn, shad are the dish of
honor at a longtime annual event known as a planking, where politicians
woo Virginia voters over plates of the oily fish made the way the Indians
did it: nailed to planks and smoked by an open fire.
Throw in a relatively new but growing population of northern
snakehead. Originally imported from China and cultivated in tanks as a
delicacy, the species somehow made its way into a single pond in Crofton,
Maryland, in 2002 and is now gaining ground as an apex predator that
threatens native stalwarts in the local food chain, including bass.
There's even an increase in interest in prehistoric garfish, smaller
cousins of the toothy man-eaters Jeremy Wade hunts on the cable show
River Monsters.
You never quite know what you'll get when you wet a line in the
Potomac.
Or when you'll get skunked.
• • •
As Will and I make our way down toward the school of rooting
carp, we come upon another fisherman sorting through his tackle box under
the shelter of the bridge. I tie a popper on my line, a lure that looks
like a fluorescent gumdrop with rubber whiskers.
Meanwhile, Will quizzes our fellow angler despite the man's
limited English.
"Do you like fishing? Have you caught anything? What are you
fishing with?"
The man shakes his head, smiles, and hands Will a rubber
worm.
"Dad, try this one!" Will calls.
I'm already whipping my line back and forth above the carp
shadows. Seconds after it alights on the water, there's a small splash and
my artificial bug disappears below the surface.
• • •
Fishing earns you a bone-deep sense of place, a visceral
understanding of the watershed as an interconnected series of creeks
extending from the Potomac like fingers. Every knuckle is a place keenly
experienced on a given day, or maybe on a series of days extending over
years. The memories accumulate like silt, the contours familiar but always
shifting.
It's the heart of summer, and I'm out by myself for a few hours
at the south end of Old Town. I am river-blasted: sun beating down,
hydration levels in flux, staring at the same patch of moving water for so
long I can diagram every swirl and pocket. There's a maniacal edge to this
pursuit of fish. A dab of Ahab.
To get here, I walked along the edge of the George Washington
Parkway, cutting down to the water to fish below a bridge. Across the
creek is Belle Haven Country Club's back nine. Downstream, the Masonic
temple's wedding-cake stacks loom in the distance beyond the ribbons of
the Wilson Bridge's ramps.
I'm on the rocky edge beneath a canopy of branches festooned
with fishing line and lost lures. Around me is the detritus of fishing
spots: Styrofoam bait containers, tangles of line, plastic bottles. Before
me, a puzzle in hydrology.
The current flows through three arches, with eddies between the
channels and fishy-looking spots in the lee of each column. There's a
mushy night crawler on my hook and a lead BB on the line, a basic
worm-chucker's rig.
A cast to the nearest channel wash-es downstream. Reeling in
slowly, I feel for a bump to indicate bottom. My bait, caught in an
underwater swirl, circles back to an area near my feet. I picture where a
fish might hold to expend the least energy while still picking at the
buffet that drifts by beneath the surface.
As I'm bringing in the next cast, the line stops dead. Must be
on the bottom after all. I yank hard a couple of times, trying to bounce
the hook free. The line suddenly moves into faster-flowing water—it's no
snag; it's a hefty fish. I tug-of-war the thing to shore, my rod bending
into a U.
The catfish's whiskers hang limp as it twists on the slimed
line. Gray with a white underbelly, its skin is smooth and sharklike. Dumb
jelly eyes accuse me as I struggle to release it.
The hook is too deep in its gullet to retrieve with my
needle-nose pliers, so I cut the line. The lethargic catfish snaps awake
as it hits the water and disappears with a swirl.
I rinse my hands in the water, wipe them on my shorts, then pry
the cap off a sweating beer and take a long pull.
There's a ten-inch smallmouth bass a dozen casts later. If I go
only a little deeper, an even bigger bass might be lurking. I add another
split shot to my line to make the bait sink more quickly. Instead of a
monster bass, I hook the bottom, for real this time.
I break off the line and set up again, but the action dies. I
cast to different spots and vary my retrieve: slow, fast, herky-jerky.
Half an hour goes by and I'm down to my last half worm when I target a
spot downstream beyond a submerged log. The pool turns out to be swarming
with sunfish.
I hold the first one in my palm as I unhook it, marveling at
the capillaries of turquoise within its delicate lemon coloring. I catch a
half dozen more until the last ragged bit of worm is gone, and then it's
only my bare hook flashing through the shallow water past the log. Out of
bait and beer, it's time to go.
There are three missed calls on my cell phone and a text from
my wife. "You're picking up the kids from camp tomorrow," she says when I
call her back.
• • •
I learned to fish the summer I turned 13. The "Vermont house,"
a family vacation home, was filled with cousins and energetic activity:
berry-picking expeditions, doubles games at the local tennis courts, trips
to nearby Manchester for the sidewalk sales. No one else in my family
fished or ever had the urge to, but somehow I was drawn to the solitary
sport.
My teacher was a retired machinist from New Jersey who had a
vegetable stand just down old Route 7. Arthur left corn and tomatoes and
fresh-baked pies out under an awning, with price signs scrawled in block
print and a coffee can for the money. He also built and sold rods and
flies he tied himself. That summer, I picked tomatoes in his field in
return for fishing lessons on the lazy Baten Kill River.
I remember how the mist came off the water our first morning
out, and the gentle splish when trout broke from the riffles to inhale a
brown-winged Adams fly. Then coming home to a family of skeptics with a
stringer of two dozen native brookies already cleaned and ready to fry. It
made no difference that I'd caught only a few and Arthur all the
rest.
I can still picture the Pyrex pan with the trout laid out in
rows, wallets of flaky white flesh inside crisped silver skins.
Butter-browned and sprinkled with bread crumbs, no doubt served alongside
some of Arthur's field-fresh tomatoes, salted.
That was the meal that made me a fisherman.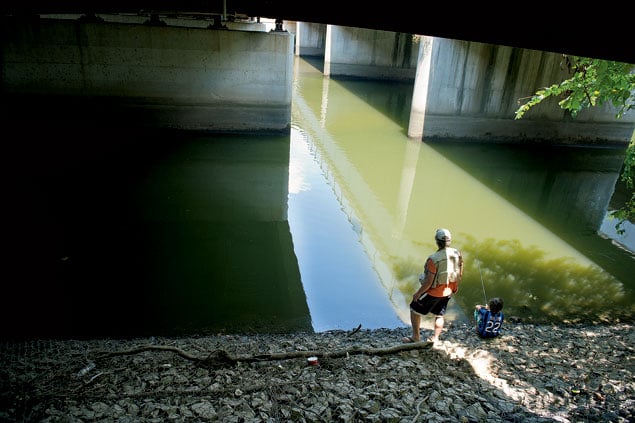 Will's urge to fish, like mine, is innate.
"Got one!" I call as my popper disappears, and he's at my side
in an instant to assess the catch.
It's not one of the big carp we saw from above, just a scrappy
bluegill, hardly bending my rod tip. Each time my lure hits the surface,
another of the greedy pan fish darts up from below. Most are too small to
swallow the lure. The popper dances as they drag it under and spit it
out.
Will now has his own rod in hand, and I set mine down to help
him. He fishes hard with his worm for 15 minutes, but neither he nor the
Koreans are having much luck. The carp, if they're still there, are happy
filtering the kibble as it drifts toward them. Will's night crawler
doesn't tempt them.
"You do it," he says at a certain point, handing his rod to me.
On the other side of the bridge below, the guy who gave Will the worm
seems to be pulling a wriggling bass out of the water every five
minutes.
"I'm gonna see what he's fishing with now," Will tells
me.
"Wait for me!" I call, reeling in.
• • •
These days, I practice catch-and-release—for conservation but
also because I assume any fish from around Washington is loaded with
mercury. The only ones I keep to eat are big striped bass on Chesapeake
Bay charter trips.
Nothing like cracking a beer with a buddy at 7 am on what
should have been a work day, forearms pumped after reeling in a 38-inch
rockfish. Entirely different, of course, is the more intimate experience
of fishing on a cool November morning for smaller, schooling stripers,
called "schoolies," at Gravelly Point on the GW Parkway.
Red runway lights cut through the early-morning mist. Their
reflections shimmer like a string of beads on the black water that swirls
around me, pressing my waders tight against my legs.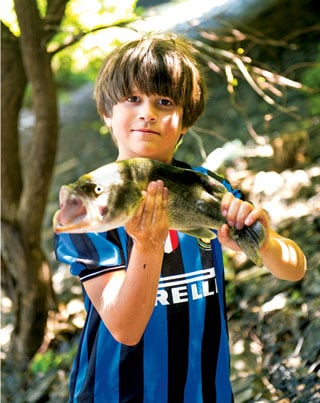 My fly rod is an extension of my arm as I rhythmically propel
it forward and back—pausing for the loop of line to uncurl behind me—then
drive it forward again, stopping the motion to let the cast roll out onto
the water in a straight line 30 yards ahead of me.
I pause as the line settles, waiting while the bit of
chartreuse-and-white fluff at the end moves through the layers of
current—exactly, I hope, like a swimming minnow would.
Suddenly there's a rustling on the bank nearby, amplified in
the predawn stillness. At this hour, there's no rumble of traffic from the
parkway, no bone-rattling transit of planes at the airport.
My breath catches in my throat as I wonder who else might be
out before sunrise. A pair of glowing eyes appears on the bank and I
exhale: A foraging raccoon sniffs about before disappearing back into the
trees. A pinprick leak in my waders near my right knee has let in enough
river to drench my fleece pants, and the steam coming off the water is
starting to dissipate. This otherworldly scene will soon dissolve into the
morning commute. Still, nothing.
After what I've sworn for the sixth time is the very last cast,
I begin to wind up my line, resigned. I'll go home fishless.
Then . . . electric! Fish on.
I start yanking line in as fast as I can, holding the rod high
above my head to keep tension. I'm babbling now, alone in the morning,
unashamed prayers of thanks to the god of fish who has smiled once again
instead of sending me home ready to quit the sport entirely.
I bring my catch to hand, and it's a bass as long as my
forearm. Not the species I was targeting, but redemptive nonetheless. I
unhook it with a quick shake and 15 minutes later catch its brother. By
now I'm drenched and shivering. I clamber to my car, where I crank up the
heat and peel off my wet gear. Coffee, a hot shower, and a feeling all
morning at work like I've gotten away with something.
• • •
"Call it a day, Willy?" I ask. We've determined that the man
downstream is using plastic worms, which seem to be working better than
our natural ones.
"Maybe a couple more casts," he says.
Truth is, I'm about done myself. Fishing's been slow, and we
still have to pick up Jack for baseball.
"Just one," I say, turning to gather our stuff. "We gotta
go."
I turn back in time to see his rod suddenly dive toward the
surface like a divining rod that's found a spring.
"Whoa!" he screams.
There's the whir of line being stripped against the drag as
whatever is on the other end flees. And Will's hysteria: He's both
terrified and ecstatic—practically speaking in tongues. I reach around
behind him and grab the rod, my own heart pounding. In the infinity of the
next two minutes, together we land the lunker.
This article appears in the August 2012 issue of The Washingtonian.