1. Pick up the shoe.

"If it's heavy, you're not going to be comfortable. It's like strapping sandbags on your feet," says Anyi Lu, a designer who makes footwear that's both fashionable and wearable.

2. Try the shoe on a hard surface.

Shoe stores typically have padded carpet—so find a bit of hardwood or tile to get a true indication of comfort. Make sure the toe box is roomy enough for you to wiggle all of your toes.

3. Go for a gradual slope.

The steeper the pitch between the heel and the toe box, the more pressure you're putting on your foot. "Some women want the feet to look smaller," says Lu, "and the shoe is very cute and short, but the pitch is sharp and you put a lot of demand on your arch to work it."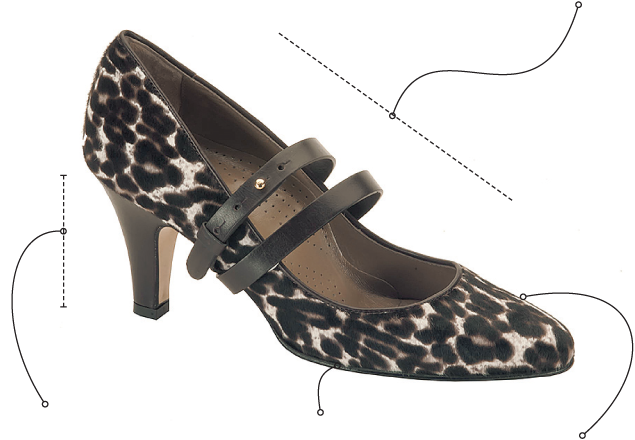 4. Stick to a heel that's two inches or lower.

Save the sky-high stilettos for special occasions. For every day, says podiatrist Amir Assili of Shady Grove Podiatry, "one and a half to two inches high, tops." Anything higher puts too much stress on the foot.

5. Look for cushioning underfoot.

Lu's shoes have memory foam; Cole Haan has shoes with Nike Air padding. "If you knock on the bottom of a shoe and it sounds like knocking on a door, there's not enough cushioning," says Dr. Stuart Sibel of Sibel Firestone & Schwartz DC Foot and Ankle.

6. Choose a leather upper.

If a shoe's upper and lining aren't leather, they may not stretch, Lu says. Her shoes also feature sacchetto construction, in which the lining and insole are stitched rather than glued together—which, she says, makes the shoe flexible.
Two exercises to keep you walking tall
Toe Curls

To strengthen your toe muscles—which can be weakened by wearing heels—pick up a pencil with your toes while barefoot. Try to perform these curls for one to two minutes with each foot, three to four times a day.

Calf Stretch

To stretch tight calves and Achilles tendons, place your heel on the ground and your toes against a wall, creating a 45-degree angle with your foot. Lean into the wall and hold for 15 seconds. Do three times with each foot.
Photograph courtesy of Anyilu. Illustrations by Pete Sucheski.