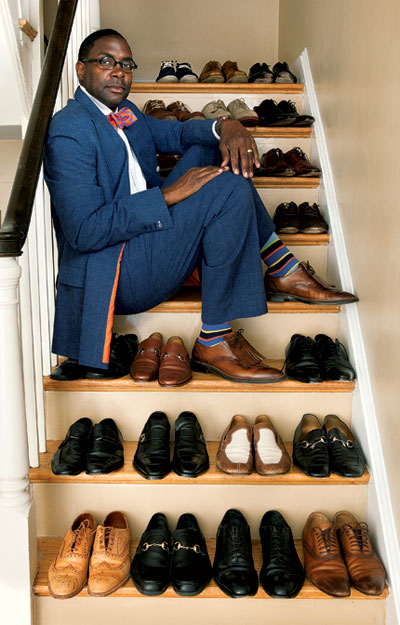 An adult with an eye for style can easily fill one good-size
closet with shoes. André Wells needs three. Don't judge him, though—it was
the gentlemanly thing to do.
When he and his wife moved into their 1927 home in upper
Northwest DC, Wells, a noted clotheshorse, gave her the master-bedroom
walk-in. "So I ended up with three closets, each in a different room,"
says the CEO of Events by André Wells, a party-planning
company.
"I keep dress shoes in one closet, sporty/semi-casual in
another, and sneakers and sun shoes in another," he says. To keep track,
he puts each of his "100 or so" pairs in clear plastic boxes labeled with
the brand and style. Not that he needs much help keeping his shoes
straight: "A pair may look just like another pair to the untrained eye,
but I know the difference between the wingtip lace-up from one brand and
the wingtip lace-up from another."
He says Ferragamo, Ralph Lauren, Gucci, Bruno Magli, and Hermès
are his favorite designers. Check his closet and you'll find a box labeled
"Black Gucci Dress Loafer Silver Bit," which is not to be confused with
"Black Gucci Dress Loafer Gold Bit," in the same way the "Olive Ralph
Lauren Moccasins" shouldn't be mistaken for "Brown Ralph Lauren
Moccasins."
Says Wells: "The reason I like Gucci and Ralph Lauren is I can
still wear styles from six years ago. I stick to the classics, and if
they're well made they last."
Wells recently purchased a pair of classic, preppy bucks from
Nordstrom, but he ditched the laces provided for snazzy red ones.
"Washington can be a conservative city, and I'm a creative person," he
says. "I try to push the envelope a bit."