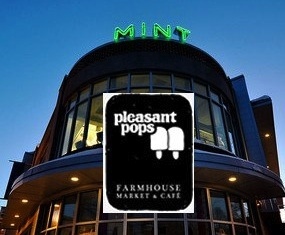 Fantastic news for what's supposed to be a gorgeous weekend: Pleasant Pops Farmhouse Market & Cafe has been cleared by the various regulatory bodies to open softly in Adams Morgan tomorrow at 7 AM.
As at any shop in the early stages of opening, you'll find many but not
all of the menu items. Look for three sandwiches and two salads—all
vegetarian and vegan. Among them: a caprese 'wich on fresh bread
and a spicy peach salad with poblano peppers. Early risers can grab drip
and espresso drinks made with beans from Annapolis-based Ceremony Coffee Roasters,
and a market section with milk, butter, and eggs from Trickling Springs Creamery. And of course, there will be popsicles. Flavors
include peach, honey-apricot, Mexican chocolate, and sweet
cream and cinnamon.
Once it celebrates its grand opening, the shop will stay open until 9 PM. Co-owner Roger Horowitz says he'll close early this weekend, however—between 3 and 5. Check back in with us on
Monday for a full preview and photographs of all the delicious treats.
Pleasant Pop Farmhouse Market & Cafe. 1781 Florida Ave., NW.
See also:
Pleasant Pops Farmhouse Market and Cafe Will Open in Adams Morgan
Recipe Sleuth: Pleasant Pops' Honey-Lavender and Strawberry-Rhubarb Popsicles