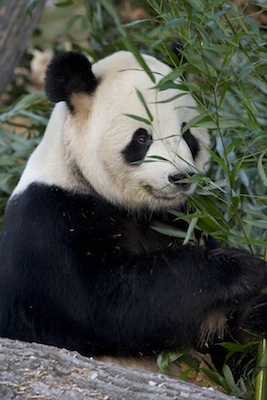 It's not known yet whether the ribbons and balloons should be pink or blue, but the
National Zoo is celebrating the birth of a baby panda to parents Mei Xiang and Tian
Tian. The birth of their second cub happened last night and, according to the zoo,
so far, so good. Officials say the cub is only four ounces, which they compared to a stick of butter. Mom weighs about 250 pounds.
Regardless of the size difference, she's being a caring mother, licking her baby,
and the baby is doing what babies do, crying—which is considered a good sign of lung
strength and general well being.
Mom and Dad would be considered older parents. Mei Xiang is 14, and Tian Tian is 15.
The fertility period of pandas is generally until age 20. Their first cub, Tai Shan,
was born in July 2005.
For the past couple of weeks the zoo sent out notices to the media with the alert
that something could be up—due to the female's hormone levels—but it was unknown whether
it was a "pseudopregnancy" (she's had five) or the real thing. They were encouraged
by an ultrasound and modifications in her behavior. Now, zoo officials say, she'll
want to be left alone for a few weeks to bond with her cub. After that both mother
and child will be examined.
Because they are in seclusion in the panda house, there's no chance of any baby sightings.
However, the zoo does have a Panda Cam, and is giving updates on its Twitter feed
at #cubwatch.
See Also:
Panda Birth Prompts Exuberant Tweeting
YouTube's Cutest Baby Panda Videos
Pandas in the United States: A Timeline
How the Giant Pandas Get Their Names