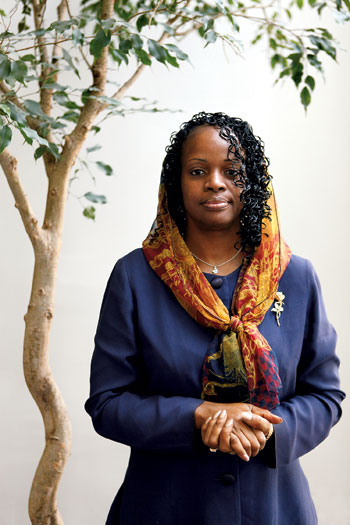 She met John Allen Williams—later John Allen Muhammad—when she
was 23 and living in Louisiana. He was always on time for dates, and soon
she fell in love. He nicknamed her Tinker Bell. They married in
1988.
By 1993 they were living in Washington state, with three
children and a marriage on the rocks. Six years later, they separated and
she got a restraining order—her husband had turned verbally abusive after
serving in Operation Desert Storm. "I've said it many times," she wrote in
her 2009 book, Scared Silent, ". . . the man that I married is still in
Saudi [Arabia]; the man that returned is a complete stranger."
In March 2000, after beginning a visitation agreement, he
kidnapped their three children, taking them on an 18-month odyssey. They
were returned to their mother in August 2001 after an emergency custody
hearing in Tacoma, Washington. The kids never talked to their father
again.
"A lot of people blame me for what John did," says Mildred
Muhammad. "They said things like if I had stayed with him, he would have
killed me and no one else." She adds that in addition to the people killed
and their families, the victims include her, her children, and Muhammad's
accomplice, Lee Malvo.
"When John went to Baton Rouge to visit family, he presented
Lee as his family," she says. "Lee wrote a note to one of the nieces that
said, 'Please help me. If I don't do what John tells me, he will kill me.'
But the judge wouldn't allow it in the trial because they couldn't
authenticate it.
"The police told me before they caught John that I was the
intended target. At the time, I had no idea it was John doing it . But I
was also looking for John, who told me he was going to kill me. He had the
training and capability. I was already in hiding."
She was living in Clinton, Maryland, at the time of the first
shooting. "When I got the children back legally in Washington state," she
says, "John went to a father's-rights group and told them I kidnapped the
children. They didn't check him out, but they found me in the DC area and
told him. He went to his best friend and said, 'I found Mildred. She's in
DC.' That's when he began his journey to kill people. He wanted me dead so
he could get the children back. The theory was he was creating a diversion
to cover up my murder so he could rescue the children and be the grieving
father.
"That friend later called the FBI. That's when they put me and
my children in protective custody. After they caught John, they let us go.
A detective told me John said, 'It was all Mildred's fault.' "
Today Mildred Muhammad, 52, runs After the Trauma, which helps
victims and survivors of domestic violence, providing the kind of help she
says was never available to her because her ex-husband's abuse left no
physical scars.
The Muhammad children are thriving, says their mother. Taalibah
is 19, Salena 20. Both are in college, sing opera in several languages,
and want to be vocal performers. John, 22, is majoring in computer
information systems. "They know what he did was wrong," their mother says.
"They don't condone his actions, but we don't take any responsibility for
his actions. They remember him from when they were little.
"They wanted to talk to their father before he was executed,
but he didn't cooperate. The attorneys said it was because he wouldn't be
able to answer the one question they would want to ask: 'Why?' That would
have unraveled every emotion he had put in place to help him get through
the execution. He believed he was innocent. He never said he killed any
people. He blamed Lee."
See Also:
Terror in October
A Timeline of the Snipers and Victims