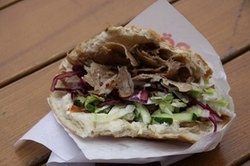 If all goes according to plan, Döner Bistro's Adams Morgan restaurant will open its doors at 11 AM on Thursday. On the menu? Falafel and gyro-esque sandwiches in the Turkish tradition, featuring flatbread, spiced meats­, tzatziki, and salad mixes. There are also German offerings: currywurst, bratwurst, schnitzel, and lots of German beer—both on tap and in bottles. Prince of Petworth got a photo tour of the space, which is decked out with a foosball table and televisions for watching European soccer matches.
The outdoor "beer garden" at Döner's first location in Leesburg is something of a drinking destination for German brew enthusiasts—you can head there for an Oktoberfest celebration with live German music, which lasts from October 11 through 14.
Döner Bistro. 1654 Columbia Rd., NW; 202-462-8355. Open Monday through Thursday and Sunday from 11 to 11, Friday and Saturday from 11 AM to 3 AM.