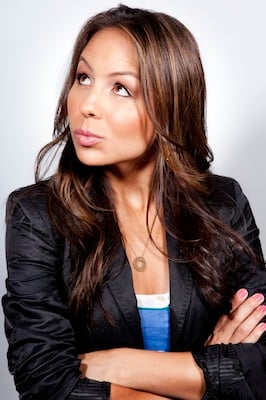 Anjelah Johnson will forever be known for two characters: an impossibly rude fast-food employee,
and the nosy, business-savvy Vietnamese nail technician
whose YouTube videos helped make Johnson famous. (That particular video currently
has more than 28 million views.) The former NFL cheerleader and MAD TV star performs
at the Warner Theatre this Saturday; we caught up with her to talk about Internet
fame, secret talents, and the real inspiration behind Bon Qui Qui.
What do you do to prepare for a show?
When I'm already at the venue and in the green room, I like to play music—any kind
of music that makes me dance, or that I can sing along to, because it loosens me up
a little bit. I'm not very big on having a lot of people around me right before a
show; I like to just be very minimal. Sometimes I'll do meet-and-greets, but I make
sure they end about 15 minutes beforehand so I can just be by myself.
Where do you get inspiration for your characters?
You know, everyday life. I meet so many different people, and people are so unique
and so interesting, and then there are the people I spend my time with—my brother
and my husband. I watch and am observant around them, and I incorporate things. Bon
Qui Qui is like a mix of my little brother and a bunch of people I've met, but more
specifically my little brother. He's just so ghetto fabulous, and he's one of those
people who's everybody's alter ego, and he has no filter. He just says whatever he
feels like saying. He's funny, and he's a trendsetter; people like the way he talks,
and he's a fun guy.
What do you think it is about Bon Qui Qui that makes people love her so much?
I feel like it's because she's everybody's alter ego. She says the things people wish
they could say. You root for her almost because when she says rude things, she's not
trying to be rude, she really thinks she's entitled to that. Like when she's in the
middle of a conversation when she's at work and somebody interrupts her, she's teaching
you almost. She's like, "This is manners—if you see me in the middle of a conversation,
don't interrupt." I don't know what it is exactly that makes people root for her, but
I think people wish they could say what she says and do what she does.
You came of age as a comedian in the era of YouTube. What kind of help did that give
you?

YouTube put me on the map. If there was no YouTube I wouldn't be where I am today.
There's no way. People come to my shows specifically to see the clips they've seen.
If it weren't for YouTube, nobody would even know my name, so I'm so grateful for
what it's done for me and my career, and so grateful for even the timing of it. My
nail salon joke came out right when YouTube was new, so it was one of those things
where it was a funny joke, it was relatable, and people wanted a good laugh—people
got it and they appreciated it. And it was combined with good timing of this new thing
where if you received a video in your mailbox you'd watch it, because people were
like, "What, a video? What's this?" And now if you receive a video in your e-mail
the first thing you do is check how long it is: "Awww, what is this, is there gonna
be a commercial before I press play?"
So you think it's a good thing for comedians?
People ask me all the time. Other comedians ask, "What did you do, how did you put
the video up?" I didn't even put the video up myself, first of all, so there's no
science to it, although nowadays there are people who get paid a lot of money to tell
you, "The busiest social media hours are this day and this time, so post things then."
There are those kinds of things, but there's really no rhyme or reason to which video
is going to go viral and blow up, and get millions and millions of hits. Because you
can have a video of a cat jumping out of a little pot into whatever, and sure, it's
a giggle, but who knew it would get 30 million views? So I say, just keep putting
stuff out there, because you never know who's going to see it and pass it along.
If you weren't a comedian, what you be?
My dream job is actress. I've always wanted to be an actress, and I've been blessed
with the opportunity to be on some movies and TV shows and stuff like that. I enjoy
acting, and I definitely plan on doing more of that. But if I had to choose something
outside of the entertainment industry altogether, I would probably be a massage therapist.
I give massages pretty regularly, and I'm good at giving them. I like bringing joy
to people, so if I can't make you laugh, then let me give you a massage and help release
some of your tension.
You got married last year. Is it hard to balance family life with life on the road?
It is. We make it work, though. We figure out our schedules—right now I'm in Florida
because he's in Florida; otherwise I'd be home. He's in music, and his tour is up
and down the East Coast, so his home base right now is Florida, where his parents
are. We figure out our calendars, and it's kind of like the movie
Up In the Air with George Clooney. We're like, "Well, I'm gonna be in this city, maybe we can meet
here." We make it work, and also, we count on the fact that this is not going to be
for the rest of our lives.
You're coming to Washington right in election season. Will that influence your act
at all?

No. I don't delve into political material. I like to tell stories and be relatable
and share what's going on in my life. I rarely like to do material that would cause
somebody in the audience to shout out their opinion to me, you know what I mean? That's
not really my style.
Which comedians make you laugh?
I love so many different comedians. I love Brian
Regan,
I love Ellen DeGeneres. I love my comedian friends whom I work
with regularly, my
friend Nate Bargatze—he's a new up-and-coming comedian, and
he's going to go big-time
because he's so funny. I work with him a lot, and also Sheng
Wang, who's going to
be with me in DC. There are a lot I work with who regularly
make me laugh, but in
terms of big headliners, Brian Regan is probably my favorite.
Final question: What are three things most people don't know about you?
Three things most people don't know about me. . . . For the longest time, I didn't
eat fruit or vegetables, but now that's changed and I now eat vegetables and some
fruit. But there's still some fruit I don't like. Like watermelon—it smells so good,
but I just can't deal with the texture in my mouth. I don't know what it is. I can't
do it. It's mushy . . . I don't know.
Another thing people don't know: I'm a big homebody. If I'm not on the road I'm home,
and I like to sit on the couch and clear my mind with
The First 48, Law & Order SVU. I can sit on the couch and watch TV and be perfectly happy. When people come to LA
they're like, "Hey, what's the new hotspot, what shall we do in LA?" I don't know!
I don't go out, I don't do anything, I like to just stay home and be home.
And then one more thing . . . hmm. I don't know. Chips and salsa is my favorite food?
But people know that. I've talked about that. My last meal on earth would be chips
and salsa.
And your secret massage skills.
Yeah. I'm a good masseuse. And I go deep tissue. If you're a wussy, don't get a massage
from me, because I'm gonna go in. I'm gonna use my elbows, get it good.
Anjelah Johnson performs at the Warner Theatre this Saturday, October 13. Tickets
($29.50) are available via the Warner Theatre's website.