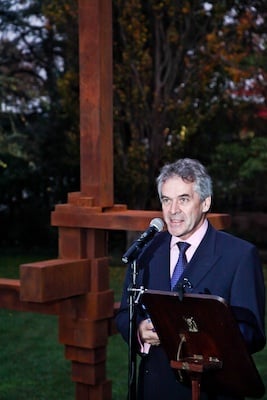 The British Embassy, whose art collection we wrote about
back in
August,
has a magnificent new item on its lawn, thanks to a chance
encounter with artist
Antony Gormley earlier in the year. When Gormley was in town for the unveiling of his show at the
Phillips Collection earlier this year, he attended a dinner with the ambassador,
Sir Peter Westmacott, and his wife,
Susie, an art lover and a former curatorial assistant at the Sackler Gallery.
The embassy has some magnificent works in its collection by British artists, including
a painting by
Damian Hirst and two prints by
Julian Opie. But the residence had nothing by Gormley, one of Britain's most acclaimed and respected
artists. Gormley offered to loan them one of his sculptures, and "Extend," which had
been languishing in storage in a warehouse in Brooklyn, seemed an ideal option.
The sculpture, like so much of Gormley's work, explores the human body and its relationship
to the world around it. Constructed from cast iron in the semblance of a body, and
covered in a copper patina, "Extend" is both a philosophical statement and an exercise
in engineering. Long iron "arms" stretch out in front of it, while the head and neck
are as tall as the rest of the sculpture. The stomach and hips are also extended,
and the feet and legs shrink quietly into the ground. The sculpture is surrounded
by lush green grass and shrubbery, and its deep earth tones seem to blend into the
rest of the garden, while its linear, oblong structure provides a sharp contrast to
the natural surroundings.
"It's the first and maybe the most radical of a group of extension works," says Gormley.
"I don't know whether I can really explain what it means, but for me, I'm less interested
in the body as a representation, as a figure that can be recognized, than I am in
the body as the place, the dwelling in which we all live."
Gormley was already scheduled to appear as the guest of honor at the embassy's party
for the State Department celebrating 50 years of art in embassies October 25, but
the sculpture's installation at breakneck speed gave him another excuse to visit Washington.
An exhibition of his work is currently in display in New York to mark the opening
of the new 22,000-square-foot Sean Kelly Gallery in Chelsea. "I hope that it's kind
of a catalyst for us to feel and think through our bodies about our position in space,"
says Gormley about "Extend" and its new home. His sculpture's location in a grand
English garden on Massachusetts Avenue, meanwhile, testifies to Gormley's eminent
position in the art world, in Britain, and in the US.