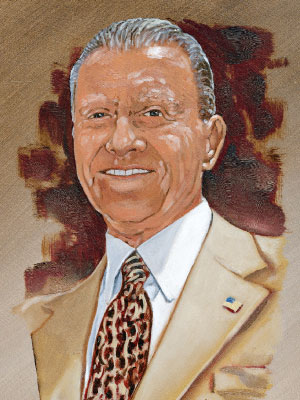 Giuseppe Cecchi reveals the secret about the Watergate buildings that even political junkies miss—the reason the complex was built as a series of ovals without a square edge in sight: DC planning authorities insisted that it complement the forthcoming cultural center across the street, originally designed as three round buildings.
A young engineer with the project's developer, Società Generale Immobiliare (SGI), Cecchi moved to the US from Milan in 1960 to scout investments and then supervise construction. By the time Congress settled on a more traditional—and rectangular—single building for the Kennedy Center, SGI had already committed to the Watergate's curves.
Cecchi had also committed to Washington. He developed Alexandria's Watergate at Landmark for SGI, then formed his own company, International Developers Inc. (IDI), in 1975. Though it has grown, IDI remains a family business and now employs three of Cecchi's four sons.
The Watergate was DC's first mixed-use complex, combining condos, offices, a hotel, and shops. IDI has since developed a number of others in the area, including Leisure World of Virginia. All told, it has built more than 13,800 condos—including 3,000 affordable units in Alexandria converted from rentals for existing tenants. The firm has also developed 2.8 million square feet of office space and three hotels.
Cecchi believes every development should have a personality. "Create a story line," he says. Whether in the configuration of the land or in features such as Juliet balconies on the Belvedere in Arlington, he says each project has its own character.
Character also means giving back. Cecchi donates time and money to such organizations as the Greater Washington Board of Trade, Catholic University, the National Children's Museum, George Mason University, and the Virginia Museum of Fine Arts. "I have earned more than I need to live happily," he says. "I have to share it."