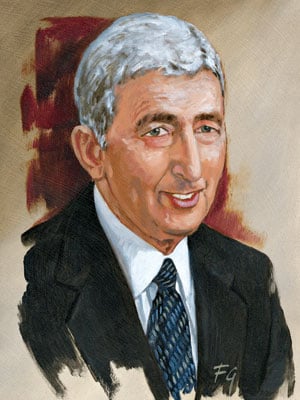 John Darvish still carries his first paycheck—for $2.94. He earned it in 1962, working as a summer salesman at a Hyattsville car dealership—commission for selling a used pickup truck.
Darvish was a premed student with plans to return to what was then Elon College in North Carolina, and he wasn't thrilled with his first earnings. But by the end of the summer, he was hooked on the auto business.
When he called his father in Tehran to tell him about his changed career plan, the elder Darvish exhorted him to "go out there and not just be a used-car salesman but a Henry Ford," says Darvish's daughter Tammy.
Darvish bought his first dealership, Glenmont Chrysler-Plymouth, in 1977. He created Darcars, now one of the largest dealership chains in the country, with 32 franchises in the Washington area, 2,000 employees, and $900 million in annual revenue.
Darcars prides itself on retaining good people. Some longtime employees were trained by Darvish, moved up through the ranks, and now "make as much money as the Vice President of the United States," he says. Some customers have been with Darvish for so long that today their tags alone cost more than their first cars did.
Darvish has been honored for his commitment to the community, including support of more than 30 local charities, hospitals, universities, and service groups.
Tammy Darvish and two of her brothers have taken over many day-to-day responsibilities of running the company. But their father still shows up at Darcars Toyota in Silver Spring, where his door is always open to both employees and customers.
"We're in this business because I love cars, I love people, and I can serve people as well as I could have being a doctor," he says. "Maybe more so."