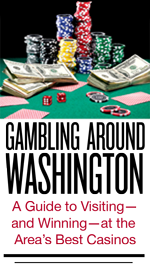 It's Bingo Night at Saint Andrew Apostle Catholic Church in Silver Spring, and the crowd is massing ahead of schedule. They don't want to miss the early-bird game.
Dawn Ford, a volunteer who's been organizing the twice-weekly
game for 14 years, warns me that if I want to interview some of the
regulars, I'd better start now: "You don't want to bother them during the
game."
Some come alone, others in pairs or small groups. Many bring
their own special "bingo bags," with bingo designs across the front and
side pockets for their "daubers," used to mark their cards. Saint Andrew
has plenty of daubers for people, but Ford says many prefer to bring their
own. The bingo crowd is a superstitious bunch. Many unzip their bags and
pull out good-luck talismans, setting up complex arrays of dolls and
trinkets on their tables.
I ask Ford if bingo is all about luck or if there might be some
strategy involved.
"People will swear they've figured it out," she says. "I've
seen people look at a card we give them, then hand it back and ask for a
different one."
Bingo has long held a special place in America. For many, it
symbolizes what a community should be: people coming together for fun at
the local church or VFW hall, winning some pocket change while the rest
goes to charity. "A lot of these people have been playing here for years,"
says Ford. "We have seats saved for them."
But across the nation, the game is threatened. "Bingo is
dying," says Chuck Lessin, legislative director of the Virginia Charitable
Bingo Association, a Richmond group pushing legislation it hopes will
reverse the decline.
Although he's most familiar with Virginia's bingo laws, he
works with groups across the country pursuing the same agenda. A decade
ago, the nation's charitable-bingo market brought in an estimated $4
billion a year for the causes it supports. Lessin says today the number is
about half that.
He cites several reasons—the recession, the rise of online
gaming, Native American casinos, and "the Donald Trumps and Steve Wynns of
the world" competing for the average gambler's business. (Wynn, a Las
Vegas casino magnate, got his start at his family's bingo parlors in
Maryland.) Lessin's organization is lobbying the Virginia General Assembly
to ease charitable-bingo regulations, such as the amount of tax charities
must pay on their proceeds.
While Virginia regulates bingo statewide, Maryland allows each
city and county to set its own laws, frequently resulting in relaxed
restrictions. For instance, a charity-owned venue in Virginia can host
games only four nights a week—two if the building is privately owned—while
there are no such constraints in some nearby Maryland
counties.
But with slots and casinos expanding in Maryland, bingo's end
may still be on the way. Ford has seen attendance drop steeply over the
years, but she attributes the biggest loss to one cause: the ban on indoor
smoking.
"There was just something about smoking and playing bingo that
brought people in," she says. When the law went into effect in 2008,
attendance dropped from around 150 people a night to about 50, maybe 60 on
a good Friday.
"We used to bring in $5,000 or $8,000 a night," says Ford.
Today it's likely to top out at $3,000. "Smoking was a killer for
us."
She is happy about one thing, though: She no longer has to wash
her hair three times after each bingo night to get the cigarette smell
out.
To combat the loss of revenue, Saint Andrew and other bingo
halls have adopted new tactics. One is technology. Ford shows me a piece
of hardware called "computerized bingo"—a bulky touchscreen computer that
plays the game for you. Players can buy up to 64 cards ($60) to play for
each game, and the called numbers are automatically marked in the machine.
You can even customize your dauber color or symbol—some like a bull's-eye,
others go for a dollar sign. The machine beeps when you've hit
bingo.
Ford says there was initially some resistance to the
devices—"People thought they were fixed"—but now most regulars use them in
addition to paper cards. I see several players with two machines set up in
front of them.
Another change is the addition of special games that bring in
more cash. There's always been regular bingo (getting B-I-N-G-O). Then
there were variations like blackout bingo (cover the whole card) and
B&O Railroad (no I's, N's, or G's), followed by more intricacies
within the game such as Red Ball and Starburst.
There also are sub-games that have a higher price tag but
bigger payouts. Ford says these are the real money makers. Volunteers
meander around the hall selling tickets to these special drawings. "Wizard
of Oz jackpot! Smokin' Hot special—who wants to win?" they shout, walking
up and down the aisles like hot-dog vendors at the ballpark.
Phyllis, an eightysomething player who declines to give her
last name, is buying a few of the special tickets at her table in the far
back center. She's been sitting in the same seat for 25 years. "Back when
they smoked, this was the only place where you could breathe," she
says.
What keeps her coming back? Phyllis says it feels good to
support Saint Andrew and have a little fun: "I'm a widow now, and it's a
nice night out." She also says it keeps the mind sharp. She's right: A
2002 study by the University of Southampton in England showed that people
between ages 60 and 82 could thwart the decline of cognitive abilities
with regular activities such as bingo.
Marina, who also doesn't want her last name used—in addition to
being superstitious, bingo players are a shy bunch—started out playing six
cards at a time but now plays about 12. "I could play 18," she says, "but
I don't like to be overwhelmed." Marina drives 40 minutes from Damascus to
play at Saint Andrew—at least in part, she says, because the prizes are so
good. While most regular games here pay out $90 or $120, the progressive
jackpot of the night can reach $1,200.
But Marina doesn't take it too seriously. Some people get a
little angry when they lose, she says, but to her it's a relaxing night.
As she speaks, she's Scotch-taping bingo cards together to form a
personalized pattern. She says it helps her win.
I settle in for the opening game. The goal is to make a V shape
on the bingo card, and when I finally get organized, I look up at the
light-up board and realize I'm five or six numbers behind. "B-11!" the
announcer calls. I try to catch up, messily daubing my measly three cards
while a steady stream of numbers keeps coming. "G-47!" I'm getting further
behind, sweating as blue ink smears my fingers. "O-64!" Finally someone in
front calls "Bingo!" and I can relax in defeat.
The games come fast and furious. Before I know it, my
competitors have torn off their sheets and started a new game. I'm still
struggling to keep up, but by the third or fourth game I'm getting the
hang of it. I learn to adjust my eyes to scan the card vertically for the
numbers, not the scattershot way I started. I feel a swell of pride that
I'm capably handling four cards now—until I see an elderly woman across
from me managing 12 without batting an eye.
But I'm getting closer. My cards are filling up, and soon all I
need are two or three more marks to win. Before I can, a woman in back
shouts "Bingo!" and I surprise myself by swearing under my
breath.
I can see why people like playing. There's a rush of endorphins
when you rapid-fire three stamps in a row, a rise of adrenaline as your
card becomes bluer. The sport of it, the competition, is apparent. I hear
fists slam down on a table in frustration at the end of a few matches. In
one game, two women call bingo at the same time, initiating a vicious
stare-down. They have to split the pot, and a volunteer hands them each
$15. All prizes are awarded in cash.
One player sitting behind me watches my struggle. She has more
than a dozen cards set up, plus two computerized devices. She's been
coming to Saint Andrew for about five years, and she loves how the game
relaxes her. I'm stressed out playing just four cards. "How could this be
relaxing?" I ask.
"You get used to it," she says. "I've seen people play on paper
cards without even daubing. They just keep their eyes on the numbers, and
when they bingo, they know."
She has five or six stuffed animals fanned out in front of her.
They're prizes from past, non-monetary bingo games she's played over the
years. She's been playing since she was a child with her mother. "It's not
even about the money, really," she says. "In my family, bingo was about
coming together, eating and laughing."
Even though her mother has passed away, she still comes every
few weeks to have some fun and play bingo with the regulars: "It makes me
feel like my mom is still around."
As the matches continue, I finally have one in my grasp. My
card is more blue than white, and I need only one more daub before
victory. The ball shoots up the pipe and into the video monitor for the
crowd to see. The announcer calls it. I scan my card.
"Bingo!" But the shout echoes from the far back. Another loss.
I screw the cap back on my dauber. I need a new one—this one's clearly bad
luck.
Research editor Michael Gaynor (mgaynor@washingtonian.com) didn't get any bingos that night, but he found a lucky stuffed animal that might do the trick next time.
This article appears in the November 2012 issue of The Washingtonian.