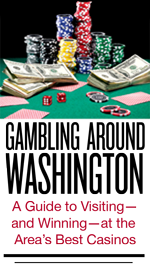 Atlantic City, New Jersey; 609-317-1000
Distance from DC: 193 miles
Best reasons to go: The Borgata is the best
casino on the East Coast—and better than many in Vegas. The poker room has
more than 80 tables, its own parking area, a food court, and the liveliest
games. It's next to an energetic, always crowded, and smoky room where you
can bet on and watch horseraces from around North America.
Other bets: The Borgata has more than 180
table games, including rows of roulette. On a busy weekend it might have
as many as 16 craps tables working. Despite the Borgata's upscale image,
table games have reasonable minimum bets that make playing fun—although
one $100-minimum craps table is often kept open on weekends. (I've seen
Howard Stern there on some Saturday nights.) In the slots area, you'll
find popular games as well as machines you won't see anywhere else but
that have the best payout rate of any New Jersey casino.
The scene: Nightlife patrons may not be as
intoxicated as at Revel, but things can get pretty wild at any of the four
bars. Big-name entertainers such as Pearl Jam, K.D. Lang, and Jay Leno
have recently taken the stage.
Take a break: Both Bobby Flay and Wolfgang
Puck have places to eat here, but many regulars say Noodles of the World,
on the casino floor, is the best Asian restaurant in town.
What you should know: The Borgata is more
generous than most casinos in dispensing food comps and free rooms to
high-volume slots players. Poker players can easily earn a dollar an hour
in free meal comps. Save them for the Borgata's spectacular Sunday-morning
buffet.
Bottom line: The only thing missing from the
Borgata is the ocean. For a few dollars, you can hop over to the boardwalk
on one of Atlantic City's jitneys. Make this your top Atlantic City stop,
whether you stay at the hotel or not.
This article appears in the November 2012 issue of The Washingtonian.