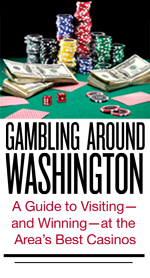 Charles Town, West Virginia; 800-795-7001
Distance from DC: 73 miles
Best reasons to go: This is the region's one
casino where you can find a rollicking poker game any time of day or
night—and a big score; a new, 30-table poker room features a wide variety
of games. Bad Beat Jackpots ranged up to $500,000 this summer if a hand of
four sevens or better was beaten at a table.
Other bets: If slots are your thing, Charles
Town isn't the best choice; except for a few good machines like More
Hearts, More Chili, and Alice, many are relics of the 1970s. All major
table games are here, but the minimum bets are usually too high for casual
players. On one recent Saturday night, four of the five craps tables had
$25 minimums. Because you customarily make several wagers on each dice
toss, that could mean a real-life minimum of $100 per toss.
The scene: The racetrack, one of the few in
the Mid-Atlantic with night racing, feels like an old-fashioned rodeo. The
Saturday-night scene is lively in the casino, too, especially at the H
Lounge, where there's loud live music and dancing. The Skybox Sports Bar
has TVs tuned to the track or sporting events—plus great wings. In most
areas, though not the poker room, smoking is permitted. The dim lighting
does little to brighten the brownish walls.
Take a break: It's always good to take a
respite from gambling. A quick drive lets you stand on the banks of the
Shenandoah River or see historic Harpers Ferry.
What you should know: Driving to Charles Town
involves winding two-lane roads. Time it wrong and you could get stuck in
traffic.
Bottom line: Proximity is Charles Town's
strength—it's about an hour from Washington. With its high table limits,
you may not be able to survive a losing streak for long, but you can
always go home and try another day.
This article appears in the November 2012 issue of The Washingtonian.