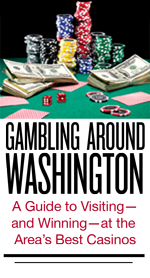 Hanover, Maryland; 443-842-7000
Distance from DC: 29 miles
Best reasons to go: Of the four Maryland casinos, this one has a vibe most like big casinos in Atlantic City. In fact, since adding high-roller table games this past spring, Maryland Live has earned more gross revenue than any casino in New Jersey.
Other bets: With three football fields' worth of whirring, colorful slot machines, Maryland Live can be overwhelming. And table games are not for the faint of heart: Many have $25 or $50 minimum bets, and some craps tables have $100 minimums. There are still electronic craps, blackjack, baccarat, and sic bo with limits as low as $5 a bet. Disappointingly, there's no simulcast parlor or betting on horse racing, but on August 28 the casino opened one of the largest poker rooms on the East Coast.
This article appears in the October 2013 issue of The Washingtonian.