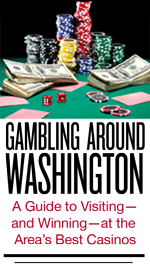 Wilmington, Delaware; 302-994-2521
Distance from DC: 106 miles
Best reasons to go: This is the place to play
tournament poker; a typical weekday might draw 100 players. The poker room
is awash in natural sunlight, and dealers and floor personnel are friendly
and helpful.
Other bets: Delaware casinos are the only
places east of Nevada where you can bet legally on NFL games. You must
pick at least three games at a time and get them all correct to win. Get
15 right and win $100,000. On game-day Sundays, the casino is packed,
mostly with Ravens and Eagles fans, and an entire wall is lit end to end
with HD screens showing every football game. The casino also has a good
supply of newer slot machines, including Grease and Elvis.
The scene: Dealers here are only half joking
when they call Delaware Park the world's only PG-rated casino. Cocktail
waitresses are well covered, there's no smoking, and sales of hard liquor
are limited. Owned by Rockville businessman William Rickman, Delaware Park
is more generous than Charles Town in giving regular players free slots
play and meals, and dealers remember customers' names.
Take a break: This isn't a fancy casino with
expensive restaurants, clubs, and shops. Good restaurants are nearby—one
of my favorites is Feby's Fishery, a top-rated seafood house.
What you should know: You can avoid the last
toll booth before the Delaware Memorial Bridge and the traffic jam it
often creates by taking exit 109 and following Route 4 to the
casino.
Bottom line: From a player's point of view,
this is one of the friendliest, most generous, and best-run small casinos
in the country. You can have a good time and not feel the casino is trying
to rip you off.
This article appears in the November 2012 issue of The Washingtonian.