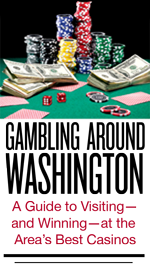 White Sulphur Springs, West Virginia; 855-453-4858
Distance from DC: 248 miles
Best reasons to go: With just a few hundred
machines, the Greenbrier has all the major games but on a smaller, more
elegant scale. This is one place where the James Bond image of women in
evening gowns and men in dinner jackets holds true. It has a lovely lounge
where guests can bet on horseraces. The casino is open only to patrons of
the 720-room mountain resort unless 400 or more rooms are sold—then you
can get a casino pass by buying a $30 tour of the Greenbrier bunker, built
during the Cold War to house members of Congress in case of a nuclear
strike.
Other bets:There are high-limit craps,
blackjack, and baccarat games in the oak-paneled high-roller
room.
The scene: The casino opens at 11 am most days
(1 pm on Sundays), but during the after-noon it's mostly empty. At 11
every night, dancers appear at the top of the casino steps and enter to
waltz music while Champagne is poured for each guest. Call me crazy, but
the dancers seemed to bring a burst of good luck.
Take a break: If hunger strikes while you're
gambling, there's an Asian restaurant, In-Fusion, in the rear of the
casino, and a fun casual restaurant, Draper's, outside the
entrance.
What you should know: Silver Airways
(800-864-8331) offers a daily flight from Dulles to Lewisburg, West
Virginia, 20 minutes from the Greenbrier. The trip takes an hour on a
34-seat Saab 340B+; a shuttle from the Greenbrier meets you at the
airport. There are also plans to inaugurate a 15-car luxury train ride
from DC's Union Station.
Bottom line: Managing a casino with limited
hours and old-style decorum may be a challenge. I wouldn't make a special
trip for the casino, but if you go for the fantastic golf or spa, take the
opportunity to slip into the casino and place a few bets around the 11 pm
waltz.
This article appears in the November 2012 issue of The Washingtonian.