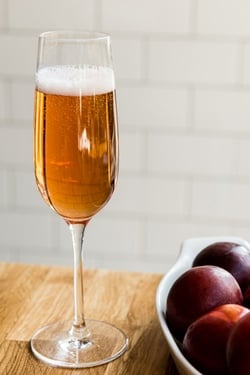 When beverage director Brian Zipin was plotting the cocktail list for the newly opened DGS Delicatessen, he focused on drinks that both spoke to the Jewish culture and paired well with the briny, smoky, meaty flavors that are the signature of any good deli.
Thus were born sips like the Mazel Tov: a lightly floral libation topped with Champagne that uses the flavors of plum, frequently found in Judaic cooking. The festive flute is equally tasty sipped on its own as an aperitif, or served alongside latkes topped with smoked salmon or applesauce and sour cream.
The New York-based Averell Damson plum gin liqueur won't be available in your corner bodega, but you should be able to find it in most specialty liquor stores. If not, Zipin recommends substituting a quality sloe gin, such as Plymouth.
Mazel Tov Cocktail
Serves 1
¼ ounce lavender syrup (recipe below)
1 ounce Averell Damson plum gin liqueur, or quality sloe gin
Splash of fresh lemon juice
4 ounces Champagne or sparkling wine
Lavender Syrup
2 ounces dried lavender buds
2 cups water
1½ cup sugar
Make the lavender syrup: Pour two cups of water in a saucepan and soak lavender buds for 5 minutes. Add sugar, and then bring to a simmer for 7 minutes over medium heat, stirring occasionally. Cool and strain. Syrup will last for 3 to 4 weeks in the refrigerator.
When you're ready to serve, pour lavender syrup, gin, and lemon in a mixing glass over ice, stir briefly, and strain into Champagne flute. Top with chilled Champagne and serve.