The Royal Danish Embassy's fourth annual Creative Christmas collaboration with graduate
students from the Corcoran College of Art + Design debuted last night at the Ambassador's
residence for a crowd cheered by the holiday season, balmy weather be damned. Dubbed
"gather.Hygge," the installation was inspired by the Danish idea of hygge (sounds
like "hoogah"), which refers to the feelings of warmth and coziness stirred up by the
concept of hearth and home.
The Corcoran team—MA Interior Design students
Audrey Cotton and
Jacqueline Hiersteiner, and MA Exhibition Design students
Maizie Clarke and
Alexandra Hunger—transformed the space with riffs on the shape of a triangle (think Christmas trees,
pixie hats, and jewels). Parts of the installation showcased the work of several Danish
artists, including
Per Kirkeby, whose paintings are currently on
display at the Phillips Collection through January
6,
2013,
and
Anna Ancher, whose work will be featured at the National Museum of Women in the Arts from February
15 to May 12, 2013. Renowned mixed media artist
Gugger Petter's series, "28 Mixed Candies," was on display in the living room. Flickering candles,
a jazz duo in the library, and Embassy chef
Lars Beese's bites of classic Danish cuisine drove the hygge home.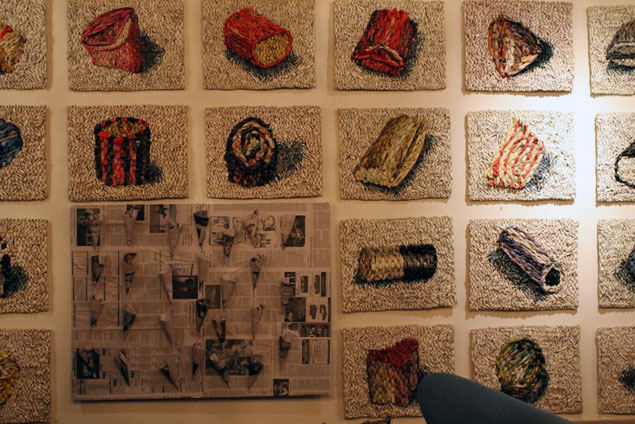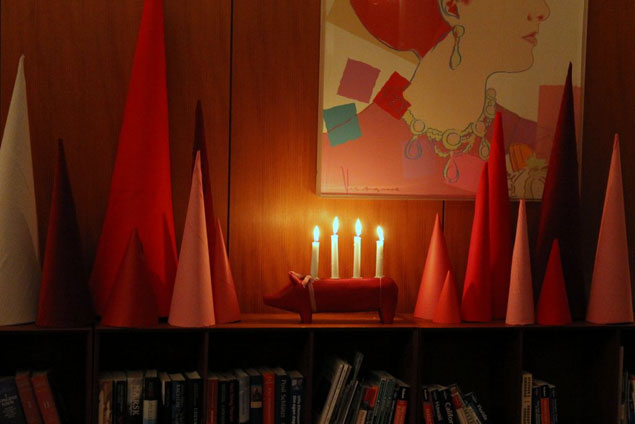 Because hygge has to been experienced in order to be fully understood, we encourage
you to check it out for yourselves: The Ambassador's residence will be open to the
public on Thursday, December 6 from 3 PM to 5 PM. Visitors can view the exhibition,
see the vast collection of original Modern Danish furniture and meet Petter, who will
be on hand to discuss her work.
For more information about "gather.Hygge," visit the
Danish Embassy's
website.