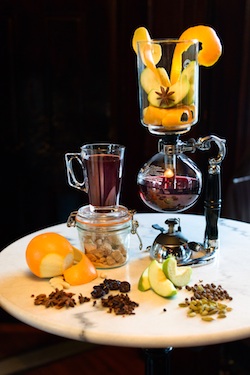 In Sweden, glogg is the common term for a spiced punch, usually with a wine base. Bartender Todd Thrasher (PX, Restaurant Eve, TNT Bar, the Majestic) shared his own version of the aromatic, warming concoction. Combining three fortified wines with Malbec, brandy, and plenty of spices, it's festive and special-occasion-worthy, making it a great fit for any holiday gathering. Plus it will make your house smell like heaven.
Ingredients:
Makes 6 to 7 servings
1 cup ruby port
1 cup Malmsey Madeira
1 cup Amontillado sherry
1 cup Malbec
5 cloves
5 cardamom seeds
1 star anise pod
1 small stick of cinnamon
1 cup light brown sugar
½ cup brandy
¼ cup dried cranberries
¼ cup dried almonds
Directions:
Combine all ingredients except the brandy, cranberries, and nuts in a heavy saucepan and heat slowly (about 20 minutes). Remove from heat and add brandy. Garnish with almonds and cranberries.
You might also like: