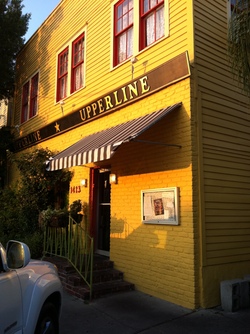 This isn't a compilation of "wow" moments. It isn't about dishes that made me close my eyes in sensual contemplation or exult at my great privilege to be eating professionally on your behalf. I had those, believe me. You can't eat out 500 times a year and not have those.
This is a personal list, and the moments are, too—private snapshots I hope to extend by writing about them and carry forth with me like keepsakes in this scattered and altogether too fast existence.
What, I asked myself, were the meals among the 500 that stood out the most?
The answers were as interesting as they were surprising. What bubbled up to the surface of my memory were not the long, multi-course feasts I was fortunate to consume in the course of my daily rounds as critic. For whatever reason, my mind refused to sort and classify according to the usual empirical categories of good or bad, and if I happened to think of a particular dish, I did not immediately come up with the sort of sensual specifics I often rely on to write my reviews.
In pure gastronomic terms, many of the meals on here would probably not rank among the best I ate all year. But they have a lingering resonance that permitted me to see them anew amid the endless stream of breakfasts, lunches and dinners.
I did not need reminding that food is a vehicle for connection and discovery, but I am grateful to my friends and family for making sure that I never forget.
• • •
In November, my wife and I sat down to dinner at Westend Bistro with her former teacher and adviser, the director Leon Major, and his wife Judith. It was a terrific meal, a chance to see what new chef Devin Bozkaya is doing to reenergize a restaurant that had slid into irrelevance, and a chance to reunite with old friends over three-plus hours. I had not gotten to know Leon all that well while my wife, Ellen, was in his Opera Studio program at Maryland, and that night I regretted my loss. To talk in such a free and easy way with warm, funny, zesty, unpretentious and accomplished people about the things that matter—art, books, politics, the degradation of the culture, our families, our backgrounds—was immensely gratifying, a reminder that we need to make time for the people who inspire us and give us back ourselves.
I have a rubric I refer to from time to time that helps me to understand certain interactions with people. I call it the Three Level Theory—i.e., most human interaction can be boiled down to three types of communication. Level 1 = witty remarks, badinage, lighthearted chit-chat. Level 2 is what most conversations aspire to—discussions of the house and car, the kids, reactions to the topics of the day, what new places have opened, what new films are out. (It is also what most people consider "conversation.") Level 3 is what many people fear; most conversations never, ever reach this level—not even among friends. Level 3 gets to people's hopes and fears, their philosophies, their hatreds and passions, their secret beliefs.
This was a Level 3 night. A night to cherish.
• • •
I don't get to dine out with my wife as often as I or she would like, now that we have two young children. I don't just mean that I miss her presence as my wife; I do. But I also miss her presence as a sort of secret sharer. I like having her with me when I'm out reviewing because she always knows exactly what's called for.
I took her to Minibar shortly after it had reopened, and she made her presence felt immediately as we sat down in the all-white seating area. Gazing through the diaphanous white curtain at the laboratory-style kitchen that lay just beyond, she said, "It's like we're in a giant wedding cake decoration." A moment later our first bite of the night arrived, an engineered snack chip dusted with what we were told was seaweed. "We haven't been seated, and already this is our first powder of the night."
As we sat and munched, I said that the holding area reminded me of a scene in Defending Your Life, a very funny and very sweet film by the great Albert Brooks, in which the hero is killed in an accident and goes to heaven—but first he has to wait to get in. This he does, in an ethereally white room that looks like a doctor's office. "Are you saying we're in heaven?" she asked. "I guess we'll find out," I replied. A minute later we were escorted to our seats and the chef behind the counter said, "Congratulations, you made it," and my wife turned to me with a look of raucous laughter in her eyes—which, bless her, she did not dare give in to.
• • •
My wife is such a lover of Japanese cooking that she hired the baby sitter two times in a week to join me at Izakaya Seki. To put this in context: There are many restaurants I review that she has never set foot in.
She said she knew she was in for a wonderful meal the first time when, asking a question about the soba, the waitress mentioned Honmura An—the late, great soba and sashimi restaurant in New York. The place was one of my wife's favorites, and when word came that it had shut down some years ago, she responded as if something had been taken from her without warning.
We have had an unaccountably bad string of date-night meals this year, and each time she has brushed it off by saying that it didn't matter, it was my job, what can you do?, it was nice just spending the time together. At Seki, for two nights in late summer, she could relax and indulge in her taste for mackerel and yellowtail and, yes, soba and not reach for justifications.
• • •
In May, I met up in New Orleans one weekend with AP, an old friend from high school. Among the places we ate was Upperline, far from the French Quarter and the sorts of restaurants that tourists tend to go for. It's not the food that makes Upperline so memorable, though I enjoyed my meal. It's the sense of being in a restaurant that has everything in its proper perspective.
The owner, JoAnn Clevenger, has outfitted the place from floor to ceiling with striking prints, paintings, and lithos from her private collection of art; some are de facto memorials for people who once were connected with the restaurant and now are gone. (This conspicuous honoring of the dead is decidedly New Orleanian, and decidedly wonderful.) Clevenger makes a point of stopping by every table to talk, and off and on for more than an hour we gabbed about life and death, art, music, politics, and books. (This, too, is decidedly New Orleanian and decidedly wonderful: the conversation that blooms from nowhere.) It turns out we share a passion for the great English novelist Anthony Powell. (I can remember the last time I had a conversation about Powell's Dance to the Music of Time, and it sure as hell wasn't in a restaurant.)
At one point Clevenger wanted to know what we were doing in town. AP mentioned the conference he was attending as a CPA. I said that I was a writer. "A writer and a CPA!" she exclaimed, then wondered aloud how such a thing could exist. What did we have to talk about? "You're a numbers guy, right?" she asked AP. He nodded. "I like certainty," he said. To which I shot back: "And I like ambiguity."
This was one of the many things the meal at Upperline brought into focus—how two extraordinarily different people who come at life from radically opposite perspectives can somehow maintain a friendship of nearly 30 years. There were few things we agreed upon the entire trip. One of them—maybe the only one—was that we liked Upperline. (Though, for the record, AP thought it was "really good," and I thought it was "special.")
• • •
When time permits, my oldest and best friend, MK, and I "road trip it"—as we did one weekend this spring, lighting out for Oklahoma Joe's in Kansas City, Kansas, for gorgeous slabs of thick-barked, luscious ribs. But time seldom permits, and so we resort occasionally to a blowout dinner in the city to catch up and reconnect. This guys' night out has become a ritual over the past couple of years, a needed counterbalance to the isolation that sometimes results from the pressures of work and family.
He still talks about the first time I took him to Blue Duck Tavern, for his birthday, a couple of months after the restaurant opened. It was a memorable night for a lot of reasons, among them that a water main had broken downtown and what ought to have been a 20-minute trip ended up taking us an hour and 45 minutes. We nearly bailed a half dozen times, and by the time we arrived we were exhausted, ravenous, and jangling from sitting in a car bumper-to-bumper for nearly two hours. We rewarded ourselves for sticking it out by ordering nearly half of the menu, finally closing with multiple glasses of cognac.
With Sebastian Archambault now running the kitchen, the cooking at BDT is better than it has ever been, and I thought we would indulge ourselves in a similar spirit—albeit without the interminable wait to arrive, and without the intentional over-ordering. We were fortunate not to have to brave two hours of traffic, but on this night, at least, we were not great about avoiding over-ordering. We were not even what I would call good about avoiding over-ordering. We rarely are. And rarely try to be.
• • •
When I decided to visit DGS Delicatessen for the first time, there was one person I thought to take: my mother.
I like dining out with her in general, and not just because we're related. She's funny, has great insights, and both loves and gets restaurants. But there was another, more interesting reason. My mother grew up in Philadelphia in the '30s and '40s, and for many years she regarded Washington as a culturally inferior city. Throughout the '60s, '70s and '80s, she saw a city that lacked the bustle and vitality she associated with a legitimate metropolis—the shopping, the variety of restaurants at every level, the ferment of people of many backgrounds and incomes mixing and mingling. Only recently has she come to see Washington as an exciting, cosmopolitan city. Among the things still lacking, of course—and probably for forever, she and I both figured—was deli. (David Sax, in his book Save the Deli, called Washington the "WASPiest city in North America.")
The arrival of DGS, then, is not just the arrival of any old restaurant. It is, in a sense, a symbol of the city's cultural and culinary transformation. Thank goodness, therefore, that the matzo ball soup is so good. And the juice-oozing pastrami, cut thick à la Montreal's famous smoked meat. And the chopped liver (topped with pickled onions and gribenes, which functions for some Jews the way pork rinds do for gentiles: a burst of bad-for-you crunch).
This visit was my mother's first big restaurant outing after back surgery, but she was gliding on her way out.
• • •
My friend Colleen has endured a lot of pain and suffering the past couple of years. I don't see her nearly as often as I need and want to because she hates to make plans and cancel them at the last second on account of the debilitations of the moment. But I crave my time with her. Talking with her for even 20 minutes is like a booster shot of inspiration and courage. She is the epitome of Level 3. She can do Level 1 and make it seem like Level 3—or is it that she can do Level 3 and make it seem like Level 1? (In any case, what she cannot do, nor abide, is Level 2.) Speaking recently of the Great Gatsby, she said: "The story? Who cares? They're assholes. But the writing!"
I hadn't seen her for a while, and one day on my way to dinner at El Chucho Cocina Superior I called her on a whim. Aha! She was in—and not hurting too terribly to pick up the phone. I turned the car around at once and went by to pick her up. She couldn't drink, but she sipped one of the many nonalcoholic drinks, and feasted on tacos, grilled corn, huaraches, and tortas. It was more food than she'd seen in weeks.
I'm a feeder. I like to think I can help people—uplift people—save people—through food. For one night, anyway, it seemed to work. "You spoil me," she said when we were done. "Consider it a partial payment," I said, "for the insights, the wisdom, the learning."
• • •
Family-style ethnic restaurants are often best when you can go with a big group, the better to explore the long, sprawling menus. I also like exposing my friends to experiences they otherwise might never have.
On a visit to Rice Paper in January, I gathered my wife and a group of neighbors and took aim at the multi-page menu, ordering 17 dishes. The neighbors had heard for years of the restaurants in the Eden Center, but had never been, perhaps because they're Marylanders, and we all know that Marylanders don't cross the river unless they have to (just as Virginians rarely venture into Maryland).
It took me almost an hour and a half to get here, one of them said. By the end of the meal— having feasted on snails in coconut cream and soft-shell crabs and shaky beef and banh xeo and bun with grilled pork—she turned to her husband and said: "We need to do this more often." Same here.
• • •
In late summer, my friend John T. Edge e-mailed asking if I wanted to join him for dinner; he'd be coming to town in a few weeks. I find it hard to turn down John T., even if I happen to be busy on a given night. Not because of his charm, which is considerable, but because of his conversation. He's one of my favorite people in the world of food and letters.
I rearranged things, said yes, and suggested we meet up at Mintwood Place. We sat at the bar and had a couple of drinks, along with a beet and goat cheese pie, a plate of steak tartare with mini tater tots, and the sort of odd local dish that John T. is ever on the lookout for: fried porgies with tartar sauce.
Then came the moment that all real food lovers will recognize—John T. looked at me and asked if I would be up for making this a progressive dinner. Had we been 20 years younger, we would have been talking about hitting three more bars and staying out until the sun came up.
We cabbed it over to Ethiopic, ordered a vegetarian sampler and some kitfo, and met our match. "Pikers," I joked with him via Twitter afterward. "Love 'em," John T. wrote. "With tartar sauce."
• • •
Once we literally knew what hit us this summer—what the hell is a derecho, anyway?—I talked my wife into getting out of town and avoiding the prospect of what looked like a week without power. All the area hotels I called were booked. Same for the beach hotels. But Philly had not been hit, and there were plenty of vacancies. And I knew my wife, who grew up 45 minutes outside the city, would not hesitate in saying yes to a chance to return home. We packed like people who were desperate to abandon everything they owned, and were on the road in less than an hour.
We had a great meal at Amada, Jose Garces's superb tapas restaurant, but what I remember most about that trip was our meal at Zahav, which included my wife's high school friend, Lisa. It had been nearly 25 years since they had seen one another.
Listening to their stories of teachers and old friends, of bands and boys they cringed to remember, I was surprised to discover I did not feel at all like the third wheel at this impromptu reunion. I felt like a voyeur. It was a privileged glimpse into my wife's past, a chance to see the tentative, seeking girl in the confident woman she eventually became and, more broodingly, to ruminate on the measures and mysteries of time.
Toward the end of the meal, we received a text that our power had come back on, and we returned home with a feeling of fullness that had only partly to do with chef Michael Solomonov's small-plates interpretations of Holy Land staples. We pulled up to the house congratulating ourselves on our wise decision to have left, only to watch the power go out once more.
• • •
My four-year-old son, Jesse, has what we call Jesse and Mommy restaurants, places that he only pretty much ever goes with my wife. There are not, unfortunately, that many Jesse and Daddy places, in large part because my work as a critic compels me to keep seeking out the new, though from time to time we do hit up Bobby's Burger Palace for a burger, fries, and a shake. He likes the kids' cheeseburger with sweet potato fries; I like the Buffalo Burger (wing sauce and blue cheese sauce), the Dallas Burger (spice-rubbed, with coleslaw) and the LA Burger (with watercress and avocado relish, so I can fool myself into thinking I've eaten something moderately not bad for me).
I made up a game not long after it opened, removing the first letters from each word in the title, and somehow this bit of silliness stuck. Jesse now refers to it as Obby's Urger Alace. (Urger Alace makes me think of Uber Alles, which makes me think of the Dead Kennedys' "California Uber Alles," and the unexpectedly weird invocation of that angry punk anthem to refer to a bright and shiny celebrity chef vehicle always makes me break out in a huge and savage grin.)
A visit to Obby's usually means playing the Obby's game along the way—Jesse and I add new letters to the ones I initially removed. We can play this game for longer than you would think, which I suspect says a lot more about me than it does about him. I like Mobby's Murger Malice. There's also Dobby's Durger Dallas and Cobby's Curger Callous. We have a variation with F, but I'll leave you to complete the sequence for yourself.
• • •
The most meaningful meal of the year for me involved a lunch that was nearly a year in the making. The tortilla soup and Brie-and-mango quesadillas that I whipped up in my kitchen were the easy part.
A year earlier, I had read Susan Dodd's novel the Silent Woman, and been knocked out by its dense and hypnotic prose. The book tells the story of the artist Oskar Kokoschka, returned from World War I and nursing two wounds (the deeper cut is his recent breakup with Alma Mahler, that collector of geniuses), and unable to paint. His path back to himself begins with his commissioning of a dollmaker to construct a life-size, anatomically correct doll of Alma.
My father, an artist himself, and a prolific and widely acclaimed one, had said it was one of the best books he had ever read about art and creativity. He had by then read all of Dodd—he extolled her extraordinary "sensitivity"—and on a trip to the Outer Banks, in 2003, sought her out, asking around town if anyone knew her. To no avail.
Ten years later, having missed out on a chance to connect with him through the book while he was alive, I decided I would do the next best thing: I would complete the existential errand. After nearly a year of e-mails, in which we talked of meeting, arranged to meet and were forced to postpone as life worked its many obstacles into our path, the fact that Susan showed up one day in my house for a four-hour, Level 3 lunch was nothing short of a small miracle, one I will forever be grateful for.