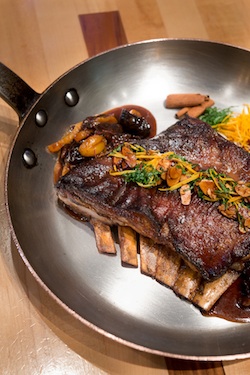 This lovely lamb shoulder with olives, apricots, and almonds from Food, Wine & Co. executive chef Michael Harr is extra-festive thanks to a garnish of glazed prunes.
Braised shoulder of lamb, glazed prunes, olive, apricot, and roasted, crushed almonds
Serves 2 to 4 people
Ingredients
Lamb
1 two-pound lamb shoulder
½ cup butter
8 garlic cloves, crushed
1 cup onions, finely diced
1 tablespoon ginger, grated
1 teaspoon saffron
1 cinnamon stick
1 thyme sprig
1 quart chicken stock
1 cup dried apricots, chopped
¼ cup Marcona almonds, roasted
1 teaspoon olive oil
1 teaspoon mint
1 teaspoon parsley
Glazed Prunes
¼ cup prunes
1 cup red wine
1 cinnamon stick
3 tablespoons sugar
1 teaspoon salt
Directions:
In a sauce pot over medium heat, add the butter, then the lamb shoulder, and cook on all sides until the meat turns a light golden brown color. Remove meat from the pan and rest. Add the garlic and onions to the pan to color slightly. Add ginger, saffron, cinnamon stick, thyme, and apricots to the sauce pot and return the lamb to the pot. Pour in chicken stock, cover, and cook over low heat for two hours. Remove the shoulder and reduce the sauce to about one quarter of its original volume. Season with salt and pepper.
Place the dried prunes in a sauce pot and add the red wine, cinnamon stick, sugar, salt. Allow to simmer. When the prunes are soft, remove them with a strainer. Return the wine back to the stove and further reduce until syrupy. Return the prunes to the syrup and toss. Remove from the heat.
Place the roasted almonds in a mixing bowl and toss with olive oil, mint, parsley. Remove the thyme. Plate the lamb on a large platter and spoon the apricot sauce over the lamb. Place the glazed prunes as a garnish around the lamb and sprinkle the roasted almonds. Serve.
You might also like: