Beyoncé sang the national anthem at yesterday's inauguration ceremony for President Obama and received overwhelming praise for her performance, ranging from Business Insider ("It was just amazing") to TMZ ("f*cking awesome").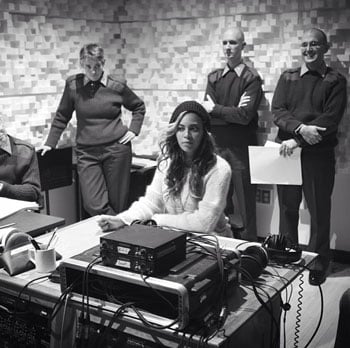 But to close observers, it appeared the performer was not singing live. To press seated just below the podium, in front of the "President's Own" Marine Corps Band, it was evident that the band wasn't actually playing during the song—even though band director Colonel Michael J. Colburn was conducting energetically and the band members mimicked blowing into their instruments. Separately, at one point during her performance, Beyoncé removed her earpiece.
A hint as to the actual origins of the version Beyoncé sang came from her own hand: On January 20, the day before the ceremony, Beyoncé posted pictures to her Instagram account that appeared to show her in a recording studio. In one, she holds a copy of the sheet music to "The Star Spangled Banner" in front of a microphone attached to a recording device, and in another she sits in front of recording equipment while members of the Marine Corps Band stand clutching sheet music behind her.
Miming along to a pre-recorded track isn't unheard of at inaugural ceremonies. At President Obama's 2009 inauguration, cold weather and wind meant that a live performance by cellist Yo-Yo Ma and violinist Itzhak Perlman had to be nixed in favor of a recording. But there are no previously known cases of a singer lip-syncing the national anthem during an inaugural performance.
UPDATE January 22, 11:45 AM: The London Times has confirmed our theory that Beyoncé was, in fact, lip syncing. See the video via YouTube.
UPDATE January 22, 12:10 PM: "We don't know why Beyoncé decided to use prerecorded music," a spokesperson for the Marine Corps Band told us this morning. "All music [for inaugural ceremonies] is prerecorded as a matter of course, and that's something we've done for years and years. The Marine Band did perform live throughout the ceremony but we received last-minute word that Beyoncé wanted to use the recording." The spokesperson also added that everyone knows Beyoncé is a gifted singer, and her decision has no bearing on her musical ability.
UPDATE January 22, 3:15 PM: Colonel Colburn, speaking this afternoon to The Washingtonian, says that he can't confirm whether Beyoncé actually was singing. However, the band and the singer had decided Sunday night to use a precorded music track, since they were unable to coordinate a time for a full rehearsal. "She wasn't comfortable performing without a rehearsal, and I wasn't comfortable that either," he said. "We always knew that was a possibility." Every singer in yesterday's inauguration had a "safety" track at the ready in case weather, temperatures, or instrument problems arose at the last minute; Kelly Clarkson's was recorded on Saturday in Washington, although she did sing "My Country 'Tis of Thee" live at the ceremony. The so-called "safety recording" for the Star Spangled Banner, done Sunday night with the Marine Band present by the singer when she arrived in Washington, was based on a practice national anthem the band had sent her earlier in the month.
For more news, photos, and recaps of the 2013 inaugural festivities, visit our inauguration page.
See Also:
Why It Matters That Beyoncé Lip-Synced the National Anthem