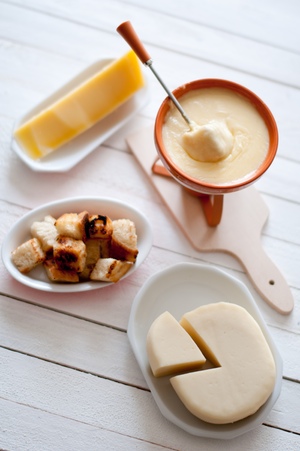 Practically every restaurant in Washington offers some sort of special Valentine's
Day meal (and if they don't, it's still special, because the given restaurant is one
of a handful not participating in the Day of Love). This sets the bar pretty high
for all you romancers looking to stand out from the pack. So before you start weeding
through prix-fixe menus and various promotions—which we'll cover in full in the weeks
to come—here are a few alternatives to kickstart the creative process.
Oyster Escape
Sure, oysters are aphrodisiacs, as at least one in every three Valentine's restaurant
promotion will remind you. You know what else is an aphrodisiac? Getting the hell
out of town. Double up by hightailing it to Topping, Virginia (roughly two-and-a-half
hours from Washington), where Rappahanock Oyster Company set up Merroir,
a cozy riverside oyster house with craft brews, wines, and plenty of fresh bivalves
served on the half-shell or in prepared small plates. Find a nearby Rappahannock inn,
or go for a more cosmopolitan stay in Richmond,
an hour away. Too much driving? The oyster company recently opened a similar eatery
in the new Union Market.
DIY Lobster
Lobster is like crustacean crack for every restaurant on Valentine's Day, but unlike
the equally ubiquitous foie gras, it's a cinch to do at home. If you don't feel like
taking down tails elbow-to-elbow with every other couple in Washington, Cannon's Fish
Market in Georgetown and BlackSalt Fish Market over by the Palisades are go-tos for stay-at-home-romancers. Price per pound varies
by the week, but both spots will steam your live guys at no extra charge and have
them ready for pickup. If you're planning a blowout dinner, both also offer oysters
shucked and ready-to-eat on the half-shell along with a variety of caviars, from budget
to luxe. See our handy fish egg 101 guide for all you need to know.)
Eat With Your Hands
Getting a little messy with your foodstuffs can be sexy. One of our favorite spots
for getting elbows-deep in our meal is Ethiopic.
The H Street spot combines the traditional Ethiopian practice of eating with your
hands with a date-night atmosphere, complete with cocktails and ambient lighting (not
the norm in Little Ethiopia). Over in Dupont, you may have to start queuing at noon
for a Valentine's spot at Little Serow,
but it'll be worth it when you're pulling sticky rice from baskets with your fingers
and sweating from the heat of Johnny Monis's searing Thai food. Not into lines? Take
a V-Day trip out to KBQ Real Barbecue in Bowie and get saucy with some delicious ribs.
DIY Fondue (and Raclette)
Fondue is one of those retro-romantic meals that's cheesy—literally—but also a lot
of fun (not to mention affordable, especially at home). Sure, you can head to one
of the many Melting Pot locations,
but we're fans of whipping up a cauldron of molten cheese at home with the help of
house-blend cheese packs from the Swiss Bakery in Springfield and Burke, Virginia
($27.50 per 26-ounce package). The mix of shredded fromages such as Appenzeller and
Gruyère are as good as any you can grate, without the risk of a sore arm, and you'll
find fresh bread and sausages for dunking and Swiss wines for drinking. Looking for
something different? The shops also sell all the supplies needed for the lesser-known
Swiss delicacy raclette),
and will even rent you the machines needed to make it.
Dinner and a Show
Sure, you've hit Clyde's and AMC on plenty of date nights. Go a step further for Valentine's day with one of
Date Nights DC dinner-theater deals.
Whether it's a combination of Carmine's and
Our Town at Ford's Theatre, a meal and a flamenco performance at the Strathmore, or a set menu
and one of two plays at the Arena Stage, your date is bound to be impressed with the
offscreen effort.