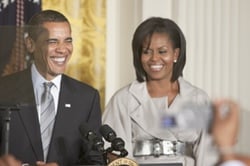 Clearly, the Obamas have been reading their Todd Kliman. In January, Washingtonian's restaurant critic offered POTUS some advice on where to dine during his second term, and already the first couple crossed one of his recommendations off their list. On February 14, they motorcaded over to Penn Quarter for a meal at Minibar, José Andrés's modern food lab that recently reopened in a larger new space at 855 E Street, Northwest.
As Kliman points out in the piece, reservations for Minibar are tough to score, but we assume that is not a big issue when you are the most important couple in the world (with the possible exception of Jay-Z and Beyoncé). Reached Friday morning, a Minibar rep would not disclose what the first couple ate after their car parade pulled up to the restaurant at 6:59 Thursday evening (we have a request in with the White House), but recent highlights of the $225-per-person tasting menu have included beef-tendon-stuffed churros, snow cone cocktails, and olive oil soup with frozen Mandarin oranges for dessert. It is certainly an interesting choice for a couple who has heretofore stuck mostly to steakhouses and neighborhood bistros.
The Obamas left Minibar at 9:08 PM, according to a White House pool report. Crowds gathered at surrounding street corners to catch a glimpse of the couple, but there were no sightings, according to the report. We will update with menu details when we have them.
See also:
Eater in Chief: Where Barack Obama Should Eat Out During His Second Term
President Obama Dines at Mintwood Place
Burgers President Obama Has Eaten