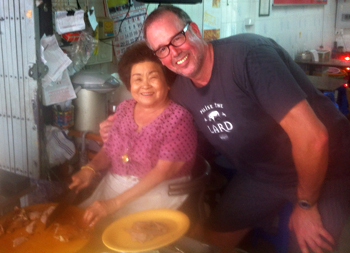 A little more than a year ago,
Mark Kuller rather mysteriously announced his new venture—which I rather mysteriously made public
in a series of weekend tweets.
His third restaurant, Kuller said, would be a Southeast Asian place, and would join
the bustling restaurant row of 14th Street, Northwest. Again partnering with chef
Haidar Karoum, he would showcase street foods from Vietnam and Thailand in a casually stylish setting
that would clearly establish the place as a sibling of Proof
and Estadio,
his two existing restaurants.
The name?
Too early for that, said Kuller, who, prior to opening Proof in 2007, had been a prominent
Washington attorney, and long ago mastered the delicate art of withholding sensitive
information until the time is propitious.
Well, yesterday Kuller decided the time was propitious.
The work-in-progress, scheduled for early summer, will be called Doi Moi.
Kuller, whose former law colleagues marveled at how fanatically prepared he was for
cases, was ready for the inevitable first question—or rather, questions.
Is that dwa mwa?
Dwa moy?
Doy mwa?
"Doy Muuy," Kuller says, acknowledging that the name is likely to be mangled, perhaps
even by his eventual staff.
His hope, he says, is that it will lodge in the mind.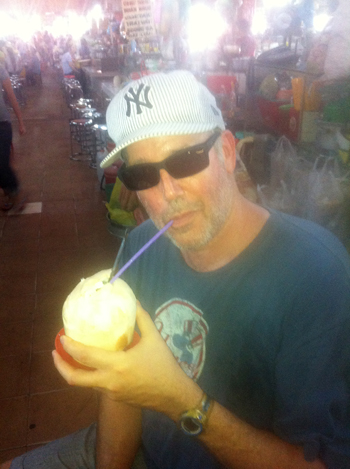 He also hopes that by connecting a changing country that helped to inspire the restaurant
with the changing culture of 14th Street, he will have bridged two very different
worlds.
Kuller says he explored hundreds of possibilities before settling on Doi Moi, which
commonly refers to a series of "open door" policies introduced in Vietnam in the mid-'80s.
He thought the name—literally, "new change"—spoke to "many elements of this project:
"the progressing renewal and reconstruction of 14th Street, the renovation of [a] beautiful building, the open door nature of great hospitality, and the new change
that captures my personal and continuing transition from corporate tax attorney to
restaurateur."
Doi Moi is inspired, in part, by a dizzying eating tour of Southeast Asia that Kuller
and Karoum embarked on this past August, stuffing themselves at street stands, stalls,
storefronts, and restaurants—in all, logging more than 100 meals in 22 days. The two
had taken a similar trip to Spain, in early 2010, prior to opening Estadio.
The variety of flavors, the brilliance of the colors, the interplay of textures, and
especially the elevated heat levels all left their imprint on the two men. Kuller
says he hopes the cooking will convey the excitement of their ground-level experiences.
Griz Dwight of Grizform Design, who did the interiors for Proof and Estadio, is designing the
space, which will span two buildings, one of them the old Whitman-Walker clinic.
The basement level will feature a "curated cocktail bar" called 2 Birds 1 Stone, and
will be acclaimed mixologist
Adam Bernbach's new home.
Justin Guthrie, the current GM at Estadio, will also move full-time to Doi Moi.
Can you share a few dishes that'll be on the menu—not general types of dishes we can
expect to find, but actual, specific dishes?

Honestly, I cannot guarantee that any specific dish will be on our opening menu but
specific dishes we've discussed include:
Vietnam:
bun cha, nem ran, banh xeo, bánh cuon, bún bò hue, cha ca thang long.*
Thailand:
miang kham, kaeng pa, sai ua, khao soi, pla thot.**
Since Haidar Karoum cannot be in two places at once, who will be chef de cuisine?
We are conducting a local and nationwide search for a new chef de cuisine, but Chef
Karoum will continue to oversee all culinary operations for our company. As you know,
Chef Karoum headed the kitchen at Asia Nora for seven years—Southeast Asian cuisine
is something in which he is extremely well versed, and I expect him to have a dominant
role in composing our opening menu.
How will the new place be similar to Proof and Estadio? How will it be different?
As at Proof and Estadio, our primary focus will be on outstanding food and service,
in a dining room with great energy and beautiful surroundings. But just as Proof and
Estadio are very different in terms of the clientele, the pace of the meal, the price
point, the noise level, etc., so too will Doi Moi have its own special style. We expect
it to resemble Estadio in its small-plates focus, open kitchen, and similar demographic.
But we expect it be a bit less frenetic than Estadio—likely midway between the two.
The degree of execution will likely be closer to Proof, and as at Proof, we will offer
wines from across the globe.
When we first spoke about this project, you mentioned that Vietnam will be represented
in the menu to a greater extent than Thailand. If you had to guess, how do you envision
the two breaking down in rough percentage terms?

I am going to retract that statement—it is simply too early to say, as the opening
menu is a work in progress. I am sure that there will be a healthy dose of dishes
from both countries, and it would not surprise me to see a dish or two indigenous
to Laos, Cambodia, or Malaysia. I would prefer to see a greater focus on Vietnamese—my
favorite cuisine. Chef Karoum can speak for himself, but I would guess he has a slight
preference for the cuisine of Thailand. And certainly our chef de cuisine will also
have input into the day-to-day direction of the kitchen.
On the continuum that runs from Ceiba (a Western chef's reinterpretation of a cuisine)
to Little Serow (a Western chef's homage to a cuisine), where will Doi Moi fall?

Chef Karoum and I don't see this as a reinterpretation of the traditional dishes we
love. While "homage" is a strong word, our objective is closer to that. We will strive
for authenticity, but as you know, even within its home country a dish may have many
variations, some of which reflect a more modern interpretation. While respecting the
integrity and tradition of a dish, I certainly can see some creative tweaking based
on ingredient availability, seasonality, and the like.
It would seem to me that you cannot go into a project like this without first working
out your position on the question of authenticity. What is yours?

The restaurant's goal is to serve authentic regional dishes found in storefronts,
street stands, and stalls in the great cities of Vietnam and Thailand. We will respect
and give great deference to authenticity—it will be our foundation—but we will not
be a slave to it.
What would you want Vietnamese and Thai immigrants (and/or sons and daughters of those
immigrants) who dine at Doi Moi to say of it? What, to you, would be the best thing
they


could

say?
One of our greatest thrills is when Spaniards tells us how fantastic Estadio is, how
it reminds them of eating in a restaurant in Spain or even in their mother's kitchen.
Perhaps our greatest compliment is when a Spaniard proclaimed our tortilla española
was better than his grandmother's. I would hope for something similar at Doi Moi—that
they were reminded of the
bánh cuon [a rolled cake] they had in Hanoi or the
khao soi they had in Chiang Mai, or even better, that their grandmother made! Of course, if
they said our Vietnamese dishes compared favorably to those at Huong Viet or Rice
Paper, or our Northern Thai dishes to those at Bangkok Golden, that too would make
us feel like we were doing something right.
You mentioned in one of our previous conversations that this restaurant could not
have existed ten years ago. How so?

I don't have a specific recollection of what I was thinking, but it was likely two
things. First, Doi Moi will be small-plates based, with variety and price points roughly
in line with Estadio. Ten years ago that would be a hard sell in steakhouse- and white-tablecloth-centric
DC. Thanks to the pioneering influence of José Andrés at great small-plates restaurants
like Zaytinya
and Jaleo,
the DC dining scene has been radically transformed. Second, I think in the past there
has been an economic bias against regional Asian cuisine—not only in DC and but in
the country as a whole. It was fine to spend $30 on a bowl of noodles and shrimp at
an Italian restaurant, but an Asian restaurant should offer strip-mall pricing on
a comparable dish. Yes, there were Asian " fusion" restaurants that attempted to elude
this strip-mall mentality, but without the foundation of authenticity their success
was generally hard to sustain. With the recent commercial and critical success enjoyed
by restaurants like the Slanted Door, Fatty Crab, Pok Pok, Little Serow, and several others, restaurants
serving authentic regional Asian cuisine are starting to level the economic playing
field with other mainstream ethnic cuisines. That movement has to a large extent paved
the road for a restaurant like Doi Moi.
*Grilled pork noodle soup, spring rolls, shrimp and pork cake, rolled cake, beef-and-vermicelli-noodle
soup, fish with turmeric and dill.

** A leaf-wrapped street snack, a type of curry, grilled pork sausage, a noodle dish,
deep-fried fish marinated in turmeric.