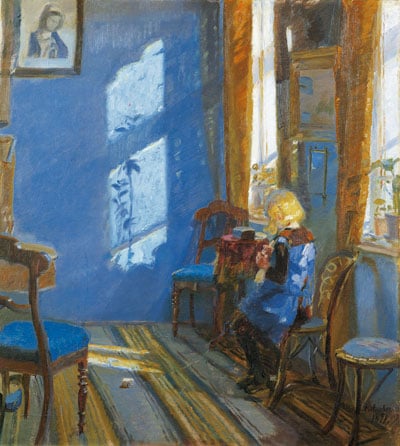 Anna Ancher, a Danish artist working in the late 19th and early 20th century, is rightly revered
in her native country as an extraordinary painter, but far less well-known on these
shores. It's a rare privilege to get to see so much of her work in a wide-ranging
and thoughtful exhibition at the National Museum of Women in the Arts. "A World Apart:
Anna Ancher and the Skagen Art Colony," on display through May 12, features more than
40 paintings by Ancher and other members of the Skagen Painters, a group working in
a remote fishing village in northern Denmark. It's a thorough introduction to the
movement, showcasing exceptional works by
Peder Severin Krøyer,
Viggo Johansen, Ancher's husband
Michael, and many more, but the focus of the show is mostly on Anna herself and how she thrived
as an artist despite being relatively confined in terms of training and subject matter.
Ancher studied drawing at the Vilhelm Kyhn College of Painting in Copenhagen—women
at the time weren't allowed to attend the Royal Danish Academy of Art where her husband
and most of the other Skagen Painters were formally trained. While their paintings
depict large-scale, dramatic scenes of fishermen and rowdy lunch parties, Ancher's
eye is more humble, focusing on family members sewing and knitting, women in church,
and quiet, serene interior scenes.
Nevertheless, Ancher's paintings reveal a profound eye for detail and an infatuation
with light that makes her work seem luminous up close. One of her most famous works,
"Sunlight in the blue room," glows with a photo-realistic haze despite brush strokes
that look rough, almost haphazard, if you focus on them. It's a painting that reveals
the influence of Impressionism while also paying tribute to the extraordinary quality
of the light that far north in Jutland. The ray of sunlight that darts through the
blue room's window doesn't look like an impression of light—it looks for all the world
like the painting itself is being viewed next to a window. You barely notice the small
girl seated in the chair, quietly knitting, and it's telling that the title of the
painting refers to its most compelling subject.
So many women in Ancher's paintings are turned away from the painter, passive and
almost disinterested in their roles as subjects. In "The maid in the kitchen," we
see only the back view of a girl in a red skirt standing by a window; in "blue room,"
the child sits with her back to the painter. "Interior with red poppies" features
an elegant looking women with her head resting on her elbow, reading; in "Two little
girls learning how to sew" the face of a woman is clearly visible, rendered more so
by light, but her eyes are closed. Women feature prominently in Ancher's paintings
but their limited roles make them as placid as furniture or the bright pots of geraniums
sitting on a windowsill.
By contrast, the men depicted by Krøyer and Michael Ancher embody energy and vigor,
whether straining to pull fishing nets in from the ocean or fastening lifebelts in
the wake of a storm. When Michael Ancher paints his wife and other family members
in "Christmas Day 1900," their eyes and features are clearly defined, although they
seem to gaze slightly off into the distance. When Ancher uses her husband as a subject,
he may be at home but the focus is on his masculine exploits. In "The new hunting
boots" he stares across the room at a tall, brown pair, shoes off, while in "Breakfast
before the hunt" he eats, a dog and a workbag patiently at his side.
The enormously different scales of Ancher and her husband's scope of vision as painters
is revealed quite dramatically in "The entrance to our garden," one of the few paintings
by Ancher that can be likened to a landscape (women were typically restricted to interior
subjects). Ancher's focus is so limited that she paints only the front gate as it
approaches her house, cutting herself off from capturing the top of the front door
or more than one third of the tree that grows in the yard. It's a timid work, but
the way the path leads quietly forward seems to suggest a determined sense of purpose.
Ancher's remarkable talent, although restrained by social mores, comes through with
the same subtle fortitude, and her unparalleled ability to capture the tiny details
of light bouncing off different surfaces has helped her work rightly endow her as
one of the greatest Danish painters of her age.
"A World Apart: Anna Ancher and the Skagen Art Colony" is at the National Museum of
Women in the Arts through May 12. For more information, visit the museum's website.