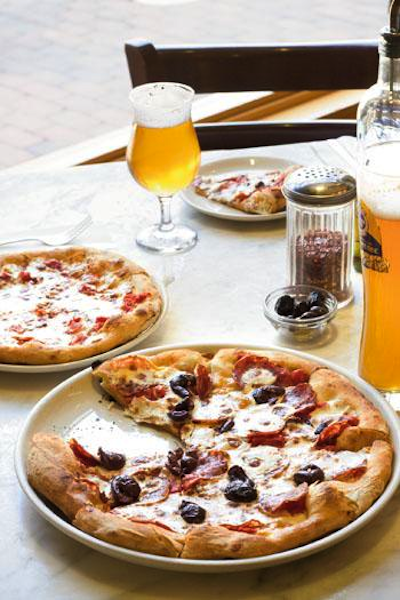 Boozy lunch: Beginning
Monday, Smith & Wollensky celebrates its 52nd annual National Wine Week. Any ten
wines are available for $10 with the purchase of any lunch entrée, so get some colleagues
together and clear the afternoon schedule.
Celebrate pizza: Pizzeria Paradiso Georgetown celebrates the reopening of its subterranean birreria with a host of events following the remodel. You'll find a six-course craft beer dinner on
Monday, a brew tasting on
Tuesday with half-price drafts from 5 to 7, and dollar drafts and new snacks on
Thursday (limited to one beer and snack per customer—sorry, lushes).
Bourbon dinner: The American Tap Room Rockville hosts a six-course dinner on
Tuesday at 6:30 that will features courses paired with Angel's Envy bourbon. The port-barrel-aged
liquor accompanies dishes such as bacon-wrapped oysters, smoked lamb ribs, and bourbon-brioche
bread pudding. Call 301-838-4281 for reservations ($60 per person).
Local charcuterie, craft beer, and cheese: These three delicious things are the theme of several March classes hosted at Righteous
Cheese in Union Market. The first is this
Wednesday at 7, when you'll taste four different fromages alongside four local brews and a
variety of cured meats from area producers like Red Apron and Seasonal Pantry. Tickets
are $59 online.
Drink yourself blind: No bathtub gin required. Society Fair throws a blind wine-tasting party on
Wednesday at 7:30, where 25 guests will sample ten varietals and try to guess the grapes for
prizes. Tickets ($40 per person) are available through CityEats.
Winemaker dinner: Head to Blue Duck Tavern on
Wednesday at 7:30 for a winemaker dinner showcasing bottles from California's Domaine Carneros winery. Chefs
Sebastien Archambault and
John Melfi craft a four-course meal around winemaker
Eileen Crane's sparkling wines, with dishes such as roasted swordfish with trumpet mushrooms and
rack of boar with charred fennel and cranberry
jus. Tickets are $145 per person, all-inclusive, and can be purchased by calling 202-419-6755
or e-mailing marvina.williams@hyatt.com.
Artini continues: The big Corcoran event is on March 22, so you're
running out of time to check out the art-inspired cocktails during feature nights at watering holes around the city, and to enter the raffle for food- and drink-centric
prizes. Up this week: Zentan on
Wednesday and Jack Rose come
Thursday.
New wine classes: On
Thursday from 5:30 to 7, Fiola launches its series of themed wine classes led by wine director
John Toigo and paired with bites from chef
Fabio Trabocchi. First up: a course on big, velvety wines perfect for transitioning from cold winter
to cool spring. Sessions are $85 per person, or can be combined in sets of three and
four. Call 202-628-2888 for reservations, or e-mail jessica@fioladc.com.
Wine your way around the world: Sample a global array of wines at the National Museum of Women in the Arts on
Thursday during the return of 80 Sips.
You'll find 80-plus samples in moderate single-ounce pours, along with light appetizers.
VIP early admission tickets are available for $125 per person.
Scotch dinner: If you fancy the peaty stuff, then head over to Wildfire on
Friday at 6:30 for a reception and three-course menu paired with Johnnie Walker ($90 per person). Call Elissa or Amanda at 703-442-9110
for reservations.

Embassy Chef Challenge: Not a regular at ambassadorial dinners? Thursday brings the chance to sample fare from a host of embassy toques during a gala at the Ronald Reagan Building. In addition to hors d'oeuvres from Norway, China, South Africa, and more, you'll get to sip from the open bar, mingle with an international set of guests, and participate in both silent and live auctions. Tickets start at $250.