This week, three winners were selected in our letter-writing contest. These kids showed a strong interest in the elephants at the Zoo and in the wild, they researched the animals and learned about their new habitat, and they wrote us compelling notes. We're proud to congratulate the three winners, who will read their letters aloud to the elephants at a media event welcoming them to their new community center next Thursday at 10 AM.
The winner in our youngest category, Ethan Schipper, is a Kindergartener at Westbriar Elementary in Vienna. In addition to his note, Ethan sent us $1.85 from his piggy bank. Commence heart-melt.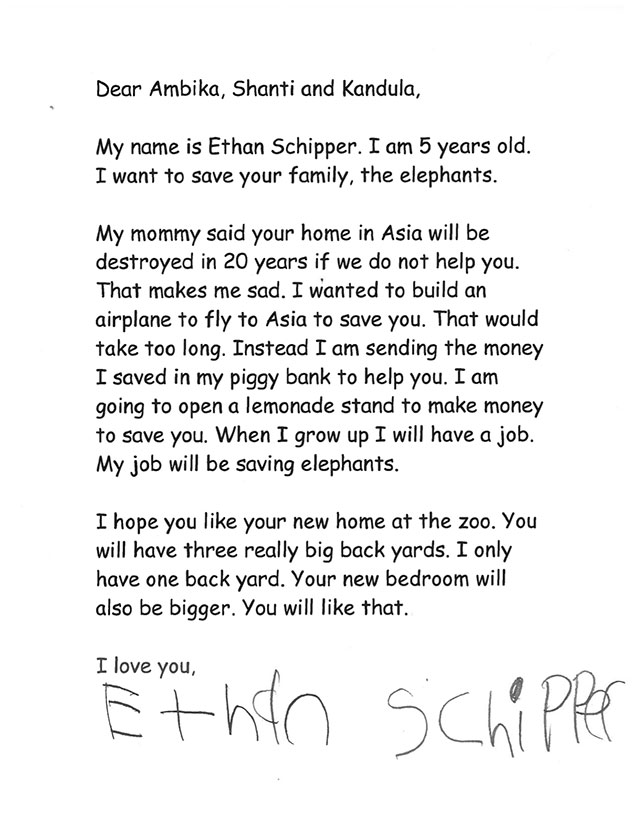 The winner in our middle category, Sarah Price, is a third-grader at Wood Acres Elementary School in Bethesda. When Sarah's mom told her she'd won our contest, Sarah said: "I can barely breathe, I'm so excited!" We're excited, too, little one.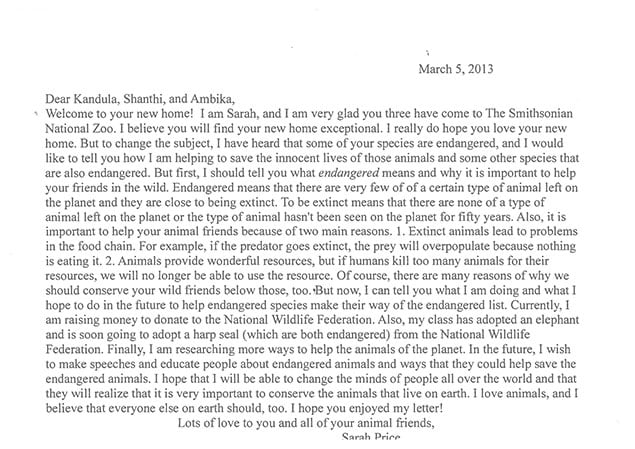 And the winner of our oldest category, Tony Phonemany, is a fifth-grader at Crestwood Elementary School in Springfield. Tony and his compatriots in Mrs. McNertney's class built an elephant herd in the hallway of their school and completed serious research as they prepared to write letters to us. Our staff and the zookeepers were struck by Tony's level of knowledge and with his sense of humor—we're still chuckling, even though we've read his letter a dozen times.