Update: Le Diplomate is now open.
We've been watching closely as Philadelphia-based restaurateur Stephen Starr transforms an old laundry facility into what'll likely be one of the jazziest restaurants on the 14th Street strip. Though construction crews are still working away on the soon-to-open brasserie—now set for an early April opening—we got a peek at renderings of the interior.
The designer behind the 200-seat space is Shawn Hausman, known for the iconic aesthetics at Hollywood's Chateau Marmont and the Standard in New York City, as well as many eateries in Starr's 30-restaurant empire along the East Coast. Le Diplomate is inspired by Philadelphia's Parc, another Hausman project, though the design is unique to the building and Washington. The team traveled around France to forage for antiques that'll adorn the space—think vintage doors and antique light fixtures. The most noticeable flea-market find is a zinc bar that'll catch your eye as you enter the main dining area. Just off to the side, a glass-enclosed atrium opens onto the hedge-lined patio, with a total of 60 seats outside for dining in warmer months.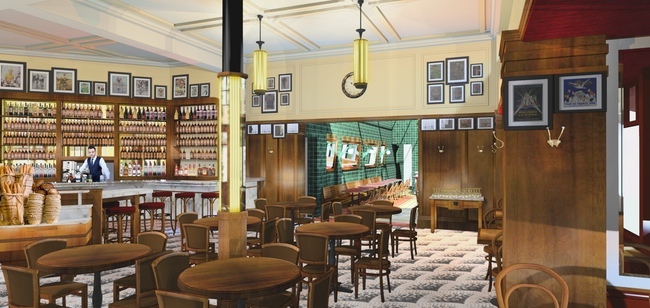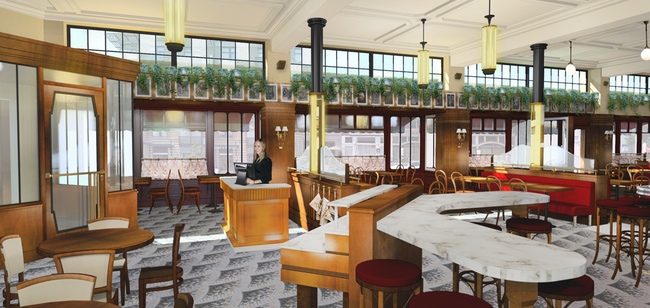 The outdoor tables, partially sheltered by the red awnings, will likely be prime spots to perch in the morning with a fresh pastry and coffee from Philadelphia-based roaster La Colombe. A variety of breads and confections will be baked on the premises daily to eat in or take out. Chef Adam Schop is still finalizing the brasserie's menu, but you can safely expect to find classics like steak frites, a shellfish "plateau," bouillabaisse, and lavender-roasted duck alongside dishes such as escargots with hazelnut butter, leg of lamb with Moroccan couscous, and monkfish cooked with fava beans and morel mushrooms.
Starr says he chose the concept after finding the space at 1610 14th Street, Northwest, letting the structure and neighborhood dictate what kind of cuisine and style would fit. The restaurateur has been open about actively looking for another site in Washington, with anything from another Buddakan—one of the few Starr restaurants with siblings of the same name—to an entirely new project. He mentioned to us that another barbecue joint like Fette Sau, a collaboration between Starr and Brooklyn pit-master Joe Carroll, might be possible if the right location appears. We'll keep our fingers crossed.
Check back in with us for a preview of Le Diplomate closer to the opening.