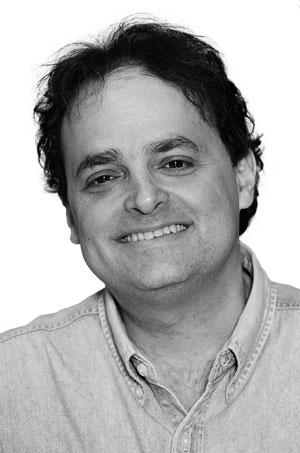 How closely is
Ari Roth's new play,
Andy and the Shadows—at Theater J April 3 through May 5—based on his life? "It's fictional in that it's
about a middle child, and I'm not a middle child," says Roth, Theater J's artistic
director, now in his 16th season at the company. Otherwise, the story of Andy Glickstein,
the son of two Holocaust refugees wrestling with the burdens of his heritage and forging
his own path, is deeply personal. Roth has been working on the play since the 1980s,
when an early version won the Helen Eisner Award for Young Playwrights. We caught
up with him to discuss crafting a play, facing your history, and his tenure with Theater
J.
How long have you been working on

Andy and the Shadows, and where did the idea come from?
A long time. It started as a young man's play, and now it's a middle-aged man looking
back at the exhilarating and vulnerable times of rites of passage. Both my parents
are Holocaust refugees, and they were orphaned and forced to leave home at impossibly
early ages. Values and trauma get passed down in equal measure, so you try to sift
through those as you figure out what your purpose is in life and how you're informed
by your history.
Do you think it's important as a playwright to write about what you know?
Playwrights can become exhausted by only writing about what they know. But I'm obsessed
with the word "authentic"—you want playwrights who have extraordinarily fine ears
and can capture the truth of something. You can do that either by reporting extremely
closely or by summoning experiences that are so intimate, so close to the bone, that
they're arresting in their detail. You want imagination interacting with the raw stuff
of real life. That's what makes theater so exciting.
Writing and rewriting a play is a process you've been through a number of times before.
Does it get easier?

No, but it doesn't get harder. This is the best collaborative team I've ever been
able to assemble at Theater J, and so that's where the joy is.
Daniella Topol is one of the country's best directors, and we have wonderful actors who really want
to work with you and value the interchange:
Alexander Strain,
Kimberly Gilbert,
Jennifer Mendenhall,
Colleen Delany.
What do you hope people take away from this play?
I think the play reflects on simple and complex ideas—on the one hand, the love you
share with your family and the ways you respond to the people you're closest to; on
the other, how to really listen, examine, and uncover their complexity. The Holocaust
has stamped me indelibly. You want to be liberated from your history, but you want
to be on intimate terms with it at the same time.
You're in your 16th season now at Theater J.
It's longer than I've had any job, and longer than we've lived anywhere. My wife and
I began our life together in New York, and we've also been in Cambridge [Massachusetts],
Ann Arbor, Tel Aviv, New York again, and now here. Washington has become more and
more self-sustaining as a city. Coming here to a relatively small market back in 1997,
I thought, "Okay, I'll try this for a little while and then move on." But that was
then and this is now, and DC is a very rich pasture to play in.
Andy and the Shadows
is at Theater J April 3 through May 5. Tickets ($25 to $60) and more information is
at Theater J's website.
An edited version of this interview appears in the April 2013 issue of The Washingtonian.