With the first phase of Metro's Silver Line scheduled to open
this year, developers have flocked to the sites of future stations to
build residences. In addition to the projects listed here, renters can
look forward to new buildings popping up in Tysons Corner in the next
couple of years. Arbor Row, for example, will bring
approximately 1,180 apartments in several buildings to the south side of
Westpark Drive. Construction is slated to begin in 2014.
The Mosaic district, which opened last year in Merrifield and
includes a Target, movie theater, restaurants, and boutiques, has been
another magnet. Although most of the new projects in Fairfax with units
available are rentals, the Townhomes at Mosaic District
(3002 District Ave.; 703-385-4647), which opened last summer, offers
three- and four-bedroom townhouses for sale from the mid-$600,000s to just
under $1 million. Modern touches include quartz countertops,
stainless-steel stair railings, and recessed lighting; exposed-brick walls
are optional. Each home has a rooftop terrace.
Here's a roundup of new apartments in Fairfax with units for
lease. Monthly rents vary, but you can expect to pay around $1,600 for a
studio and up to $3,500 for a two-bedroom.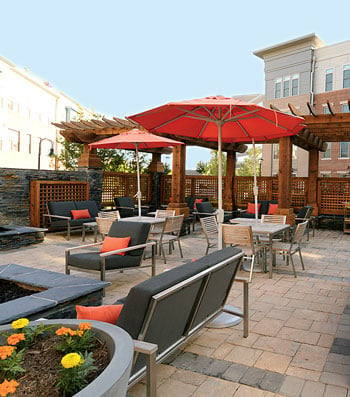 Within walking distance of Fair Oaks Mall, Gables
Centerpointe (12190 Waveland St.; 866-485-2691) is a
LEED-certified building of 120 apartments that opened last year. In
addition to quartz countertops and stainless-steel appliances, you'll find
such "green" touches as energy-efficient light fixtures, water-saving
shower heads, and double-glazed windows. A gym and landscaped courtyard
are available to all tenants. The building features one- and two-bedrooms,
with rents from $1,575 to $2,308.
When the Silver Line is complete, two stations—Spring Hill and
Greensboro—will be within walking distance of Avalon Park
Crest (8250 Westpark Dr.; 877-635-3102). This Tysons apartment
complex, which opened in the summer, has 354 studios and one- and
two-bedrooms, including some two-story lofts. Amenities include a pool,
courtyards with grills, and a 2,500-square-foot fitness center with a yoga
studio. Apartments feature granite countertops, kitchen islands, and
energy-efficient windows. Rents range from $1,690 to $2,620.
Halstead Square (2729 Merrilee Dr.;
888-209-5450) is a large new community adjacent to the Dunn Loring Metro
station. It's made up of three buildings: the Lofts, with 216 apartments;
the Rockwell, with 242; and the Lotus, with 220. Modern touches include
iPod docks built into the walls of each unit, keyless entry, and
9-to-20-foot ceilings. A bocce court, outdoor bar, and pool are among the
Rockwell's amenities, while the Lofts and the Lotus offer a theater and an
outdoor adult "playground." Rent ranges from $1,775 for studios to $3,460
for the largest two-bedrooms.
Currently under construction, Avalon Mosaic
(2987 District Ave.; no phone; avaloncommunities.com) will have 531
studios and one- and two-bedrooms. There will be a pool and three
landscaped courtyards with bonfire pits, and most units will come with
balconies. Each apartment will have granite countertops and Energy Star
kitchen appliances. The building is within walking distance of the Mosaic
district and will offer a free shuttle to the Dunn Loring Metro, about a
mile away. Leasing begins this summer.
This article appears in the April 2013 issue of The Washingtonian.