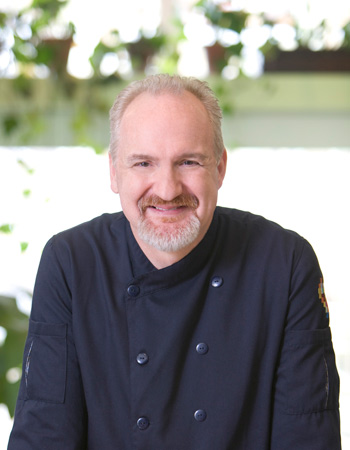 Celebrity chef Art Smith—memorable Top Chef Masters contestant and former personal chef to Oprah Winfrey—always has a lot going on. Recent days are no exception. The Art and Soul owner recently debuted a new look for his Capitol Hill restaurant, published his latest cookbook, Art Smith's Healthy Comfort, and launched the national Taking Diabetes to Heart campaign to better educate those faced with the disease. Smith, who lost more than 100 pounds himself after being diagnosed with type 2 diabetes, dished to The Washingtonian about developing healthy recipes, his new restaurant plans for Washington (including in its airports), cooking for the Obamas, and his stance on the food truck situation.
When did you first make the President the recipe for President Barack Obama's Favorite Glazed Salmon, which appears in Healthy Comfort ?
I made that some time ago. I've known the President [since] before he was President—I first met him through Oprah around 2005, and he's my neighbor in Chicago. At that time I was cooking for Oprah and for the First Family. That recipe was one of his favorites. He's from Hawaii, and that kind of sweet glaze is very popular.
If you could cook the Obamas any recipe from the book, what would it be?
Knowing their taste—well, they like most everything. There's a salmon with lentils and mushrooms that's a really great dish. They're very fish-driven, and it's one of my favorite recipes in the book.
Some of the recipes in the book are now on the menu at Art and Soul. Any particular favorites there?
I love my Art Start, which has been on the menu since day one. It's a really delicious oatmeal. I've eaten oatmeal for breakfast for three years. It's served with berries and Greek yogurt. We also have an egg-white omelet out of the book. In California, at Lyfe Kitchen, we have the un-fried chicken and egg sandwich. Chef Wes [Morton] is working with the book now to bring the various recipes as specials and put them on the menu. For me, learning how to get your act together starts with eating breakfast. I think it's the most important meal of the day, so that's where most of my focus has been at the moment.
When you're visiting Washington, are you able to get out and eat around the city?
I eat around the city quite a bit. I was just out by National Cathedral. I went by 2 Amys, which had a really nice asparagus course with some balsamic drizzled on it. They also had Manila clams that were really great. If you eat there you have to have the margherita pizza with arugula. I also like to go over to Central, or I'll go say hi to Spike [Mendelsohn] or Mike Isabella. I like Mike Isabella's pizza, and he makes really good Italian side dishes [at Graffiato]. I try really hard when I'm here to get outside socially and say hello to the chefs.
When you go to a place like Spike's, do you eat a lot or do you just take a bite of a burger?
I just plan my day. The biggest problem is that people put highly caloric things on top of other highly caloric things. He has a great turkey burger, or I'll eat just a regular burger, but I won't eat the fries or have a shake with it.
Are there any healthy dishes around town that you crave or are inspired by?
Fiola is a lovely restaurant. I was in there not long ago, and I had a really delicious salad, and they usually have a verdura starter that's really wonderful. I love going to the Tabard Inn. I'm always tempted, but I never eat their doughnuts! But it's the most charming place in the city.
Tell me about your plans for the Taking Diabetes to Heart campaign.
It started the same day my book came out. It's something I'm very serious about, which is why I chose to partner with Merck*—a wonderful educational device to really inform people about type 2 diabetes. I lost two family members to type 2 diabetes, my father and my grandfather. I started losing weight three years ago, and ran the Marine Corps Marathon. People know me for comfort [food]. I believe you can have the comfort and your health, and most important, be comfortable with your health.
Any plans for cooking challenges in the Washington area?
At this time we don't really have a schedule, because the program just started. Where you'll see the biggest response is here at the restaurant. I'll also be an advocate to get my friends across the District to offer diabetic-friendly dishes in their restaurants.
Anyone in particular?
The restaurants and people who tend to be most public, like Spike and Mike Isabella and others, because people know them quite well. I think, too, that it would be interesting to get the diabetes-friendly dishes in the Mall area and into the museums. I think José Andrés would probably be very cooperative.
When you walk around the Mall and see what people are buying, it's like, yech. People are coming to our country to experience America, and the food venues they have on the Mall, you're like, "Yep, I know we can do better than that."
The food truck movement in DC is strong, as is the controversy. Do you have any thoughts on what the food trucks can do to help out?
As long as the food trucks meet all the health guidelines they're a great vehicle to get food to people. What's important is accessibility when it comes to food. I've made this comment before, but I'm not doing any more high-end restaurants. I'm focusing more on restaurants that feed large amounts of people, but affordable, great-tasting, healthy food, just like I did in California with Lyfe Kitchen. So I think they [the food trucks] are a great idea and they could work. The economy has had a profound effect on opening restaurants. It's just expensive to do restaurants, and I think the food trucks didn't stop the thirst for young chefs to open restaurants. It enabled them to continue and have that dream restaurant, and that dream restaurant just happens to be on wheels.
You mentioned new restaurants. Do you have plans for new spots or concepts in DC?
We're doing Lyfe Kitchen here—Love Your Food Everyday Kitchen. The first one launched in Palo Alto, California. There's no fryer, no white sugar or flour, no GMOs. It's predominantly a plant-based menu, but we do have protein. Everything is gathered within a 100-mile radius of the restaurant. Our beef comes from the Hearst Ranch. The menu items are $4 to $14 and 600 calories or less, and we're open for breakfast, lunch, and dinner. It's not uncommon for us to [serve] 800 to 900 people a day. We're looking in places like Penn Quarter, Adams Morgan, these kind of high-density areas.
I'm looking at doing some stuff at the airports—at Dulles and Reagan —and I'm also interested in a very successful concept we have in Atlanta. It's an artisanal ham bar that we're interested in bringing to the city. I'd like to see it in the Georgetown area. I like Washington a lot, and I think we could do a lot of expansion here.
And what's your plan for the airport restaurants?
They're going to be fast-casual, and they're going to be health-driven. We already started working on them, and it'll probably be in the next year. Lyfe will be opening in the next year, and the others I'd say in the next year to two years.
I'm sure people come to you and ask, "How do I lose weight?" It's a large, complicated question, but what's your short answer for them?
The quickest way to lose weight is to be focused about losing it. You first have to agree with yourself that you're going to do it and stick with it. Without that plan, it's not going to happen.
*This post has been updated from a previous version.