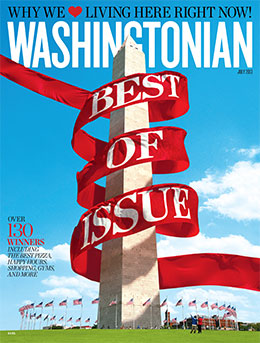 Volume 48, Number 10
Cover Story
From its blossoming shopping to its booming burger spots, it's never been easier to fall hard for our hometown. Plus—readers pick their favorites. Edited by Jessica Voelker
Illustration for The Washingtonian by Justin Metz, Photograph courtesy of PictureNet/Corbis.
Features
The 2012 election was supposed to be Dick Armey's chance to harness Tea Party fervor and bring about sweeping reform. When it all fell apart amid a feud with his comrade-in-arms, not even an $8-million payout could console him. By Luke Mullins
Because of nationwide shortages, local hospitals are rationing, hoarding, and bartering nutrients that premature babies need to survive. How could this be allowed to happen? By Alexandra Robbins
The Army's fife-and-drum corps preserves our Revolutionary traditions—minus the rum. Photographs by Christopher Lane
As his new album comes out, DC's most famous rapper, Wale, hopes the third time's the charm. By Edward G. Robinson III
Capital Comment
Where & When
I.Q.
Life
Taste
Living La Belle Vie Logan Circle's Le Diplomate feels more Parisian than many Paris bistros. Plus—a South American steakhouse and a casual Italian osteria in Penn Quarter, a pan-Asian eatery in Arlington, and new barbecue in Laurel.
Home
Divine Design The winners of this year's Washingtonian Residential Design Awards. Teacher's Pets Animals can teach kids empathy and other skills. Plus—top veterinarians, groomers, pet boutiques, and more. Best of Bethany Beach Shore bets, from outdoor concerts to mini-golf to ice cream. Luxury Homes Redskin Robert Griffin III puts down roots in Leesburg. First Person Her father bought gravesites for the family—now she has to sell them.