Wale is amped. He's pacing. Smiling. Talking with his hands,
dreadlocks swinging. From out of nowhere, he's come up with an idea so
brilliant he can hardly contain himself.
"Niggas going to think I'm slightly losing my mind," he
says.
Wale and five others—a producer, a record-label executive, a
cousin, and two friends—have gathered in a recording studio in Atlanta to
brainstorm ways to promote his third album, The Gifted, due out
in late June.
At 28, Wale (pronounced "wah-lay") is the all-time top-selling
hip-hop artist from DC, which is somewhat less impressive than it sounds,
considering that the city is known for go-go and punk, not hip-hop. In
2007, when he was new on the scene, a Washington Post headline
labeled him the great rap hope.
Six years later, he's put out two albums and eight free
mixtapes. He's collaborated with Lady Gaga, Jay-Z, and Jerry Seinfeld,
among many others, and his song "Lotus Flower Bomb" was nominated for a
Grammy. He was featured on Waka Flocka Flame's single "No Hands," which
went triple platinum.
But he hasn't made the kind of smash hits that penetrate the
culture like those by Brooklyn-born Notorious B.I.G. or Jay-Z. Wale's
first album, Attention Deficit, was a flop, and his label,
Interscope Records, dropped him. His second album, Ambition, sold
more than 480,000 copies but garnered eye rolls from critics. Some wonder
if he's ever going to bring the goods. Where's the album everyone can
point to as his tour de force?
Wale thinks he finally has it with The Gifted. He's
spent the last six months writing and rewriting lyrics, poring over beats,
getting up by 7:30, and working late into the night, sometimes hitting
multiple studios in one day so he can work on different parts of the
album. Now, with the record nearly finished, it's time to plan how to
announce it to the world.
What if, Wale says, they walk into Flight Club, a shoe store in
New York, and drop $35,000 on the entire stock of Air Jordan No. 3
sneakers? Every color. Every style. Every size. "Buy out the store," he
says.
The plan energizes the group.
"Let's close the store down," says Wale's friend Sneaker Man
Dan.
The black Air Jordan No. 3s are Wale's favorite shoes. He
logged long hours years ago working at the Downtown Locker Room in Prince
George's Plaza to buy a pair. Now he owns more than 3,000 pairs of
sneakers. They're stored by type—a room each for new arrivals, Jordans,
Nike basketball, jogging shoes, and high-end and super-rare. He'll often
wear a pair of Jordans weeks before they appear in stores. Few have seen
the collection, not even his manager, Rich Kleiman. "This is his world,"
Kleiman says. "The history behind them. What they mean. How they can be
accessorized. Who wore them. What was happening at that time. It's how
people collect art."
What if, someone says, we carry the $35,000 into Flight Club in
Louis Vuitton duffel bags? How about filming the whole thing? How about
announcing the plan on Hot 97 in New York?
"Niggas gonna be like, 'Wale's back,' " the rapper says.
"That's what I want to hear."
• • •
As the meeting wraps up, the conversation shifts to Wale's
afternoon appointment at a Boys & Girls Club, where he'll make a
surprise appearance before an auditorium full of teens in a
financial-literacy program.
Wale is nervous. Instead of performing, he's decided to talk.
He's cool under the spotlight when rapping, as if the crowd isn't even
there. But speaking comes less naturally.
"You're going to see me sweating and being nervous," he tells
Shari Bryant, senior vice president of Atlantic Records. "It's something
I've been working on."
First, though, it's time for lunch. The gang climbs into three
SUVs and heads to the Cheetah Lounge, a high-end strip club near downtown
Atlanta. Well past lunch hour, it's empty inside but for a few stragglers
and a handful of naked women, one of whom dances languidly atop the
bar.
Wale's uncut video of the song "Bait" depicts a night at the
Stadium Club in Northeast DC with a lot more frolicking and money-tossing,
and strippers are a recurring theme in his songs. Most of his music,
though, is aligned with the bright, lyrical, PG-13 side of
hip-hop.
Some fans called him a sellout in 2011 when he signed with
Maybach Music Group, a label run by Rick Ross, whose music revolves around
sex, drugs, and violence. But Maybach offered Wale a rare second chance
after Interscope dropped him, and he says that while he never considered
himself a gangster, he wants his music to reflect the totality of
life.
He raps about the drug game on "Dope Boys (Remix)," then about
Washington politics on "Flat Out," then he freestyles about good times
over bright chords on "Sight of the Sun," a pop tune by Fun.
Wale is easy to understand, his friends say—it's all there in
the music. "You get a little bit of education," says Don Daniels, whom
Wale nicknamed Sneaker Man Dan back in 2004 when they were selling shoes
together. "You get a little bit of street. You get a ladies'
man."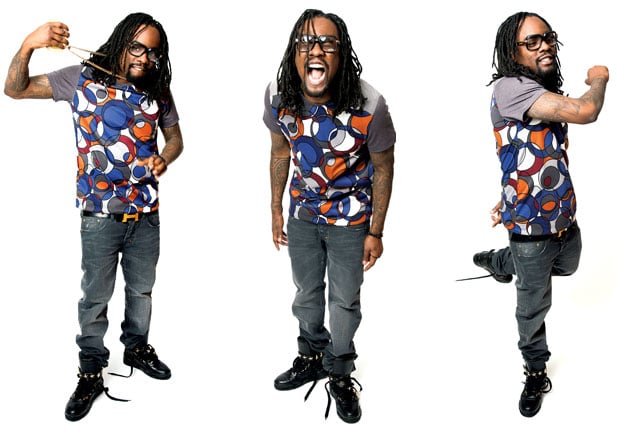 Wale's music is often both thought-provoking and fun—he
compares it to the TV show South Park. That's what drew fans to
Wale's quirky Seinfeld-inspired The Mixtape About
Nothing, which was downloaded 30,000 times in the first week after it
was released, in 2008.
He's also known as an emotional rapper. That's in part because
of his sometimes introspective lyrics but also because of his temper. He
monitors his cell phone constantly and engages in frequent Twitter wars.
His response to critics of his music: "F— my haters."
Says Wale: "I speak my mind. That's what we loved Tupac
for."
At the Cheetah, he studies the strippers for a moment, then
turns and taps Bryant on the shoulder. "Why are they in here?" he asks.
"They're not making any money. They just like the attention."
Then he brings the conversation back to marketing plans—this is
a business lunch, after all, and with pressure hovering over his new album
like a storm cloud, it'll take more than a few naked women to distract
Wale from the tasks at hand.
• • •
When the entourage walks into the Boys & Girls Club half an
hour later, heads turn and screams fill the hallway.
Inside a waiting room, Wale dribbles a basketball with Sneaker
Man Dan, trying to allay his nerves.
"I'm a regular person," he says. "I know a lot of people love
being famous. I don't like it. I'm just chillin'.
YouknowwhatI'msayin'?"
Wale was born Olubowale Victor Akintimehin. His parents, a cab
driver and a nurse, emigrated from Nigeria. The family lived in DC's
Brightwood neighborhood until Wale was 11, when they moved to what he
calls a "bad" neighborhood near Shady Grove in Montgomery
County.
Music played a big role in the family's life. There were
all-night dance parties and an African talking drum, which Wale and his
older brother, Alvin, beat to death.
When the brothers were 11 and 9, they decided to start a band.
"That whole year we talked about it," Alvin says. "We had ideas and
videos. It was real dumb, crazy stuff, but we were passionate about it."
One song was called "Do the Backflip." Wale planned to backflip off the
couch during the video.
They talked their mother, Emiola Akintimehin, into buying them
instruments for Christmas—a keyboard for Alvin, drums for Wale. She
brought them home and put the boxes next to the door.
But when Wale argued with a teacher and got suspended from
school, his mother returned the drums to Sears. "I'll never forget it,"
Wale says. "At Christmas, my brother had a keyboard and I had
nothing."
Wale kept acting out and found himself at Mark Twain
alternative high school in Rockville. He spent time around students who
lived in group homes and had serious behavioral problems. "I wasn't no
animal, but I left an animal," Wale says.
While at Mark Twain, he played football at Quince Orchard High
School in Gaithersburg and caught the eye of coaches at Robert Morris
University outside Pittsburgh. He received an athletic scholarship but in
three seasons—2001 to 2003—played in just one game, logging a single carry
in a win over Saint Francis. He majored in journalism and planned on a
writing career if football didn't work out.
During a spring-break trip to Miami in 2003, Wale found himself
freestyling in a crowded commuter train. To his surprise, applause rang
out. "I just really went hard after that day," he says.
"I might have been discouraged if I thought about just how hard
it was. I never considered failing."
• • •
The message Wale plans to share with the teens today is also
the message of his new album: that everyone is gifted. The record pays
tribute to Michael Jordan, John Lennon, Jay-Z, Martin Luther King Jr.,
President Obama, Maya Angelou, and others.
"I want to motivate the dreamers," Wale says. He feels that the
music from this project will hit the listener's arm like an injection
straight from his own veins.
When the Boys & Girls Club announcer calls for him to take
the stage, he complains again about his unease speaking in front of
crowds. And really, what to expect from Wale as a guest speaker on
financial literacy? Hadn't he just been at a strip club? Earlier, he
mentioned that he's never written a check.
When he begins speaking, though, it's as if he's flipped a
switch. He's candid, as always, but calmer, softer, sharper. Professional.
He tells the teens to look deep inside for their "gift" and apply it as he
has.
"I wanted to look you guys in the face and let you know I'm a
living testament to bringing forth your dreams," he says, his voice smooth
and mellow. "I come from a city where there's never been anybody that's
ever made a record deal. And I made it to have a way to be able to feed my
mother and feed my family and take care of home off it."
His comment that no one from DC had ever made a record deal is
an exaggeration, of course, but in the hip-hop world it may as well be
true.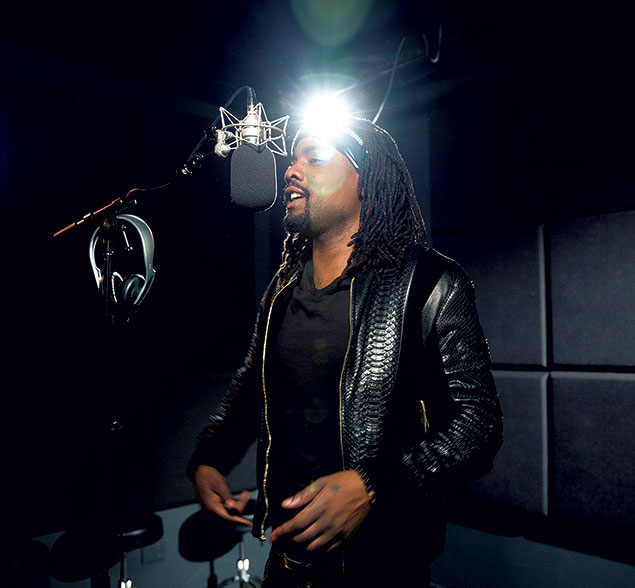 When he and Sneaker Man Dan were selling shoes, Wale would
sometimes rap at the front of the store. "Everybody knew me and Dan," he
says. "We sold sneakers to every dope boy in northern PG County and MoCo.
We were the ones dictating fashion for two years in that store." Legend
has it that during his 90-day trial period at the store, Dan never wore
the same sneakers twice.
Wale had talent, but without the help of DJ Alizay, a former
host on WKYS 93.9, his voice may never have been heard on the radio.
Alizay, whose real name is Isaiah Johnson, was the hottest deejay in the
area in 2003, and he shopped at Prince George's Plaza—a lot.
The first time Wale approached him, Alizay shook his hand, but
he never played the CD Wale handed him. Wale honed his
approach.
"I have to be fresh every time I see this dude," he recalls
thinking. "He has to know I'm the flyest rapper in DC."
The next time Wale gave Alizay a CD, the deejay listened to it.
"He was just different than everybody else," Alizay says.
Soon Wale's voice was on the radio. Alizay took him to parties
and handed him the mike, "to get his confidence up," he says. He trained
his protégé, just four years his junior, like a prizefighter, and signed
Wale to a management contract in 2004.
But management didn't suit Alizay, and the two ended their
business relationship, with Daniel Weisman, who was based in Beverly
Hills, stepping in as Wale's manager in 2006.
Weisman sent Mark Ronson, a British-born producer and New York
deejay, Wale's single "Good Girls." "I remember playing it and saying,
'This shit is f—ing dope,' " Ronson says. "And saying on the radio, 'I
don't know who the hell this is, but we're going to keep playing it.'
"
Ronson invited Wale to tour with him around Europe in the
summer of 2007, and they played before huge crowds at the Glastonbury
Festival in England.
Wale signed with Interscope Records and performed on MTV's
Video Music Awards. Wale and Ronson worked together on his first album,
Attention Deficit, which was to be released in 2009. Stardom
seemed just around the corner.
Almost as soon as it got going, however, Wale's career stalled.
The album's first single, "Chillin," which featured Lady Gaga, didn't make
the splash they'd expected. "Putting that out as his first single was a
mistake," Weisman says. "It was too pop for him, and it wasn't pop enough
for pop music. It was confusing."
When the full album came out, critics panned it and Interscope
dropped Wale. Weisman and Wale parted ways.
"People were questioning whether he was capable of coming
back," Shari Bryant says. "It doesn't happen a lot in rap."
• • •
One night in April, Wale asks a sold-out crowd at the National
in Richmond, "Tell me where y'all from?"
The audience erupts. It's classic hometown call and response, a
line borrowed from go-go legends James "Funk" Thomas and Rare
Essence.
Wale shows his roots in other ways, too—he often rocks a huge
gold Redskins chain and a Nationals hat, and he touts DC in nearly every
song. He owns a house in Bowie and splits his time between there and
Atlanta.
But Wale's hometown doesn't always love him back.
"DC's a tough place to get love, unless you're from DC," he
said in a radio interview. "It's like everybody hates you here. The only
black person that everyone can agree on is Obama."
A constant theme among his detractors is that because he spent
much of his childhood in Maryland, he's not really from DC. Wale says the
criticism comes along with being the first guy from the area to make it as
a major hip-hop artist.
His aim is to become a legend, like his idol, Jay-Z. "Before, I
was trying to get in the door," he says. "Now it's like, 'I'm here. I'm
among hip-hop's elite.' "
Some of the friends and early supporters who helped him get
through that door are still around. But DJ Alizay is notably absent; they
haven't seen each other in five years.
These days, Alizay plays clubs and hosts an Internet radio
show. He says he's tried to reach out to Wale and doesn't understand why
their friendship ended when their business relationship did.
Wale can't explain it, either. He credits Alizay with giving
him his start but says it's just the reality of success. "Sometimes people
don't understand your vision, and they think it's supposed to go a certain
way," he says. "Sometimes people may not have the patience. Or you don't
understand each other as you get older."
Alizay has watched Wale's career with pride. But he still
thinks about what they could have been. They were, he says, supposed to be
like DJ Jazzy Jeff & the Fresh Prince, traveling the world
together.
"I'm happy for him," Alizay says, adding that he wishes Wale
the best with his new album: "I can't wait to hear it."
• • •
A few weeks after the Richmond concert, Wale walks into a
recording studio in New York trailed by employees and friends. It's been a
long day—photo shoot, meeting with executives at Atlantic Records,
recording sessions.
"I need coffee—black," Wale tells a runner before taking a seat
with Black Cobain, a rapper from Virginia. The engineer cuts on a song
they've recently recorded. The chorus kicks in over a thumping drum beat:
"Shout out to my f—ing favorite stripper."
Wale listens for a moment, then ad-libs, crooning "la, la, la"
to the chorus. Soon he's dancing, entranced by the drums. The smell of
marijuana wafts through the studio, and Wale helps himself to a hit. The
group discusses whether this should be a song for the album or a single
released to the clubs later on.
Later, Wale and his staff will go to Brooklyn for an interview
to promote the album. Then they'll head to another studio around 11, where
they'll work with Rick Ross until 3 in the morning.
"We know it's time to deliver," Sneaker Man Dan says. "Third
one's the charm."
Wale believes in the new work, but he's anxiously awaiting the
response from fans. "As much as I don't want to admit it, my fans are the
only ones that can hurt my feelings when they're not pleased with what I'm
presenting," he says. "I want it to be perfect for them. I want them to
have a different sense of pride in my music."
And what if he misses?
"Aim high."
Edward G. Robinson III (erobinson@byedwardgrobinsoniii.com)
wrote about the Wizards' John Wall in March.
This article appears in the July 2013 issue of The Washingtonian.