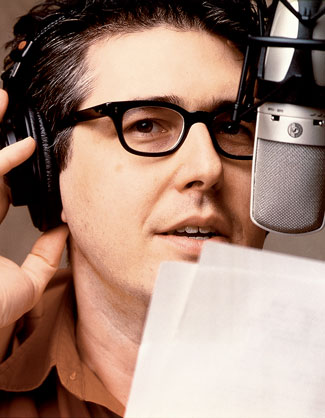 Ira Glass started public radio's
This American Life in 1995 with the reasonably ambitious aim of having it distributed on 60 stations
within the first two years. Today it's broadcast to more than 2½ million people on
500-plus stations, including WAMU-FM, as well as online. Its fusion of storytelling
and reporting has won four Peabody and two George Polk awards. Glass comes to Strathmore
June 29 with a show,
Reinventing Radio. We caught up with him by phone to discuss his most enthusiastic fans, getting his
career start at NPR, fearing Twitter, and why he never uses the word "documentary"
to describe what he does.
What's the format at Strathmore?
Basically I'm onstage with an iPad, and I play quotes from the show and sounds and
music, so as I'm talking about the show, I create it around me, if that makes sense.
It's an excuse to play funny or memorable clips from the show over the years.
What gave you the idea to do this?
I wish I could say there were an artistic motivation but in fact it was completely
mercenary. From the time we started the show we needed a way to publicize it, and
because there's no money in public radio, what you do is you tour your show. Once
about every three or four weeks I go and give a talk somewhere the show runs, and
that's been true since 1996.
What kind of responses do you get from the audience?
Generally people who come are fans of the show—I don't know why in the world anyone
would come if they weren't. It's always a little weird for audiences to see someone
they've heard on the radio. I've been told that for the first minute it's very strange
to see my voice come out of my head.
Have you ever had any odd fan encounters?
I had one very polite . . . I don't want to use the word "stalker," because she was
so polite, but there was a woman who came to every show for months. She was the nicest,
shyest person imaginable, and at the reception before the show she wouldn't even shake
my hand. She was just the most lovely person ever, and it wasn't very scary. So that
apparently is the level of stalker I inspire.

This American Life

is tricky to explain to someone who's never heard it.
One of the early problems in selling the show was figuring out how to describe it.
We've tried different formulations, and none of them are that good. The best we've
come up with is that it's a show of stories, and the stories unfold like little movies
for radio. There's a plot and characters and scenes and some funny or emotional moments.
There are things we never do when we describe it—we never use the word "documentary,"
because that sounds like it's going to be boring. I
make a documentary radio show, and I wouldn't listen to something called a documentary
radio show.
You do these incredible works of civic journalism. Was that originally part of the
mission too?

No. From the beginning there was a always a little bit of a do-gooder side to some
of the stories we were doing, but at the beginning the mission of the show was to
apply the tools of journalism to stories that were so small and personal that journalism
hadn't bothered with them. It was only really as the years went on that the staff
and I became interested in tackling things that were in the news. In our style, with
characters and scenes and plotlines, to do that kind of reporting you need more time
and manpower and money than we had in the beginning, when we were just a staff of
four turning out 46 hours of shows, barely holding it together. But in the past few
years, I've felt very proud of the number of shows we do in a row that are very hard
shows to do.
You're been making the show since 1995. What kind of effect did smartphones and podcasts
have on your demographic?

The audience got a lot younger, for sure. The internet in general has been a real
boon for public radio. Our audience ten years ago was between 1.5 and 1.6 million.
Right now we're at 1.8 million, and we've added another 900,000 a week downloading
the podcast, and then tens of thousands listen by streaming.
You got your start at NPR as an intern. What was that like?
It was awesome, actually. I lived in DC on and off from the time I was 19 to the time
I was 30. I lived near 14th and Q when it was really sketchy, next to a meth clinic,
then in Mount Pleasant and Adams Morgan. I started in 1978, and public radio as an
institution really only began in '72 or '73, so no one was listening and the audiences
were tiny. They didn't even have a satellite to distribute the shows—All Things Considered was distributed to stations by phone line, so you would hear it as if you were listening
through a telephone.
You have 42,000 Twitter followers and have tweeted only once. What's up with that?
I've never signed up for Twitter. I think somebody took up an account with my name.
I really like reading Twitter, but I fear falling into the black hole that I see my
friends in who tweet all the time. I don't need another creative outlet. I'm good,
I'm solid. I've got my hands full.
Reinventing Radio With Ira Glass
is at Strathmore June 29. Tickets ($38 to $68) are available via Strathmore's website.
An abbreviated version of this interview originally ran in the June 2013 issue of Washingtonian.