DC's great rap hope, Wale, headed to the P.O.V. rooftop lounge at the W Hotel Wednesday
night for a small party to celebrate the release of his third album,
The Gifted, which came out June 25. The event, the first in Moët & Chandon's Moët Rosé Lounge Tour, attracted
plenty of fans, who turned out in varying interpretations of black-tie attire (we
saw, among other fashions, two Crayola-colored pantsuits and a metallic paisley jacket)
to down bubbly, snack on teeny cheeseburgers and grilled shrimp, and listen to tunes from DJ Wonder—including,
of course, plenty of Wale.
The invitation specified that red carpet arrivals started at 10, at which time a line
had already formed both inside and outside the hotel. One guest we chatted with in
line didn't make it into the party for nearly an hour. Lucky for those who had to
wait in line, the guest of honor didn't show up until around midnight. Clad in a Salvatore
Ferragamo charcoal double-breasted suit and a white shirt, dreadlocks gathered behind
his head, Wale was ushered immediately to the step-and-repeat, where he fielded reporters'
questions as photographers' flash bulbs exploded around him. He said the reception
for his new album so far has been "incredible" and has sold 11,000 more copies on
iTunes its first day than his first album. The pressure is on for him to deliver big
numbers, but he seemed Zen about the whole experience. "No matter how good the album
does, I'm happy to progress in my career," he told us.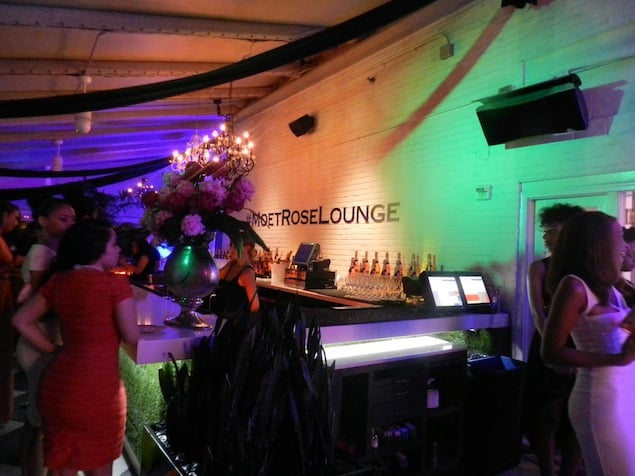 The Gifted features collaborations with Rihanna, Rick Ross, and 2 Chainz, among others, but
Wale wouldn't name a favorite track. "I listen to it the whole way through every time
I listen to it," he said.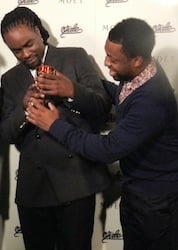 As for the party itself, he said, "I'm excited to see my friends again. This is a
nice event, everyone looking all dapper." When the interviews were over, someone handed
him a shiny goblet filled with rosé, which he held first on the step-and-repeat and
then in front of another large Moët & Chandon ad (sponsors must be appeased, after
all).
When he finally made his way into the party, he was immediately mobbed. An eager crowd
moved with him from one end of the room to the other like a school of fish, as he
politely shook hands and posed for iPhone photo after iPhone photo. (Guests were encouraged
to tweet with the hashtag #MoetRoseLounge during the event.) We waited hopefully for
a performance of one of his new songs, but a couple of party-goers told us we were
waiting in vain—he'd already performed them at his official album release party in
New York on the 24th.
Read more about Wale in our July feature on him.