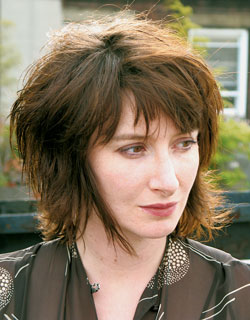 In Ellen Harvey's Washington, tourists flock to the city trying to make sense of its landmarks. But Harvey's visitors are from another planet, exploring a world that's been devoid of humans for thousands of years. In "The Alien's Guide to the Ruins of Washington, D.C."—July 3 through October 6 at the Corcoran Gallery of Art—the British-born Brooklyn artist explores notions of architecture, heritage, and identity by showing how aliens might interpret the neoclassical buildings here and around the world.
Harvey, a graduate of Harvard University and Yale Law School, has long been interested in how art is defined—painting miniature landscapes illegally on buildings in her "New York Beautification Project" and offering people free portraits in return for their evaluation of her work at the 2008 Whitney Biennial. The idea for "The Alien's Guide" was sparked in part by the Corcoran's neoclassical building as well as the act of museum-going itself. "Institutions always have this desire to impose meaning on the chaos of reality," Harvey says. "We look back to the classical architecture of the Greek and Roman eras, and it's such a foreign society to us—we impose our own ideas upon it. I thought it would be fun to discuss assumptions of hierarchy, power, and democracy by having aliens come to earth and come up with the wrong end of the stick on everything."
The show includes a map of local landmarks such as the Washington Monument (called "the really big pillar") and the Corcoran itself ("the inside out pillar thing" because its pillars are in the atrium). The exhibit documents the aliens' often comical analysis of Earth and its beings, even featuring a spaceship in the rotunda, built in the shape of a pillar to pay homage to the world's most ubiquitous style of architecture. "I like to make things that seduce people into thinking," says Harvey. "It is meant to be fun, but I hope someone will come away with a visceral appreciation of how weird it is that people have been building things in the same shape for over 2,000 years. There's something fascinating about watching an aesthetic infection take place."
"The Alien's Guide to the Ruins of Washington, D.C." runs July 3 through October 6 at the Corcoran Gallery of Art. $10 (free on Saturdays through Labor Day weekend). For more information visit the museum's website.
This article appears in the July 2013 issue of The Washingtonian.