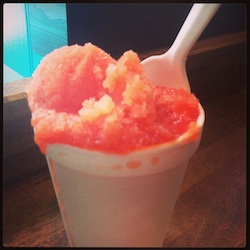 Todd Kliman
Ravioli di San Leo at Casa Luca
Ravioli di San Leo is a classic dish of the Marche, the region in central coastal Italy where Fabio Trabocchi, one of DC's top chefs, was born and raised.
On paper, it sounds simple: discs of pasta stuffed with ricotta and wild greens, with a sauce of lemon zest and butter. At his newly opened Casa Luca, Trabocchi completes the composition with fried almonds and nepitella, an herb reminiscent of mint. The result is a dish that rides the seam between elegance and rusticity.
For those who live to eat, it's also an excellent study in the push-pull dynamic that characterizes all great cooking. Inside, the creaminess of the ricotta is laced by the bitterness of the wild greens. Outside, the richness of the butter is offset by the bright acidity of the lemon zest. The browned almonds add depth. The nepitella provides a fresh floral note.
Ann Limpert
Elote at Estadio
A few years ago, I became obsessed with making elote, the Mexican street snack that involves corn on the cob, mayonnaise, and plenty of lime, among other things. I think mine's pretty good—I throw some cumin and hot sauce into the mayo, then roll the grilled corn in chopped cilantro and crumbly, salty cotija cheese. But then last night I hit the chef's counter at Estadio, and had the off-the-cob version, a mess of super-sweet kernels with thick aïoli, shavings of Manchego, and lime. And I was reminded of the difference between pretty good and truly great.

Jessica Voelker
Blood orange Italian ice at Bub and Pop's
"Aggressive" is not a word I typically associate with Italian water ice, often one of summer's mellower confections. But the blood orange ice at downtown sub shop Bub and Pop's wallops you with tart citrus while coating your mouth with lush sweetness. It's so intense, it could almost serve as a condiment—and do for your run-of-the-mill lemon ice what Sriracha does for a basic bowl of pho. Unlike most liquefied fruit, the blood orange retains that essential fecundity of food that grows on trees—it's almost a dirty taste, and it's so much more interesting than straight-up sweet juice. The Raj gin and tonic (with orange and thyme) at Estadio has that same hint of earth, and got me thinking that this slush-on-steroids could form the basis of an awesome sgroppino, an Italian cocktail typically made with vodka and lemon sorbet.

Anna Spiegel
Calamari Bolognese at Volt
Pasta is not my go-to at brunch, nor is calamari for Bolognese sauce. Neither of those facts should deter you from driving out to Frederick on a beautiful summer weekend and ordering the calamari Bolognese on Bryan Voltaggio's three-course brunch menu, as I did with a group of girlfriends this past weekend. Tender ground squid, miso, dainty ink cavatelli, and a cap of shaved Parmesan come together for a dish that's both delicate and packed with umami earthiness. As a first course the serving is small, but I could consume bowls of the stuff. If your traditionalist brunch conscience kicks in, a French-style rolled omelet and side order of pancakes (why not?) are a perfect follow-up.
See Also:
The Best Thing I Ate: Lobster Rolls, Chipwiches
The Best Thing I Ate: Curry Soup, Grapefruit Cocktails