Investigative journalist Amanda Ripley writes that she avoided education stories for years because they "tended to be headlined in chalkboard font and festooned with pencil doodles." But when she entered the classroom to cover former DC schools chancellor Michelle Rhee, she got hooked on a question that has puzzled educators, politicians, and parents for years: "Why were some kids learning so much—and others so very little?"
In The Smartest Kids in the World, Ripley—who lives in Washington—follows three American teens to school in what she calls three "smarter" countries: Finland, South Korea, and Poland. She learns that, while US education is indeed behind, nothing is going on in these other places that we couldn't do "as well or better one day." Here's what she has to say about technology in schools:
"[A]necdotal evidence suggests that Americans waste an extraordinary amount of tax money on high-tech toys for teachers and students, most of which have no proven learning value whatsoever. As in all other industries, computers are most helpful when they save time or money, by helping to sort out what kids know and who needs help. Conversely, giving kids expensive, individual wireless clickers so that they can vote in class would be unthinkable in most countries worldwide. (In most of the world, kids just raise their hands and that works out fine.)"
This article appears in the August 2013 issue of The Washingtonian.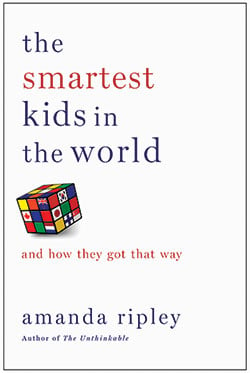 Publisher:
Simon & Schuster
Price:
$28.00