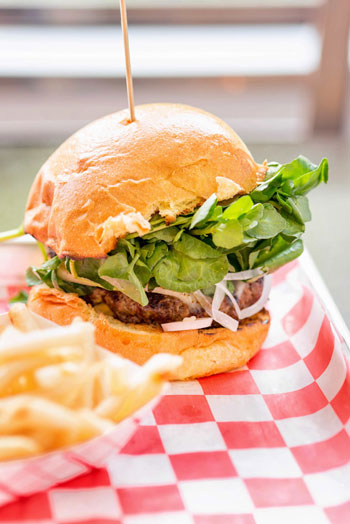 Yes, Washington boasts a slew of burger joints ranging in size, style, and level of casualness. Still, the growing
NoMa neighborhood isn't yet saturated with easygoing restaurants, not to mention low-key
bars where you can drop by during happy hour or late night. So it will no doubt welcome
Timothy Dean Burger, a fast-casual restaurant and bar now open at 250 K Street, Northeast.
You may recognize the Washington-born Dean from his
Top Chef: DC appearance or his TDB eatery in Largo, Maryland. The District location is similar
but has a more expansive menu, plus ample beers and wines and a full bar.
Grilled (bipartisan) burgers
Dean says grilling the burgers over a live flame is what differentiates his patties
from the pack—plus a fattier blend for juicier bites and a 21-spice rub kicked up
with cayenne, allspice, and jerk seasonings. Pick your own toppings to pile on the
brioche bun, or go with house combinations named after Washington figures past and
present, like the Sonia (Sotomayor) From the Bronx, with avocado and roasted mushrooms
or the fried-egg-topped Thomas Jefferson. More of a pescetarian? Try the RGIII—a seared
ahi tuna filet decked with fried onions and chili aïoli—or a Cajun catfish sandwich.
Lobster salad and foie gras pizza
You'll still order at a counter, but TDB is going for a more elevated feel than Five
Guys. Both the burger and the pizza named for Dean's mentor, the late Washington chef
Jean-Louis Palladin, arrive topped with foie gras; the thin-crust pie also gets a
scattering of duck confit, grilled figs, and rhubarb purée. Among the salads you'll
find a summery special with butter-poached lobster, watermelon, and mache. On the
less-fancy side are crispy Southern wings, a slab-bacon-studded wedge salad, and good
ol' pepperoni pizza.
Inexpensive wines and cocktails for drowning your (Republican) sorrows
While the full drinks program isn't up and running just yet, Dean plans for a list
of 60-odd craft brews on draft and in the bottle and a list of 30 wines under $30.
Cocktail servers will take orders and deliver more drinks should you plan to have
a leisurely meal versus grab-and-go. Also in the works: several house-concocted creations
named after Republicans such as John Boehner and Ronald Reagan. "They've been taking
a beating, so we thought, 'Let's do something for them,'" says Dean.
Late-night menus and al fresco dining
Dean's new space boasts tables for 65, plus a large outdoor patio of near-equal size.
You'll also be able to post up in the dining room, watch one of the four large flat-screen
televisions, and order from a limited menu from 11 to close. Options include sliders
with blue cheese and maple bacon, salmon Caesar salad, and sausage-and-pepper pizza.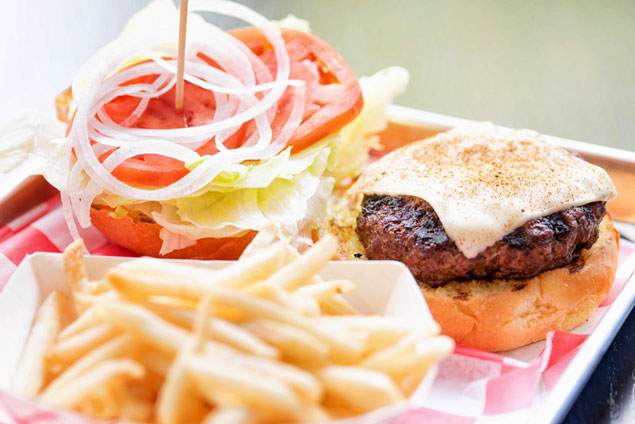 More Timothy Dean Burgers
"We're looking at punching these out all over DC," says Dean, who's already seeking
for other locations, including a spot nearby in Northeast.
Eventually, Dean says, you might also see a bistro concept from his team—though nothing
too formal.
TD Burger. 250 K St. NE; 202-546-2433. Opening hours fluctuate; call ahead for exact
times.