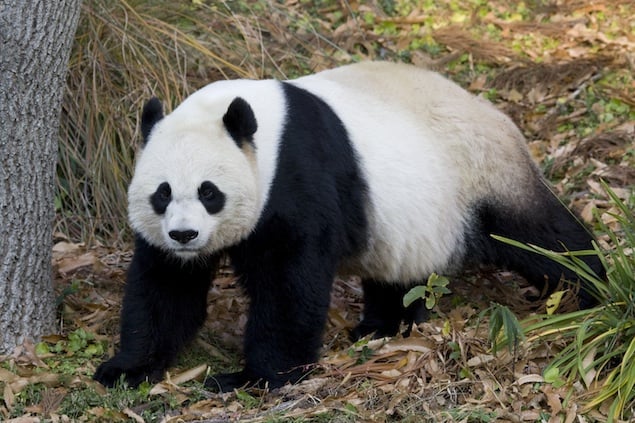 The National Zoo could be within hours of adding a new specimen with female giant panda Mei Xiang apparently going into labor Friday afternoon. The zoo announced that Mei Xiang's water broke a short time ago and that she began experiencing contractions.
Watch the panda cams now! Mei's water broke a short time ago and she's having contractions. She may give birth in a few hours #cubwatch

— National Zoo (@NationalZoo) August 23, 2013
Then again, it could all be for naught. Since March, when Mei Xiang was artificially inseminated with with the frozen semen samples of two male giant pandas, the zoo has cautioned that she might just as well be in the throes of a pseudopregnancy.
Still, the frenzy and hype is irrefutable right now. The National Zoo's panda surveillance cameras are still switched on, so if you want to see Mei Xiang inside her den, possibly a minutes away from giving birth, indulge yourselves.
Mei Xiang gave birth to a cub last year, but the newborn panda died after less than a week. National Zoo staff injected Mei Xiang earlier this year with samples from her male companion Tian Tian, with whom she has a well-known placid sexual history, and Gao Gao, a panda at the San Diego Zoo that has sired several cubs.
Pamela Baker-Masson, the zoo's associate communications director, tells Washingtonian that we'll know at some point tonight if this is a real birth or the frustrating end of a pregnancy. The zoo says panda labor can take up to 10 hours. But Baker-Masson says that the fact that Mei Xiang's water broke is a strong indicator this the legitimate thing.
However, even if a cub is born tonight, it will be a while before the zoo can conduct an all-important paternity test to determine if if the cub belongs to the male giant panda whit whom it would share a habitat (Tian Tian), or a sperm donor on the other side of the continent. "Right now, we're just hoping for a successful cub," Baker-Masson says.