A seemingly ordinary August day was thrown off earlier this morning when a newly formed organization announced that it will seek to bring the 2024 Summer Olympics to DC and the surrounding region. It's a process that, depending on just how far the bid goes, could very well consume the next 11 years for the entire Washington area.
But Bob Sweeney, the president of the Greater Washington Sports Alliance and the person heading up the Olympic bid, says in an interview that DC is primed to land a future edition of the biggest sporting event in the world.
"I feel like it's our turn to host these games," he tells Washingtonian. "It will have been 28 years since the United States hosted a summer games."
A US city hasn't hosted the Summer Olympics since 1996, when the sporting world converged on Atlanta. The US Olympic Committee submitted New York for 2012, which went to London, and Chicago for 2016, which went to Rio De Janeiro, but sat out the bidding process for the 2020 Games. (It also skipped pursuits of the 2018 and 2022 Winter Olympics.)
Still, Sweeney feels that a more-than-two-decade break from Olympic hosting duties will be an asset for a US bid on 2024. And, as he told the Associated Press earlier today, he feels the greater Washington area is already well-equipped to handle a fortnight that will bring in more than 10,000 athletes and support personnel, 15,000 journalists, and hundreds of thousands of spectators from around the world.
Put an emphasis on the "greater" in "greater Washington area," though. A promotional video put out today by Sweeney's group, DC 2024, includes many existing stadiums and arenas as possible Olympic venue, including Baltimore's Camden Yards and M&T Bank Stadium, FedEx Field in Landover, Md., and Nationals Park, the Verizon Center, the Washington Convention Center, and the Rock Creek Park Tennis Center in DC. And that doesn't even begin to address the site needs for events like swimming, cycling, equestrian, archery, beach volleyball, or any of the many other Olympic sports that aren't everyday pastimes.
Then there's the centerpiece of any Olympic bid—a stadium to host track and field events as well as grand opening and closing ceremonies. The immediate assumption is that an Olympic stadium would be built on the site of RFK Stadium, which at 50 years old is badly showing its age.
But the various parks around the world that are called Olympic Stadium have a checkered history after their games end. Montreal, which hosted the 1976 Summer Olympics, crudely converted its stadium into a baseball field for the Expos and only finished paying off the financing in 2006. Beijing's 2008 stadium was paid for, but since those Olympics has gone largely unused.
Sweeney instead looks toward London and Atlanta for guidance on what—if his aspirations pan out—to do with an Olympic Stadium in the middle of DC. Atlanta converted its stadium into Turner Field for the Braves, while London's will be reconfigured for West Ham United, one of England's top soccer clubs.
And this is where Dan Snyder comes in. His football team will be nearing the end of its planned residency at FedEx Field by the time the 2024 Summer Olympics roll around, and would be a more-than-likely occupant for a post-Olympics Olympic Stadium.
"We'd be naive to think a conversation about a Redskins stadium would not come up," Sweeney says. Not surprisingly, Snyder was the first major Washington sports figure to put out a statement embracing the DC Olympic pursuit.
"We look forward to assisting the Washington Olympic Committee in presenting the nation's capital and fabulous surrounding region to the Olympic sporting world," he said in a statement.
Ted Leonsis, who owns the Washington Wizards, Washington Capitals, and the Verizon Center, is also embracing the bid. "I will be supportive in every way possible," he tells Washingtonian in an email.
Sports industry types might be geared up for 11 years of preparations, but some other stakeholders are more cautious. Pedro Ribeiro, a spokesman for DC Mayor Vince Gray says his boss is enthusiastic, but with reservations.
"The mayor is a huge sports fan and a huge fan of the Olympics, and thinks this is an exciting idea and one worth exploring," Ribeiro says. "He definitely wants to get the city out there, but at the same time he has a responsibility not to get caught up in the fervor. There are questions we don't know the answers to yet."
Ribeiro adds that one warning sign about the Olympics came last year, when Gray visited China and caught a glimpse of the Olympic Stadium and several other venues sitting as underutilized monuments to a past event rather than active venues. "The mayor doesn't want that here," he says.
DC Council member Tommy Wells, who is also running for Gray's job, is far more sanguine. "It's an extraordinary opportunity for the District," he says. "I apologize for the metaphor, but it's a game-changer."
There have been loud detractors already, especially some DC journalists who are wary of the infrastructural and bureaucratic headaches the Olympics could bring. The sports might be fun to watch, but preferably at a televised distance, Washington City Paper editor Mike Madden reasons:
All that money, spent on behalf of a secretive organization that answers only to its corporate sponsors, not to citizens of any nation, is the main reason to oppose bringing the Olympics to town. There are others, of course, like the fact that Olympic committees love to go on massive orgies of "redevelopment" in preparation for the Games, which generally tend to result in poor people's houses being destroyed. Or the disruptions to traffic and daily life that the influx of athletes, media, and fans bring. That last one, though, is supposed to be a selling point: Organizers say D.C. already has stifling security everywhere, so the Olympics would fit right in.
Chasing the 2024 Olympics also means that Sweeney and his group will be looking a decade back to when DC and Baltimore presented a joint bid for the 2012 Games. That plan, which had the backing of then-DC Mayor Anthony Williams called for using the University of Maryland as an Olympic Village and staging some sports in locations as far-flung as West Virginia.
Some of that plan might hold up today, Sweeney says, but a lot has changed since the region lost out to New York to represent the United States in the 2012 process. "There's an opportunity to build out workforce housing or university housing," he says about the still-to-be-developed plan for where to lodge all the people who would participate in the Olympics.
One area where Sweeney is optimistic about DC's chances might surprise people: transportation. "I think Metro is an asset in the US portion of the bid process," he says of the oft-maligned local transit system. "And that coupled with the bus system really can handle moving people around. We don't have to build an airport like Salt Lake City."
There are already several major transit projects in active development. By 2024, Metro should have completed its Silver Line past Dulles International Airport, and DC's streetcar system should be in service. Maryland's Purple Line, connecting Montgomery and Prince George's County, is scheduled to enter service in 2020.
Still, Sweeney is open to the likelihood that might not be enough. The London Olympics cost about $14 billion to stage, half of which went toward transit. "My guess is that there will be some transportation infrastructure improvements in this bid," Sweeney says.
In his initial conversation with the AP, Sweeney said a DC-based Summer Olympics would cost between $3.5 billion and $6 billion to put on. Even with all the existing sports facilities and other infrastructure, that figure is still remarkably low. Beijing is the extreme, with some estimates soaring to $70 billion, but Athens in 2004 cost about $15 billion and Barcelona in 1992 cost more than $9 billion. Atlanta did it on the comparatively cheap—about $2 billion—but only after a great deal of corporate sponsorships.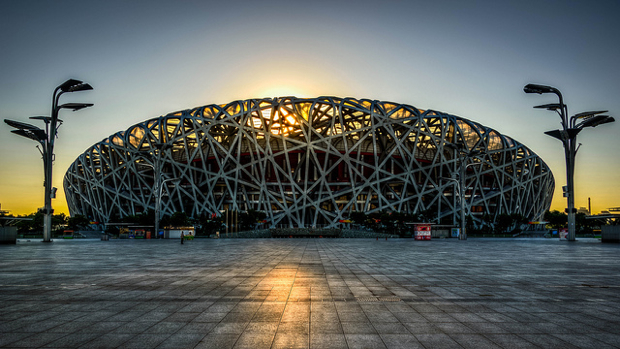 Sweeney says he got his figure from the USOC, and that it is still a very preliminary number. He aims to raise $3 million to $5 million for the bid itself and for now, that's as specific as the money gets.
"We haven't delved into all of the numbers yet," he says. "We've got so many venues already here we won't have to build. It may be a low estimate, but I'm not going to give you another number right now."
The more immediate challenge is impressing the global sports bureaucracy that runs the Olympics. In October 2015, Washington will host an assembly of the Association of National Olympic Committees, which also includes the heads of the international sports federations that participate in the Games. "Strategically it was really important," Sweeney says.
For the Olympic-wary, there's at least a fair bit of relief in the fact that Olympic bidding is a drawn-out process. First, the USOC needs to pick its finalist, a decision that's still two years away and one that's also being sought by Los Angeles, Philadelphia, and San Diego (which would host in conjunction with Tijuana, Mexico.) The International Olympic Committee won't make the selection until 2017, at which point any US candidate city will be in competition with a field that might also include Paris, Rome, and other destinations.
And if Sweeney gets his way at that point, we'll all have to brace for a seven-year slog toward the Olympics. Or move.