It's a measure of Bakhtiyor Rakhmatullaev's skill as a cook
that a platter of palm-size dumplings ($15) stuffed with peppery lamb and
buried under drifts of sour cream could taste—well, not light, because
Russian cooking is about as delicate as Russian politics, but not
stomach-clottingly heavy, which is what lesser versions of manti
tend to be.
The same could be said for the pelmeni ($14),
tortellini-like bundles of pasta filled with ground beef. Of course, if
you were to finish an order of 18, you would have less room to sample
Rakhmatullaev's repertoire, and that would be a pity.
Rus Uz, which occupies the ground floor of a Ballston apartment
complex, is the only Russian-Uzbek restaurant in the area, and that alone
makes it worth a visit. Not for novelty's sake, though—for the chance to
experience all the lip-smacking things that can be done with dough and
meat. Boiled, and you have dumplings. Baked or fried, and you have the
samsas, cheburekis, and piroshkas that are essential at
the start of the meal.
Leaven the heartiness by opening with the delightful Fish Under
a Fur Coat ($7)—a terrine-like layering of shredded potatoes, eggs, beets,
carrots, and herring—or a generous smoked-fish platter arrayed with
glistening slices of salmon, butterfish, and sturgeon ($8.99). Not only do
these dishes prime the palate, but they're also good bargains.
An overflowing plate of chicken Kiev ($15) calls to mind a
grandmother who simply refuses to accept that you haven't been starving
yourself. The centerpiece is a breast that's crispier than the Colonel's.
That's one reason to pass on the dumplings—an even better one is
plov ($15), the dish that speaks most sweetly to the Uzbek soul:
rice studded with carrots, chickpeas, and raisins and flavored with the
rich runoff from tender diced lamb.
There's no way to do justice to a meal here and have room for
dessert. But a sour-blueberry tart ($8) or Kiev cake ($8) makes for a
not-overly-sweet end.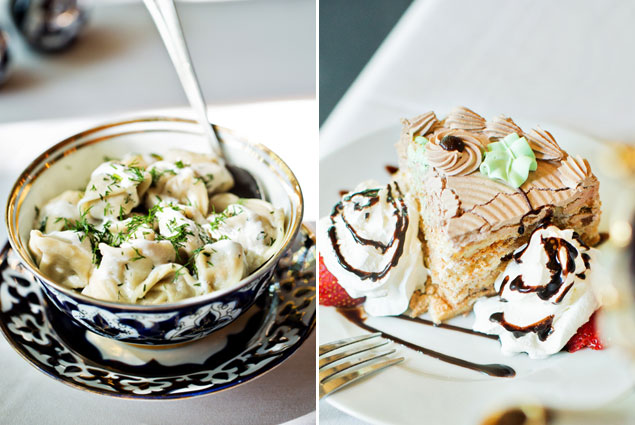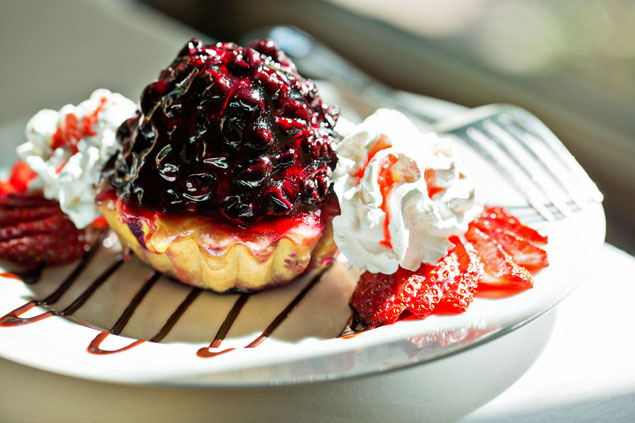 This article appears in the September 2013 issue of The Washingtonian.
---