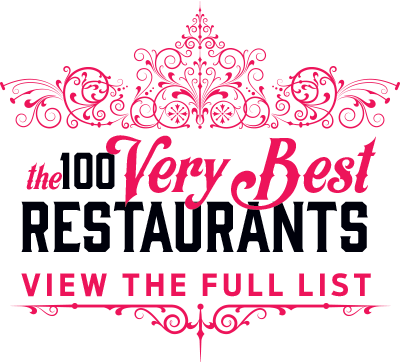 Curiosity might draw you to this Ballston restaurant, one of only a handful of places in the area serving Russian or Uzbek cuisine. But quality is what will keep you coming back, long after the novelty fades. Tempting as it is to say that Bakhtiyor Rakhmatullaev imbues his food with the loving tenderness of home cooking, it does a disservice to the talent he shows in rendering such robust fare with finesse. The heart of his menu is his selection of dumplings, including the bundles known as pelmeni, stuffed with ground beef, and the showstopping manti, small pillows of dough filled with peppered lamb and buried under drifts of sour cream. Order the chicken Kiev and you'll be rewarded with breast meat that's juicier and crunchier than the Colonel's and a side of exquisitely crisped potatoes.
Open: Daily for lunch and dinner.
Don't Miss: Smoked-fish platter; chebureki, fried dough stuffed with ground beef; samsa, baked puff pastry with minced lamb; Fish Under a Fur Coat, a layered salad of herring, potatoes, carrots and beets; plov, a pilaf with carrot, raisins, and lamb; sour-blueberry cake.
---