One night this past winter, in a week when nothing was working
out, Meguiel Merritt called his ex-wife and asked her to pray for
him.
"You been drinking?" she asked.
He'd been sober for eight years, but Merritt knew why she
asked. As their marriage had unraveled in the early 1990s, he'd started
drinking heavily, a prelude to a lost decade on crack cocaine.
The problem now, though, wasn't drugs. It was money. He was 52
years old and had a full-time job with benefits as an assistant janitorial
supervisor at Howard University. But he was living in a homeless shelter
off North Capitol Street, in a room with six other men.
Merritt had always felt his needs were simple: He wanted an
apartment of his own in DC. His hometown. An efficiency would do, so long
as his TV got the Westerns he loved and there was a gas stove to cook
liver and onions, chicken and sliced potatoes, and other beloved
meals.
But rents had rocketed so fast that a man making $29,000 a year
no longer felt welcome. He'd seen listings east of the Anacostia River for
less than $800 a month, but he couldn't go back there, not without seeing
ghosts from his old life.
The week Merritt called his ex-wife, a rental rep at one DC
building told him he was too deep in debt to his last landlord to qualify
for an apartment. Then, when he looked outside the District, in Greenbelt,
to see if rents were better, a building agent said he had nothing for less
than $1,000.
If he wanted to live in or around DC, Merritt began to fear,
he'd need a second job. But after starting an online exam for a night job
sorting mail for the US Postal Service, the website malfunctioned,
stranding him mid-test.
Merritt started to think about a scene in the movie The
Color Purple, when the character played by Whoopi Goldberg puts a
curse on her good-for-nothing husband. "Until you do right by me," she
tells him, "everything you think about is gonna crumble."
The past weeks had left Merritt feeling as though someone had
put a "mojo" on him. He'd made mistakes enough in life, he knew, that
blame for the greater part of his troubles lay on his shoulders. But he
needed some sign that the family he'd wronged over the years wasn't
actively rooting for him to fail.
His former wife assured him that was not the case.
Would she be willing to say a prayer for him?
She told him she would.
• • •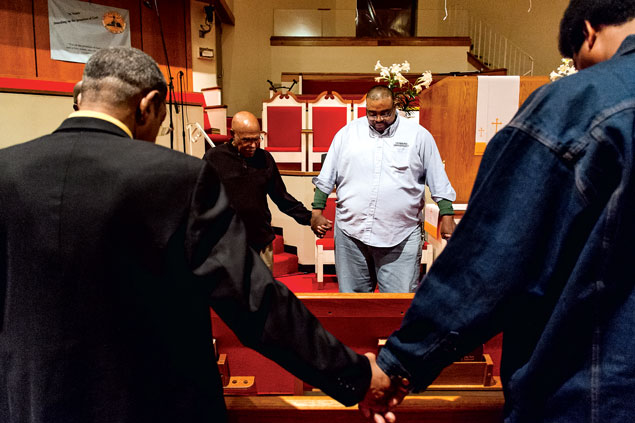 One wet morning as we drove together to see the high school he
never graduated from, Merritt let his mind flood with daydreams. "I'd love
to lay out on the beach, look at the white sand," he said. Then, in the
present tense, as if already there: "I have two bikinis on each arm and
say, 'I wonder what the poor people are doing.' "
But as he looked through the rain-blurred windshield of his
truck, he saw not paradise but the streets—Lamont, Warder—where his life
had gone under. "In my addiction, I'd come here to party, to buy drugs, to
meet women," he said. "You had to be careful in this area because if they
didn't know you, they'd rob you real quick, real fast."
It was 10:40 am on a Saturday, and we pulled into an empty
parking lot overlooking the football field at Roosevelt High School, in
DC's Petworth. Merritt had dropped out in 11th grade, when the money from
his minimum-wage job and the girls his paycheck attracted made him feel
like more of a hotshot than any honor roll.
"I should have stayed in school," he said now, the rain still
coming. He rolled down the window a little: Glistening out there was the
field where he once might have worn a football uniform but never did. He
was husky even then—six-foot-one, 250 pounds. But when he quit school,
football was another thing that got away from him.
Merritt is a heavy man with a baby face, glasses, and a voice
somewhere between a rasp and a whisper—a gentle giant, some say. His half
year at the shelter hasn't been kind to his body. The kitchen is off
limits to residents, so Merritt, a onetime cook, has indulged a weakness
for carryout. His weight has ballooned to 350 pounds. He wheezes as he
climbs stairs. He sometimes has to stop for breath.
When we spoke in his basement janitorial office one day,
Merritt told me he expected neither handouts nor some music-video fantasy
vacation. He wanted only the barest dignities of a man who had held the
same, steady job for nearly 30 years. "I don't need to live like the
Joneses," he said. "I just want to be more comfortable."
I asked him what that meant. "A little money in the bank, to
where I can pay my bills and don't have to worry: Will I make the water
bill? Will I make the electric bill? I'd like to just sit down and write
those checks and just live that American dream."
But in his search for that dream's bedrock—his own place—he has
struggled. "My problem is I want it today," he said. "I just want to get
out of the shelter and start living again."
He's too old to live in a dormitory with a half dozen
strangers. To shower in a group bathroom. To swallow warmed-over slop from
a food kitchen. To ask for a pass to stay out after curfew.
But the new DC isn't handing out second chances the way it used
to. So he works and he waits.
When I followed him around the job one morning—HOWARD
UNIVERSITY stitched above the left pocket of his denim work shirt—he
seemed invisible to the undergraduates whose toilets he fixes and whose
dorms he cleans. The bright lives they were racing toward, he knew, would
have little in common with his.
Merritt allows himself one DC Lottery ticket a day; a lucky
number sometimes feels like his only shot at a new life. But mostly he
practices patience. A life of wrong turns can't be righted overnight. "I
need to stop rushing God," he says, "because it's on his time, not
mine."
• • •
The trim house on Sixth Street, Northeast, where Merritt spent
most of his childhood borders the leafy campus of St. Paul's College, in
the District's Edgewood section.
For his parents, it was a beacon of middle-class arrival. The
family had lived in a series of small apartments in rougher parts of
town—in the last place, a pyromaniac regularly set the building
ablaze—before finding their way to this pistachio-green house with the
white stone chimney at the end of a quiet block.
Meguiel Merritt was born in 1960, the middle of three children
and the only boy. His father, Charles Jackson, returned from the Vietnam
War to a job as a National Park Service groundskeeper on the Mall. His
mother, Eula, started as a cafeteria aide at Howard University and was on
a slow but steady path to management. (She retired in 2002 as operations
manager for residence life.)
Meguiel got decent grades and was a bruiser at playground
football matches. For a time, it looked as if he might hoist the family
further up the economic ladder.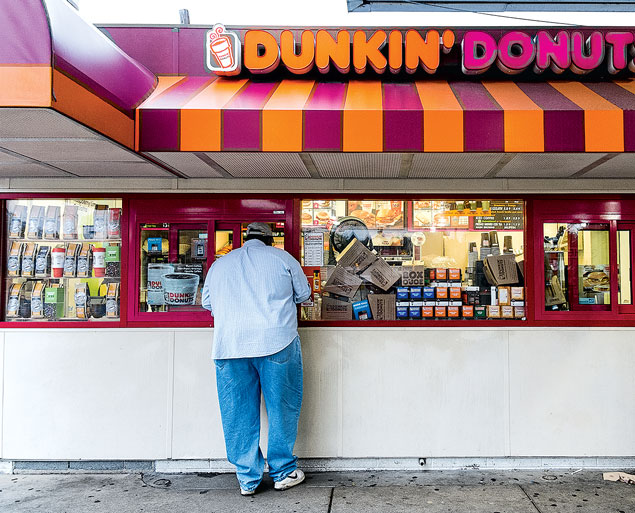 He had watched his mother and aunt in the kitchen and studied
their tricks for roasting chicken and grilling pork chops with garlic
powder and seasoned salt. By the time he was ten, he could cook for the
whole family. When I ask what first drew him to the stove, he tells me
about a time when he was a boy and his mother was sick: "I said, 'I'll go
down and fix you something.' She said, 'That's the best soup I ever ate.'
Maybe she was making me feel good. But she ate it all."
But cracks in the family's foundation turned into
sinkholes.
Memories of Vietnam stalked his father, who lost himself to
alcohol and began running an after-hours gambling hall out of a nearby
house. "A gyp joint," Merritt calls it. He says his father started giving
him beer at age seven. "He woke up and got liquor before he went to work
and came home with a bottle in his pocket." (Charles Jackson died some 20
years ago, of cirrhosis.)
Hearing a bang in his parents' bedroom one night, Merritt
dashed upstairs to find a hole in the wall and a .38 revolver in his
father's hands. His dad was convinced Vietcong were on his tail. When his
father turned his rage on his mother—bruising her face and bloodying her
lip—Meguiel thrust himself between them, hoping to deflect his father's
anger onto himself.
When I ask Merritt's mother why he quit school at 17, Eula
Jackson says a boy who had moved in down the block pressured him to skip
classes.
But when I tell Merritt what his mother said, he shakes his
head. There were plenty of other reasons for his dropping out, he says,
not least a desire to prove himself his own man.
In school, kids teased Meguiel about his size, calling him
Pillsbury Doughboy. After he dropped out, no one messed with him: He had a
.22 revolver and a homeboy who had his back. The pair often passed the
school day in the park with a bottle of wine.
While driving around together one morning, I asked Merritt what
became of that friend. He slowed his truck and pointed to a gas station at
the corner of Florida Avenue and Third Street, Northwest: "He stands there
and begs for change."
• • •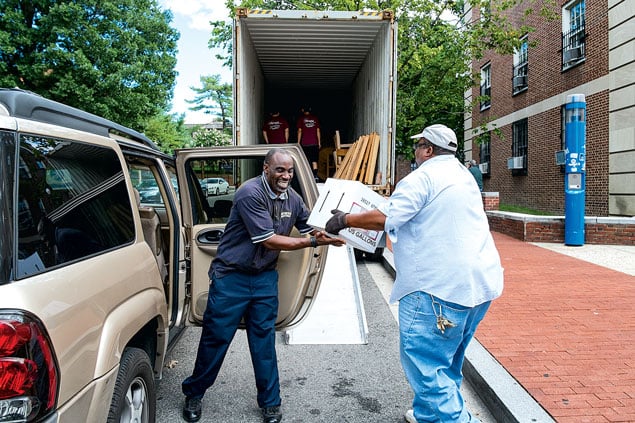 For all his shortcomings, Merritt inherited from his parents a
belief in the virtues of work. A month after quitting school, he got a job
as a stock clerk at Woodies department store and then, at 18, as a
dishwasher at a downtown DC restaurant. He met a woman who worked as a
table busser there, a Jamaican immigrant ten years his senior. Soon a son,
Meguiel Jackson, was born.
He and the boy's mom weren't committed, though, and two years
later, in 1982, he married a woman who made sandwiches at a downtown
Wendy's, where he was a cook. They were both 21, and she had a young
daughter from a previous relationship. They moved in together. Merritt
left his son's upbringing to the boy's mother.
When Merritt was 25, his mother, then an executive housekeeper
at Howard, helped him get a second job, as a daytime janitor in the
school's dorms. He traded up restaurants, too, leaving fast food for an
evening job at a Bob's Big Boy in Aspen Hill. He worked his way up from
dishwasher to first cook and made enough of an impression on his bosses
that the company sent him to culinary school, from which he returned as
the restaurant's head chef.
The extra pay lifted his new family from a one-bedroom
apartment in Columbia Heights to a two-bedroom in Aspen Hill. But the long
hours took a toll. To let off steam, he and a waiter he'd befriended began
drinking together on the job, from 10 pm until their midnight quitting
time.
"I'd get off work at 12 o'clock, go home, and get up hung-over
at 4 o'clock" for his janitorial job, he says. "I did that for five
years."
By the time he finally left the cooking job, it was too late to
reverse the damage his alcoholism and financial insecurities were doing to
the marriage. In his rush to outfit their new life with all the trappings
of success—a new Toyota 4Runner, a leather living-room set—he and his wife
had piled up $72,000 in credit-card debt. When I ask about the discolored
scar tissue on his knuckles, he tells me it was from a night when he grew
so frustrated that he drove his fist though a door, prompting his wife to
call the police.
The couple split in 1991, and his life entered a tailspin. He
filed for personal bankruptcy and moved into an apartment on South Capitol
Street with a female housekeeper he worked with at Howard. They started
smoking three to four $10 bags of crack on the weekends. It soon became a
$150-a-day habit. The apartment "turned into a crack house," he says.
"People came to the door all hours of the night, just to get high and
smoke."
Yet even in the grips of addiction, he kept showing up for
work. After lunch, when work slowed, he closed the door to the tiny
janitorial office in the basement of Carver Hall, an all-male dorm, and
got drunk. He kept a bottle of rum in the desk drawer and served himself
in a 7-Eleven soda cup. He wore sunglasses indoors to hide his dilated
eyes and chewed gum against the odors.
Some nights, when he was too strung out to get home, he slept
on the floor of the janitors' locker room, a violation of rules. Then one
night he fathered another child, a girl, in a brief encounter with the
wife of a friend's friend—a woman he says came on to him after he'd downed
too much Jack Daniel's. He bailed on that daughter, just as he had his
son. Though he sent money from time to time, both were raised by their
mothers and grandparents.
I ask how his life spun so out of control. "After the divorce,
I had to figure out: What am I going to do?" he says. "I was young, mad,
angry. I was angry that I messed up my marriage, that I worked so hard for
this woman—the money, the cars, the furniture I bought. And then I'm out
here assless with nothing."
If working hard and doing right had led to this, what was
the point? he asked himself. Why not just take the fastest route
to feeling good?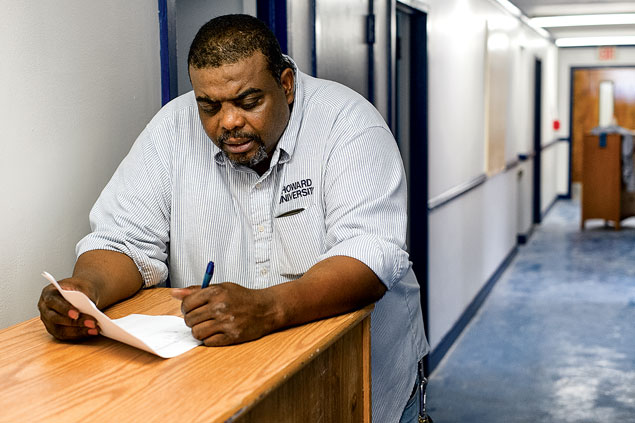 In the summer of 2005, Merritt's boss at Howard sat him down in
her office. She held up a card for an inpatient detox program at DC
General hospital.
"Take this card or take a pink slip," she told him. "You
decide."
His seven days at DC General were a boot camp of counseling
sessions and scared-straight talks. Other addicts told stories of falls
far steeper than his. Some had slept on the streets, eaten out of garbage
cans, contracted HIV, been thrown in jail.
There but for God's grace go I, he thought.
He relapsed once that summer—a four-day bender—before getting
clean for good on July 1, 2005. With no home to return to, he moved into a
halfway house.
As his recovery progressed, Merritt began night school. He
earned a GED and certificates in heating, ventilation, and air
conditioning. In 2009, his supervisor at Howard took note of his
achievements and recommended him for a promotion, from lead custodian to
assistant supervisor. The new post would put him in charge of checking
employees' time sheets, troubleshooting larger maintenance problems, and
responding to requests that students submitted through a web portal called
ResQuick Fix.
"He said, 'I'm scared, Mama,' because he felt it was a lot of
responsibility," Eula Jackson recalls. "I said, 'You can do it.'
"
He left the halfway house in 2008 and moved in with his mother.
He was 48 years old.
At her urging, he had started showing up at Sunday services at
her church, First Rising Mt. Zion Baptist, in the Shaw neighborhood. I
went there with Merritt on Easter Sunday. While waiting in a hallway to
meet the pastor, he told me faith hadn't come easy.
Churchgoers said they cared for him, but he was suspicious of
their seemingly selfless declarations. They told him they loved him, but
how could they really? For all they knew, he could have been a thug who
would have robbed them on the street without a second's
hesitation.
He sat in the last pew by himself for weeks: "All the ways in
the back. I listened and I listened, and one day God said, 'Come up and
join.' "
At an orientation meeting, he met a single mom—a secretary at a
public school—and asked if she wanted to meet sometime to talk about the
Bible. They started going out for nachos once a week. When her car broke
down, he drove her mother and teenage daughter to appointments while she
was at work. He hopes that the friendship might one day lead to something
more.
By 2010, Merritt had saved enough to leave his mother's house
and rent a one-bedroom apartment, for $750 a month, in Washington
Highlands, a violence-plagued section of Southeast DC. His furnishings
were spare—his nightstand was a small folding table a student left behind
in the Howard dorms—but it was his own place.
Everything seemed to be falling into line: the GED, the
promotion, the apartment, the new woman in his life. Still, at the edges
of his happiness, doubts menaced. His redemption would mean nothing, he
realized, if he didn't try to make things right with his
children.
• • •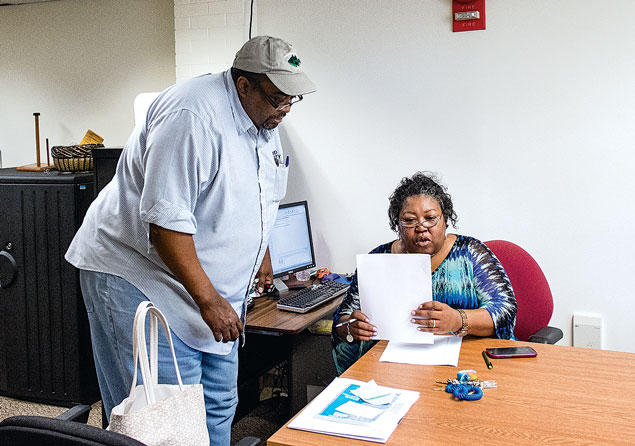 I visited Merritt's son, Meguiel Jackson, in late March at an
Oxon Hill dental clinic where he works as a billing-and-coding specialist.
Jackson, who is 33, has his father's round face and gravelly
voice.
As a boy, Jackson said, he experienced his father as an
absence. They barbecued and fished on his occasional visits. But Jackson
felt a hollowness while visiting friends with intact families or watching
TV shows like Family Matters, the 1990s sitcom about a
middle-class African-American family in Chicago. "You'd see how the
parents would be there, and at night they'd help the kids with homework,
they'd tuck them in, or just talk to them and read them bedtime stories,"
he said. "Those were the times when I really wanted him around
more."
Like his father, Jackson quit school at 17 and soon had his
first child, a girl who would be raised by her mother. In his twenties, he
became a street-corner drug dealer whose "family," he said, were the guys
he sold drugs with. He spent a total of eight years in prison for drug
offenses and illegal firearms possession. In 2009, toward the end of his
last sentence, he slipped a note into a letter to his half sister and
instructed her to give the note to their father.
He had found God in prison and earned a high-school-equivalency
degree. But something was still missing: "I needed my strength. I felt
like he was my strength." In the note to his father, he said, "I was
telling him I love him and I need to see him."
As he stepped into the visiting room at DC's Correctional
Treatment Facility, Merritt had a waking nightmare: He imagined the guards
deciding that it was he—not his son—who belonged behind bars.
"Son," Merritt began when they saw each other, "I'm sorry I
wasn't there for you."
Jackson listened and forgave him. "I wanted him to know that he
was not the cause of my being in prison," he says today. "I made my own
decisions."
Though too rare, the times they'd spent together had been
meaningful, Jackson told his father. One time in particular had lodged in
his mind. Jackson was 12 or 13, and they'd gone fishing with Merritt's
friends. Everyone was reeling in whoppers—except for Jackson, who was
pulling in small fry.
"Don't worry, son," his father said, seeing the boy's
disappointment. "Keep throwing that line out there. Soon you'll get a big
one."
• • •
The day Meguiel Jackson moved from prison to a halfway house,
in 2009, his father showed up with a wardrobe's worth of gifts: tennis
shoes, three pairs of jeans, three shirts, boxers, T-shirts, socks, plus
deodorant, shaving lotion, toothbrush, toothpaste. Merritt gave his son
money to buy sharp clothes for job interviews (including the one that got
him work at the dental clinic). He treated him and Jackson's second
child—a young son Merritt had affectionately nicknamed Fat Baby—to trips
to restaurants and the zoo.
"You can't make up for lost time," Jackson says. "All you can
do is enjoy the time you have, and that's what we do now when we're
together." They talk about football, women, children, and "my deepest
feelings," Jackson says. "If I'm going through something or hurting over
something, he'll listen to me and give me his advice. Those are my special
times now."
Merritt's teenage daughter, meanwhile, needed even more help.
She had fallen in with a rough crowd and was skipping school. Her mother
was jobless and drinking again. He looked at his daughter and saw himself
at the same age, chasing thrills instead of a future. Merritt and his son
had fallen off the precipice; it was still early enough to save his
daughter from the same fate.
Merritt bought her soap and deodorant and paid for hair and
nail appointments. There was ugliness enough in her life. At the very
least, he thought, he could "try to make her feel young and
pretty."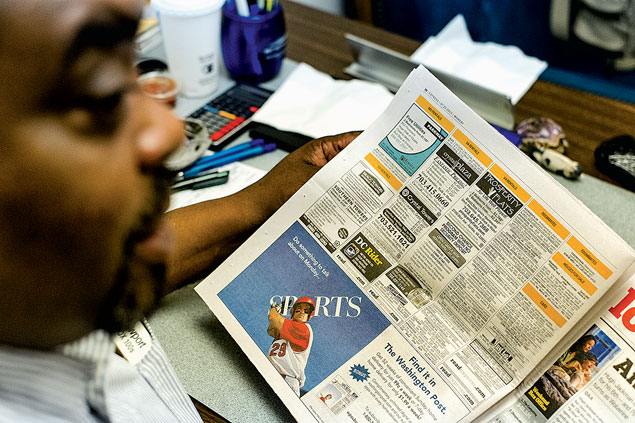 He found a good public charter school and pleaded with her to
attend. She told him she was going, but school officials called to say
she'd never shown up. He discovered she'd lied to the school, too, saying
she had a baby to take care of. When Merritt confronted her, she made more
excuses, saying she couldn't go to school without nice clothes. Merritt
gave her more money, and more. After all those years of neglect, he felt
he owed it to her.
Eula Jackson, who raised her granddaughter from ages 7 to 13,
tells me her son had perhaps too much faith in the possibility of rolling
back time. "It's hard," she says, "because I guess in the back of the
child's mind is 'Where were you when I needed you?' "
He spent so much on his children that unpaid bills piled up. He
soon owed $400 to Sprint for cell-phone service, $290 to Comcast for
cable, $45 for gas. Then, after the 2004 Chevy TrailBlazer he'd bought on
credit broke down, an auto shop handed him a bill for $1,700. When he
couldn't pay in full, the shop impounded the truck and charged him $40 a
day for storage, adding on another $500 before he could scrape together
the cash.
He had left his one-bedroom apartment in Washington Highlands
for a studio across the street, where rent was $100 a month less. But soon
he was several months behind. He came home from work one summer day last
year to find an eviction letter in his mailbox.
He gave his bed and dresser to his son and stashed most of his
clothes, family photos, and other belongings in a janitorial storage room
at Howard. It was early summer, and the students were gone. He slept in an
empty dorm room for a few days before facing what came to seem inevitable:
a return to the homeless shelter he had lived in some seven years earlier,
just after the detox program, when his life had hit bottom.
• • •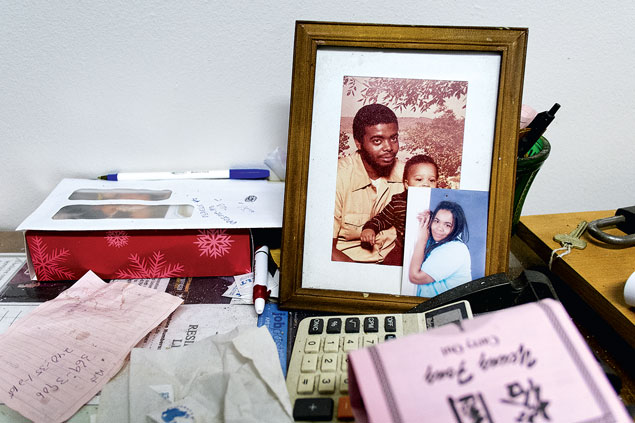 Emery House occupies an institutional-looking brick building on
a gritty strip near North Capitol Street in DC's Eckington section. The
place was once a public school and later an emergency homeless shelter
that kicked men out at 7 each morning. Then in 2005, the city and DC's
Coalition for the Homeless, which runs the shelter, identified a growing
class of homeless men: those with jobs.
Rents and housing prices in the District had soared over the
first decade of the 2000s. From 2000 to 2010, the supply of apartments
whose rent and utilities cost less than $750 a month, in
inflation-adjusted dollars, fell by half—from 70,600 to 34,500, according
to a report by the nonprofit DC Fiscal Policy Institute. Meanwhile, the
number of apartments costing more than $1,500 grew from 12,400 to just
over 45,000, more than tripling.
Those shifts hit low-income residents hardest. "One of the
problems with spending so much of your income on housing is it makes you
very vulnerable to that one economic shock, which can leave you homeless
or in severe crisis," says Jenny Reed, the institute's policy director.
"Our research shows that a lot of people who have severe housing burdens
are working, and working full-time. It's just not enough to get
by."
In 2006, Emery House remade itself into the city's first
homeless shelter for the employed—those with at least 20 hours of work a
week. Though they pay no rent, the men must place at least 30 percent of
their paychecks into an escrow account—as a cushion for their reentry into
the real-estate market and as practice for the budgetary tightrope people
with low incomes need to walk in an increasingly affluent
city.
I visited Emery House in early February and was given a tour by
the current director, Xavier Parker, who is 51 and has the harried air of
a big-city high-school principal.
As we walked through the halls in the middle of the day, when
most of the men were at work, he told me that though nearly all the
residents are African-American, the population is in other ways diverse.
The house's 72 residents range from ex-cons, day laborers, and dishwashers
to bike messengers, a man who works for a DC Council member, and a
graduate student.
Emery, which operates on District and federal funds, has
on-site counselors who help residents search for better jobs and housing.
On paper, the shelter gives men six months to regain their economic
footing before sending them on their way.
"What's the longest guys have been here?" I asked as we stepped
into an elevator on the second floor.
Parker shot me a sidelong look. "You don't want to
know."
Two years?
"Four," he said. "The average is one year and some change. Many
are working 20 to 30 hours at $8.25 an hour. That's not enough for them to
move forward in DC."
• • •
When Meguiel Merritt was there the first time, in 2005, Emery
House wasn't yet a "work/bed program." But in other ways the place was all
too familiar, and coming back felt like a failure.
God is showing me I did wrong, he thought. Maybe I
moved out too fast. Maybe I wasn't ready.
The intake counselor remembered him and assumed he'd relapsed:
"He said, 'What kind of drugs did you take?' I said, 'Slim, it's not
drugs. I just mismanaged my money.' "
It was July 2012. The staff settled Merritt in a room on the
first level, with linoleum floors, gym lockers, and rows of single beds. A
half dozen other men shared the room.
He was courteous to his dorm mates but mainly kept to himself.
He'd wake at 4 every morning, watch the news on a portable TV he kept in
his locker, then shower for work.
When I first visited, in the frigid darkness of an early Monday
morning in February, Merritt emerged from his room with a towel over his
shoulder and padded the long hall to the showers. Before leaving for work,
he signed his name in a three-ring binder at the front desk—the men must
account for their comings and goings.
I asked whether he had eaten the house breakfast, which is
trucked over the night before by DC Central Kitchen. He told me he hadn't:
Today it was a mélange of eggs and grits that residents had to warm up
themselves in a microwave. He gave it a once-over but decided he couldn't
stomach it.
"This is a nice spot," he said of Emery House. "But it's not my
home. I'm not trying to get comfortable."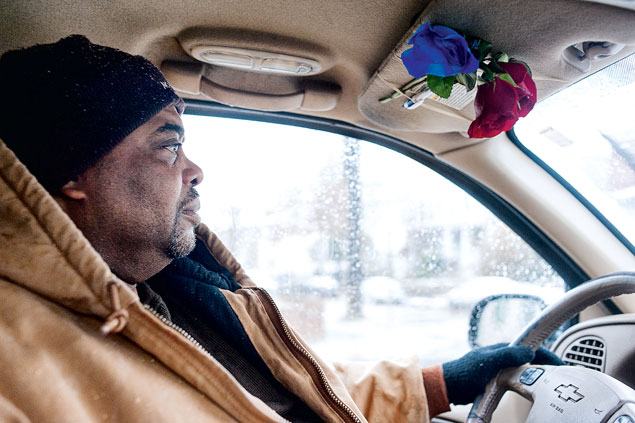 Emery requires residents to call at least four landlords a
month to inquire about housing. Merritt had aimed high. With the money he
was putting in escrow and maybe a second job and a loan, he thought he
might have enough to buy a small house somewhere, even in the suburbs. He
spent a whole day at a homebuyer's conference at the Washington Convention
Center, learning about credit ratings, mortgages, and down
payments.
But as time passed, he grew dejected. I joined Merritt at one
of his monthly meetings with Emery's housing specialist, Herbert Baylor.
When I arrived, the two were scrolling through listings on RentToOwn.org.
On the wall behind Baylor's desk was a worn poster of a locomotive turning
a corner in the woods, puffing steam. "Initiative," it read. "Nothing can
stop the power of persistence."
All the listings in DC—at least those west of the Anacostia
River—were out of reach.
"Should I pick another city?" Baylor asked.
"I don't want to go that far," Merritt said. "What about
Montgomery County? Aspen Hill?" It was where he'd lived while married and
working at Bob's Big Boy, and where his stepdaughter and her kids now had
a home.
Baylor looked skeptical. He pulled up the listings: Homes for
sale there ran from $400,000 to $599,000. Even Baylor looked surprised:
"This is crazy."
He then found a four-bedroom rental in Beltsville for $800 a
month.
"Let's print that one out," Merritt said.
But as he read the fine print, light drained from his face: The
$800 covered one room. The other three would be occupied by other tenants
and the owner.
"Oh, hell, no," Merritt said. He was in his fifties.
He wanted privacy and quiet, not a frat house.
Baylor told me no Emery House resident had gone directly from
the shelter to homeownership. It was a leap for which none had the
finances. But the staff didn't want to pour water on Merritt's dream. They
understood why a man who had held a full-time job for three decades—even
one whose life had its share of stumbles—might want a place to call his
own.
When I told Jenny Reed, of the DC Fiscal Policy Institute,
about Merritt, she said that cases like his had become "very common." The
District's rebirth—from murder capital to hipster haven, as the city's
promoters would have it—has thrown its inequalities into sharp relief, or,
more often, papered over them.
According to government statistics Reed showed me, the top two
jobs held by DC residents—by employment total—are lawyers and other legal
professionals (annual median wage $153,640) and various kinds of managers
($126,240). Third and fourth in number—but far distant in pay—are the
people who answer their phones and clean their buildings: administrative
assistants ($50,575) and janitors ($24,160).
Merritt's pay last year—$29,167 before taxes—is more than twice
the federal poverty line for a single person. But what that buys in DC is
ever-shrinking.
"There are guys 50 to 60 years old living in a [single] room,"
says Karen Douglas, a veteran social worker who is the clinical supervisor
at Emery House. "Nobody thought, 'At 60 I'm going to retire and I'm going
to be in a room, just me and enough space to turn around in.'
"
The men at Emery House, Douglas says, look with mixed feelings
at the rehabbed homes—fresh paint, newly landscaped yards—that shimmer
between the peeling places where their grandparents once lived. "You know
you will never be in a position to move your kids into a home like that,
never have a place big enough to have a Thanksgiving dinner in the
neighborhood you grew up in," she says.
So they ask themselves, "What am I working for? How do I keep
hope up?"
• • •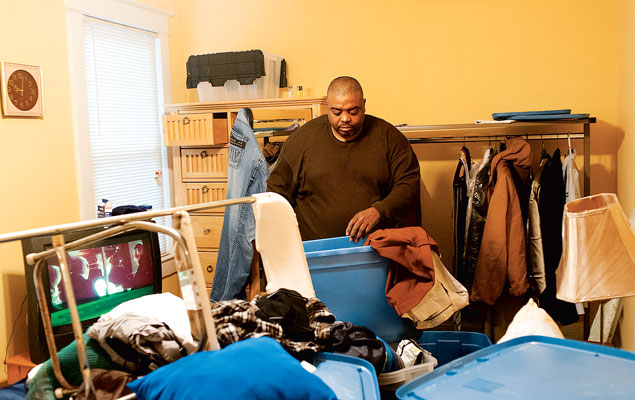 Merritt's friends and relatives worried that the stress of
returning to the shelter would trigger a relapse. But they underestimated
his resolve. One weekend, he drove me to the square brick apartment
building on South Capitol Street where he had lived in the darkest days of
his addiction. We stopped in the driveway.
I asked how he felt, seeing the building again. "It's over," he
said. "I don't forget. But I don't want to go back."
The problem was no longer his addiction; it was his recovery.
He had assumed that if he stayed sober, his fortunes would follow an
upward course.
As winter turned to spring, Merritt realized that his optimism
had blinded him to certain hard truths: "I was trying to please everybody
in my life—please my son, please my daughter—and trying to make them
happy. I was trying to buy their love."
His friends and the caseworkers at Emery told him that no
amount of money could buy back those lost years. He had to take care of
himself first. He had to pay his rent on time and learn to budget. His
example—of hard work, responsibility, and adversity soldiered
through—would be the best gift he could offer his children.
• • •
At the end of February, Xavier Parker and the counseling team
at Emery summoned Merritt to a meeting: His time was up. They had already
granted him one two-month extension; they couldn't approve his request for
a second. Merritt had wanted more time to build savings and move closer to
his dream of homeownership.
But the staff at Emery felt that another extension risked
breeding dependence. Unlike most of the other residents, Merritt had a
full-time job with benefits. What he needed more than anything, they felt,
was to learn self-sufficiency and align his dreams with his
income.
A few days later, he approached Douglas in the hall and thanked
her. "He asked me, 'Would it be okay if I gave you a hug?' " she
recalls.
When I next saw Merritt, I asked what precisely he'd thanked
Douglas for.
"Tough love," he said.
• • •
Within two days, Merritt had found a listing in the
Express: a room for $525 a month, near the Benning Road Metro. He
had spoken to the landlord and was about to drive to see it when Douglas
called with another lead. A friend of a friend—a retired gentleman in his
sixties—had recently remodeled his house on West Virginia Avenue in
Northeast DC and had a furnished second-floor room to rent for
$550.
The man lived in the basement and was planning to lease two
other upstairs rooms. When those tenants moved in, Merritt would have to
share the second-floor bathroom and kitchen. It was a far cry from a home
of his own, but it was clean, the furniture looked solid and new, and it
was an easy drive to family, church, and work. He signed the paperwork the
next day.
The following afternoon, a Saturday, he double-parked outside a
red-brick rowhouse and I helped him carry in the last of his belongings.
His room looked freshly painted, with bright-yellow walls, a large wooden
dresser, and a cable-ready TV. Two big windows overlooked grassy athletic
fields and a children's playground at Gallaudet University.
We went back down to the truck, and Merritt took out two
plastic bags of groceries, heavy with fruits and vegetables. He was ready
to cook his own food again and to return, he hoped, to a healthier
weight.
When we finished unloading, it was late afternoon. Merritt
looked exhausted. He had gotten up at Emery at 3:30 that morning, anxious
about the days ahead. Before we met, he had washed every last stitch of
laundry, gotten a haircut, changed the oil in his truck, and stopped at a
Big Lots for a comforter and queen-size sheets for his bed. "A new start,"
he said.
We got back into his truck and drove away on another errand. "I
still want that house," he told me. "But you know, you got to crawl before
you can walk."
Contributing editor Ariel Sabar is the author of two books,
including My Father's Paradise: A Son's Search for His Family's Past. His website is arielsabar.com.
This article appears in the September 2013 issue of The Washingtonian.