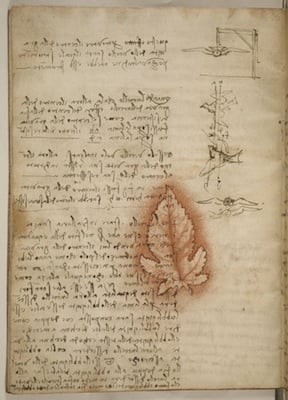 Through October 22, Washington will have the rare distinction of having not one but
two works by Leonardo da Vinci on display.
Just across the Mall from the National Gallery, where da Vinci's "Ginevra de' Benci"
has long been the only painting by the artist in the Western hemisphere, the Smithsonian's
National Museum of Air and Space is displaying da Vinci's "Codex on the Flight of
Birds," a 1505 document featuring writings and sketches on the subject of flight.
From September 13 through October 22, visitors can catch a glimpse of the real Codex
in the Wright Brothers Gallery, and scroll through touch-screen computers that translate
the document's text, written in da Vinci's signature "mirror" script.
The document is usually kept at the Biblioteca Reale in Turin, and has only been displayed
outside of Italy a handful of times. In addition to notes, it includes sketches of
birds in flight, and prefigures da Vinci's observations on how humans might mimic
them to achieve mechanized flight.
The loan is one highlight from Italy US 2013: Year of Italian Culture in the United
States, a cultural alliance
between the US and Italy that has seen Michelangelo's David-Apollo on display in the
National Gallery and Italian poems reproduced on Washington's buses.
Admission to see the Codex is free, but timed tickets must be booked online for the
first week of its exhibition, by phone at 866-868-7774 or online.
For more information, visit the Air and Space Museum's website.